I am a straight Evangelical Christian. I am a mother of two heterosexual adult children. Until 2001, I did not have any gay friends (that I knew of) and was the typical pew sitting, "you cannot be gay and Christian" conservative.
I have all the Evangelical pedigree markers: I led junior high Bible studies, founded Mothers of Preschoolers at my church and homeschooled my children for six years to shield them from infiltrations of "the world."
It was all working quite nicely for me until two pivotal events occurred. Event #1: My husband of 20 years no longer wanted to be married. I had lived an organized philosophy: A leads to B and, with prayer and fasting and the right version of the Bible, C happens.
And "C" was not happening in my life.
I glued myself to God and my mouth shut. My default answer to every problem had been "Jesus," but my life was falling apart. I had an easy gift of evangelism, but I was in agony and had nothing to export. A prime target for the four spiritual laws could have begged me for answers, and I would have been mute.
Event #2:  I started hiking a lot, actually daily. It was the only place I could get alone, cry, complain, pray, and listen to God. For weeks, I had been running into the same woman on the trail regularly. One day, I had extra time and, although I was done with my hike, I asked her if I could turn around and hike with her.
I figured out quickly that Netto was a lesbian. I was too drained to "tell" her anything, so I just did relationship. I had a group of Christian friends at the time that met every Friday for breakfast. They kept encouraging me to "tell her the Gospel," but teller-Kathy was broken. I had no good news.
We hiked each weekend for a year, and when she finally came out to me as a lesbian, I loved her and did not care what she was; she could have been purple and spotted.
Over the next four years, I became involved in the local gay community. It took time for people to trust me because I came with the "religious" label. I was known as "Netto's Christian friend."  During that time, I never met anyone that identified as a gay Christian. That allowed me to keep my "there are no gay Christians" dogma safely intact. I was nice; I did not say anti-gay things and I scooted under the bigotry radar.
Then, my power-lesbian friend, Myra questioned me about the finer points of my silent theology. When a top-notch attorney who has argued before the Supreme Court dissects your sentences and rebuts your statements, it all comes pouring out. It even surprised me that I still held such deep chasms of division between me and "them."
I had to sit in a very tense spot in my own theology, trying to line it up with what I was learning in relationship with my gay friends.
Just a few months later, I read an article on the front page of the New York Times about Justin Lee and the Gay Christian Network (GCN).
"GAY CHRISTIAN?"
I was sure that, upon looking at the mission statement of GCN, I would be able to inspect it, slice it and see the heresy. But, I agreed with it. All of it.
Three weeks later, I was in Seattle at a GCN conference. I knew no one; I had only spoken to Justin on the phone for 5 minutes, yet I got on a plane and went to Seattle. I was the first straight person/advocate-to-be to register at a conference. That was 2007.
It took the Holy Spirit one night, one session of worship to crash through my objections (beliefs?) about sexual orientation and faith. I had no theology to support what I felt in that Spirit-filled room. I was at the back during worship, on the floor, crying. "What would I now do with this?"
Two days after the conference, I ended a five-year relationship with the man I had intended to marry. He was already uncomfortable with the number of gay friends I had. He would say, "Kathy, people are starting to think you are a lesbian." To which I responded, "Well, do you think you might be able to help me out here just a little bit? After all, you are my boyfriend."
The Holy Spirit shifted me in one weekend. Radically. Miraculously. I knew I had a choice: purpose or person. I chose purpose.
Ed Ness, from Freedom in Christ Evangelical Church(FIC), eagle-eyed me at that first conference. "There is an advocate in the making," Ed surmised.  Thankfully, he followed up with me and became my gay-guide.
The single best piece of advice I got in the beginning of advocacy work was from Ed. "Don't talk about us, or for us. Just get to know us. Hang out with us and learn about us." And I did. Freedom in Christ, four hours from Reno, became a regular stop for me; the people there became my training ground.
The gay Christians at FIC brought me into the family and I learned.
In 2011, after 4 years of being entrenched in the gay community, I formed Canyonwalker Connections to formally do the work I was already doing: educating, encouraging and engaging people on the issues of sexual orientation and gender identity.
My niche is the conservative church. I know the language; I was and am very much part of that tribe.
Now, I work full-time, very full-time, in Canyonwalker Connections. Gay youth tend to find me from YouTube, older people (all orientations, denominations and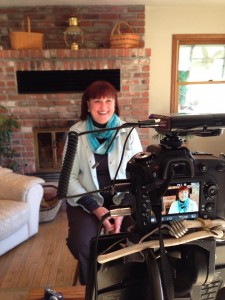 ranges on the affirming spectrum) most often find me through my blog. The things and hearts God entrusts to me still stun me. And humble me. And make me cry, regularly. If people, especially pastors, could read my mail, they might re-evaluate how they communicate with the LGBT community.
Over the coming two years, we will see a major shift in doors opening to conversation. Pastors privately ask one another what they are doing about "the gay issue" in their churches. Unfortunately, that dialogue space in the conservative church is filled with a variety of no-longer-gay, must-be-celibate-gay or be-nice-to-the-gays speakers. However, I do not see any of these view points as accurate readings of the Scriptures.
I used to joke that I am "so two years from now," but that timeline is severely compressing.
The time is now to train, equip and encourage gifted and called people of God who value full equality and inclusion for gay, lesbian, bisexual and transgender Christians in the church. All of the Christian churches. Yes, even the conservative ones.
I was recently licensed as a minister with Joshua Ministries International, TX, a nationwide group of LGBT pastors I have associated with for several years. I will be ordained within that group May 2014. I strongly desire to solemnize same-sex marriages for my LGBT friends as part of the work I do. I want to bring a God-blessing to those ceremonies and fully affirm the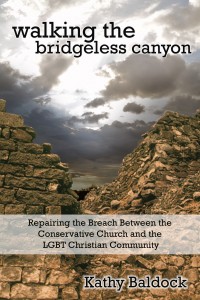 civil rights and status before God of couples in same-sex, loving, long term, monogamous relationships.
In winter 2014, I will be releasing a book "Walking the Bridgeless Canyon: Repairing the Breach between the Conservative Church and the LGBT Christian Community"under Canyonwalker Press, a new publishing niche imprint for LGBT Christian books. My readership target is the center of the conservative church.