Walking the Bridgeless Canyon: Repairing the Breach between the Church and the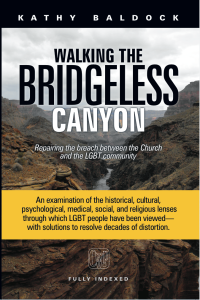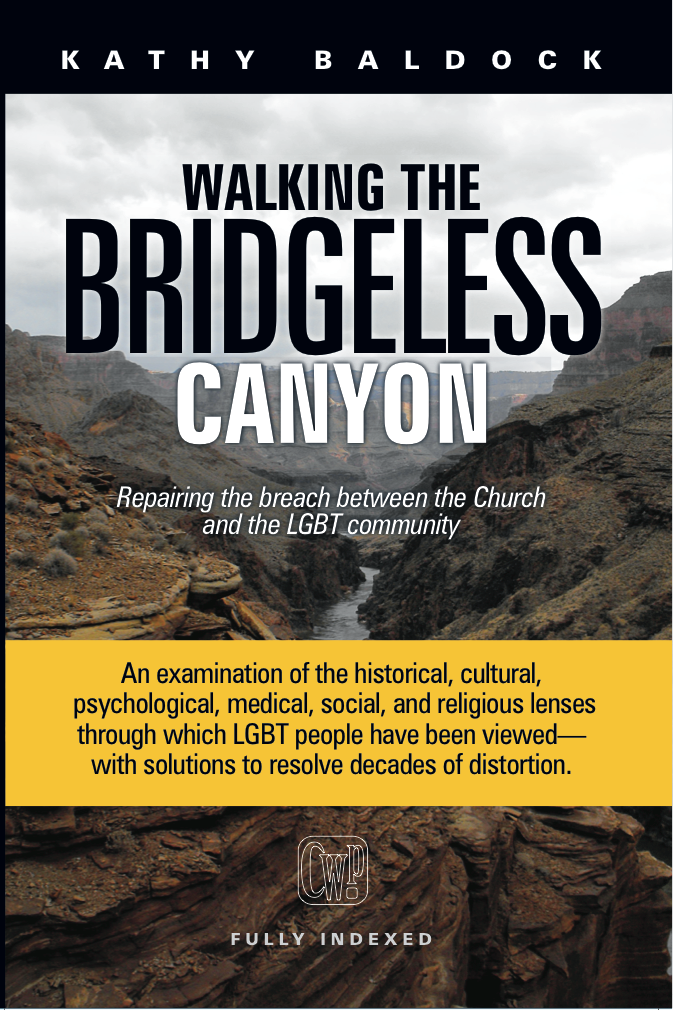 LGBT Community  (October 2014)
Book available as a signed copy from the author directly for the same price as Amazon Prime available here. The audio version also available on Amazon.
Also, order physical copies, audio, and Kindle versions from Amazon.
In 2001, Kathy Baldock, a straight conservative evangelical Christian, met Netto Montoya, a lesbian Native American, on a local hiking trail near her home in the Sierra Nevada. Their developing friendship challenged Baldock's cultural and religious beliefs about gay, lesbian, bisexual, and transgender people.
In Walking the Bridgeless Canyon: Repairing the Breach Between the Church and the LGBT Community, Baldock constructs a narrative timeline, including fascinating stories and personal testimonies, detailing the historical and current social, medical, cultural, and religious discrimination which have impacted the gay and transgender communities, with particular focus on the intersection of the conservative political and religious right beginning in the late 1970s. 
Baldock examines the layers through which people often view the gay and transgender communities. Topics covered include the cultural history of human sexuality, same-sex behavior, and homosexuality, as well as the reason homosexuality has been seen as a mental illness, the subsequent evolution, impact, and decline of conversion reparative therapy ideology, the beginnings of the HIV virus in Africa in 1921 and its eventual spread to America, the science of sex, gender, and sexual orientation, a critical analysis of biblical passages on same-sex behavior, the social history of marriage and a biblical case for LGBT marriage, the start of the gay activist and gay Christian movements, stories of LGBT Christian youth and parents, and finally, ways in which allies and advocates might engage in productive dialogue for inclusion.

Walking the Bridgeless Canyon is relevant for several target audiences: those who are striving to understand how the LGBT community has become a target of cultural and religious discrimination, students of civil rights, and social and political history, conservative Christians seeking to find a more informed, civil and gracious way to engage their own gay or transgender family and friends and the LGBT community in general, and progressive Christians who strive to rise above biblical disagreements and engage in a more informed and broad conversation for inclusion of LGBT Christians in faith communities.

We each evaluate events, people, and even Bible verses through personal filters fashioned from our life experiences, interactions, education, and even the way we process knowledge. Add to this the societal events that came before us, over which we have no control but which have been layered, on atop another, as the foundation of what we understand today. Then, add to all that a spiritual layer, unique to each of us, shaped by our theology, the biblical teachings we've been exposed to, and our personal relationship with and views of God. It is no surprise, then, that we can arrive at diverse assumptions and conclusions in the intersection of faith and sexual orientation and gender identity.

Walking the Bridgeless Canyon is a highly accessible book meticulously researched with almost 500 footnotes which ultimately challenges readers to assess and remove their own flawed or ill-informed lenses through which they view the LGBT community.

About the Author
Kathy Baldock, author, LGBT advocate, and Executive Director of CanyonWalker Connections is a leading expert on LGBT issues in the United States, especially dealing with historical and current discrimination faced from the socially conservative Christian church and political sector.
Kathy Baldock founded Canyonwalker Connections in 2009 as a natural outgrowth of her already-burgeoning ministry of reconciliation between the socially and religiously conservative American community and the LGBT community. A graduate of Rutgers University's College of Engineering, as well as an accomplished entrepreneur and small business owner, Baldock had no ties to the LGBT community until 2001 when she forged a friendship with a woman who she later found out was a lesbian. Through organic relationships and years of research, Baldock shifted her own views and saw the immense need for accessible education in this area. More of the specifics of her backstory can be found at www.canyonwalkerconnections.com.
Baldock currently travels the country speaking in venues from churches to university campuses, sharing the eye-opening findings of her research fully tailored to audience needs. She engages with a visual timeline in ways that help audience members identify, assimilate, and retain information to guide them in overcoming cultural biases and understanding the sources of negative images of LGBT people today.
Baldock also originated the #str8apology and #WallOfLove actions that she continues to lead at select LGBT Pride festivals around the country. She continues to speak directly with conservative Christian pastors and church leaders who may be starting to do further investigation into the LGBT issues their churches have historically stood against. On a day-to-day basis, Baldock receives emails and letters from LGBT people of all ages (and their parents), seeking further support during their coming out process especially in socially conservative religious settings.
Additionally, Baldock co-hosts the Sisters of Thunder podcast, archived online and available on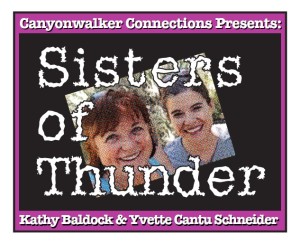 iTunes, along with CanyonWalker Connections' Director of Policy and Advocacy, Yvette Cantu-Schneider, where information from her book and current topics associated with sexual orientation, gender identity, faith, and policy are broken down into a one-hour audio dialogue and interview format for listeners.
Baldock is the mother of two straight adult children and is honored to serve as a spiritual mother to hundreds of lesbian, gay, bisexual, and transgender children. She is an ordained minister and daily hiker living in Reno, Nevada.
Excellent reviews for the book: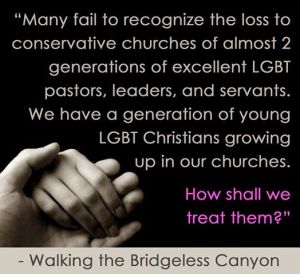 "Baldock's research is up to professional standards."
"The cultural, political, religious, and psychoanalytic timelines are easy to follow."
"Essential reading for every Christian, especially pastors."I already have 5 people in mind that I want to give this book to… 3 of them are pastors."
"This book is a lifesaver for young Christians struggling with sexual orientation or gender identity."
"Kathy Baldock is one of the most influential advocates for LGBT Christians in the church."
'Kathy's background as an engineer is reflected in the way her book is meticulously organized, researched and footnoted."
"Not only is this an amazing and important book, but it's also a heck of a great read!"
"Kathy's compassionate and fervent telling of history and present-day church life is an essential read for understanding gay people's relationships with the church at large."
"The depth, breadth, and tenderness of this book are amazing."
And, even a two-star review says: "If you're looking for a book written by an LGBT-advocate who represents that side well, then WBC is an excellent choice." from Sean McDowell
********************************************************
Walking the Bridgeless Canyon: Repairing the Breach Between the Church and the LGBT Community available as a signed and personalized copy from the author directly.
You can also order hard copies and Kindle versions of Walking the Bridgeless Canyon: Repairing the Breach Between the Church and the LGBT Community from Amazon.
Please consider these two excellent companion books:
"God and the Gay Christian" by Matthew Vines   Book review HERE.
"Bible Gender Sexuality" by Dr. James Brownson  Book review HERE.