The violence against gay, lesbian, bisexual and transgender people in Russia is not intrinsic to its history. It is a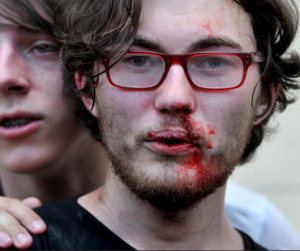 relatively new poison that has seeped into the Russian culture and church, compliments in no small part to American extremists who have been visiting that country over the past decade.
[The situation has become dire to minority LGBT people in Russian where the words homosexual and pedophile are used interchangeably. Watch this just released British Channel 4 documentary.]
Scott Lively, of "Kill the Gays Bill" (in)fame, has been traveling to Russia since 2006 and calls his influence on the current anti-gay sentiment "one of the proudest achievements of my career." The work of Paul Cameron, Family Research Institute, is well documented to be junk theories and trashy "statistics," yet he has been carrying his message to Russia and Eastern European countries for several years.
United Families International (UFI), a seemingly mainstream family, Mormon-led group, has been at work in the United Nations for almost 15 years infiltrating foreign, mostly third-world delegations to warn about the dangers of homosexuality and women's reproductive rights. Three years ago, a straight ally  to the LGBT community in Belarus sent me a handbook authored, translated, and circulating by UFI. The information has been received as truth because American Christians wouldn't lie, would they?
American extremists have been hard at work bringing Russian churches and officials their version of "Christian love" and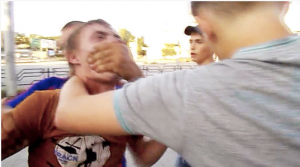 "family values." We can see the trajectory of where this influence has come thus far, and here is the warning — it is going to get worse. When all eyes are off Russia after the Olympics, the American and worldwide "Christian" and family extremists are set to arrive.
In September 2014, the World Congress of Families is hosting their annual conference in Moscow. The host committee includes, and is not limited to:
American Family Association
American Defense Fund
Alliance for Life
American United for Life
Christian Concern
Family Watch International
Traditional Faith and Property
Americans for Truth About Homosexuality (La Barbera)
Concerned Women For America LAC
Family Research Council
Focus on the Family
United Families International
The uniting of these distinctly anti-gay groups in a country that has been primed for violence against the LGBT population is a real-life nightmare. Their brand of Christian control and dominionism has not been successful in the United States in recent years, so they have taken their modern-day crusades on the international circuit. First Africa, then Russia and Eastern Europe.
This is happening now. NEVER, ever give any money to these American extremist groups. Make your church leadership aware that THIS is considered the collective message of the American Christian church about the issue of faith and sexual orientation. Silence is agreement.
Speak up, make your church leaders aware, ask them to speak up and NEVER give money to these groups for ANY of their campaigns. 
********************************
To understand the damage done by such groups in Uganda, watch "God Loves Uganda"
Comments
comments