In December, I took a trip to Vancouver, BC to speak at Lighthouse of Hope Christian Fellowship. Lisa Salazar, the moderator, is on the Board of Canyonwalker Connections. She asks excellent questions that give insight into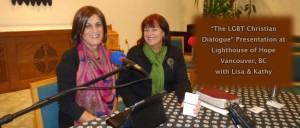 the work I do. In our work and friendship, she has become like a sister to me; that ease is reflected in the open exchange.
In Part One, I respond to:
Why are called "Canyonwalker Connections"?  00 to 3:40
What is your educational/professional background  3:41 to 5:50
How did you end up in Reno? 5:51 to 7:27
What was the pivotal event that introduced you to the gay community and how did you come to be an ally to gay, lesbian, bisexual and transgender Christians? 5:52 to 25:00
What have you seen in the ex-gay movement and what experience have you had in that arena?  And who do you engage? 25: 01 to 35:00
Why do you identify as Evangelical and why is it important to you? 35:01 to 38:00
 How do you deal with angry mail and what price have you paid for your advocacy? 38:01 to 43:50
[ONE OF THE MOST TOUCHING MOMENTS OF THE EVENING ] Why do you go to Pride Events and what was so different about going to Pride Charlotte in 2011? 43:51 to 1:02

Part Two
I respond to:
Who are those with fundamentalist voices that are affecting the thinking about the LGBT community and are they effective in their messaging?  00:25 to 8:00
How did the Evangelical/Baptist/Conservative church get "so mean"? 8:00 to 13:59
How at risk are LGBT youth in churches and schools?  14:0 to 19:25
How and why did you come to understand and gain compassion about the transgender community? 19:26 to  28:00
What do you say to people when they challenge your Biblical understanding of the verses associated with sexual orientation and gender identity? 28:02 to 37:10
How well versed should LGBT Christians be with these verses? 37:11 to 42:35
Are there effective ways to publicly engage high profile anti-gay activists? 42:35 to 50:00
I misquoted the stats on accepted versus rejected LGB youth at the end. Rejected LGB youth are SIX times more prone to alcohol and drug abuse than those who are accepted, not three times.
For more information about Lisa Salazar, please visit her website and read her EXCELLENT book Transparently : Behind the Scenes of a Good Life about her journey as a transwoman Christian.
As a side note, if you are in the Vancouver, BC area and looking for a church home. please check out Lighthouse of Hope Christian Fellowship lead by Pastor Dylan Crozier and Pastor Mani Weir. Along with their congregants, they have created a safe, welcoming and Spirit-filled House of God.
Enjoy the video; you will certainly know more about what drives me.
It IS Him. I live to serve Him.
Comments
comments