This past year was a landmark one for me. My book, Walking the Bridgeless Canyon was published. Research and writing was an almost three-year long project.
I'm now working on a Study Guide/Workbook so that individuals or groups can move through the process of learning and considering inclusion for LGBT Christians in their faith communities. I anticipate this project will be ready to go to print by March 2016.
I am seeking additional funding for Canyonwalker Connections' 501c3 so that I can manage the increased operational cost and further the educational outreach.
Would you consider joining my monthly supporters or giving a one-time gift to ensure the work will continue?
Beneath is the Annual Report so that you can more fully understand both the work and needs of Canyonwalker Connections.
You can set up monthly pays through Paypal at orders@canyonwalkerconnections, and well as give one-time gifts there.
My mailing address is: PO Box 19017, Reno, Nevada 89511
Thank you for considering supporting this essential work which fosters fairness, justice, and inclusion for LGBT Christians.
*************************************************
MISSION STATEMENT:
The mission of Canyonwalker Connections is to repair the division that exists between social and Christian conservatives and the lesbian, gay, bisexual, and transgender (LGBT) community through education, training, and dialogue in both secular and religious environments.
ORGANIZATIONAL HISTORY:
Canyonwalker Connections was founded in 2011 by Executive Director Kathy Baldock to bridge the gap of understanding and communication between LGBT people and their families, as well as their civic and religious communities.
In 2001, Baldock, well insulated in a conservative Christian church, had no gay friends, and held tightly to the belief that one could not be both gay and Christian.
After befriending a fellow hiker – a gay, lesbian agnostic woman – on the trails near her home in the Sierra Nevada, her cultural attitudes toward the gay community were challenged and began to change. In 2007, Baldock became the first straight Christian to attend the Gay Christian Network (GCN) annual conference with the simple desire to explore the faith lives of LGBT people. The relationships established there set a direction for her to become an ally and eventually a strong advocate for LGBT people of faith in conservative Christian communities and beyond.
In 2010, Baldock began a blog at canyonwalkerconnections.com; she also began speaking for equality and inclusion in churches and at national conferences. After discovering her distinctive voice and perspective on the relationship between LGBT people and communities of faith, Baldock left her job as a successful sales person in the tech industry to make a significant impact for justice in speaking into the conservative faith communities she well understood.
Currently, Canyonwalker Connections (CWC) is one of the foremost organizations working to educate and invite productive dialogue for both religious inclusion, and for social equality for the LGBT community. Initially, the advancement was accomplished mainly through a widely followed blog posting frequently; CWC receives tens of thousands of reads per month.
Baldock is the one of the most prominent female voices for inclusion of the LGBT community in conservative churches. She has published Walking the Bridgeless Canyon: Repairing the Breach Between the Church and the LGBT Community and is one of the foremost experts in the history of the cultural and religious discrimination of the LGBT community speaking and writing about:
•History of cultural and religious discrimination of the LGBT community
•Psychological history of homosexuality, gender identity, and current status
•Politics and policy
•Sexuality, gender, and orientation
•Biblical interpretations of same-sex behavior
•History of HIV/AIDS
•Mixed-orientation marriages
•Reparative therapy
•History and current status of the LGBT Christian movement
•Becoming effective allies and advocates
•LGBT youth
•LGBT issues in minority communities
THE WORK OF CANYONWALKER CONNECTIONS IN 2014:
I spent the bulk of 2014 finishing a three-year project researching and writing Walking the Bridgeless Canyon (WTBC), a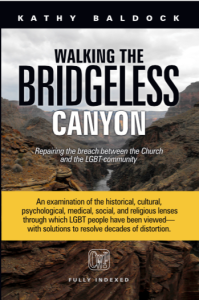 460 page book investigating the history of the cultural and religious discrimination against the lesbian, gay, bisexual, and transgender community in America. [WTBC information sheet attached.] No such accessible yet academic survey had been written to date.
The impact of WTBC has been significant in its effort to educate readers and exposing the lenses through which a minority group has been viewed historically. I am currently writing a Study Workbook to guide groups or individuals through a process of change from low to high level thinking.
Throughout the year, in accordance with the mission statement of CWC, I have presented workshops, trainings, and teachings based on the information contained in WTBC to groups including: university students, churches (both welcoming and those investigating inclusion), adult education classes, Gay Straight Alliances in schools. PFLAGs, conferences, and retreats.
During the past six years, I have maintained a blog (canyonwalkerconnections.com) with 2,000 to 2,500 unique visits per month. The posts are strongly bent toward education, policy, and inclusive biblical stances.
Each month, I receive between 50 and 100 requests for help, advise or resources. The letters typically come from LGBT youth, families with LGBT children and religious leaders. Some of these letters have come from LGBT youth in severe crisis within their non-accepting families. In the most dire situations, I've successfully connected these youth to national organization equipped to deal with suicide.
Over the years, I've established a vast network of people, groups, organizations and churches with whom I regularly connect those needing help, resources, or support. I am known within the LGBT Christian community, in particular, as being extremely well networked.
I serve on the board of two of the major LGBT Christian advocacy organizations in the US (the Gay Christian Network and The Reformation Project). All this assets combines to create great advantage to the education and support work I regularly engage in.
CWC is supported by regular monthly donors, frequent one time donors, and a handful of people who make significant yearly donations. These contributions totaled $39,000 in 2014 covering my salary as Executive Director, operational expenses, all my non-reimbursed travel expenses, as well as the initial the printing of WTBC.
CWC has accomplished significant work with a low budget and a great deal of drive and passion.
NEED FOR FUNDING:
CWC is seeking funding in the coming year to cover increased operational costs. Though I have had substantial volunteer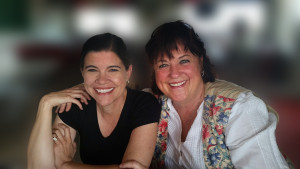 and intern help in 2014, I want pay myself a reasonable salary and hire Reno resident, Yvette Cantu Schneider as Director of Policy and Advocacy. Schneider, who has since changed her views, was a policy analyst for Family Research Council, and a ministry leader for Exodus International.
BOARD OF CWC:
The volunteer CWC Board of Directors includes 8 members who reside in: California, Arizona, Oregon, Texas, New York, Vancouver, BC, and Sydney, Australia. Members range in age from 28 to 74, and are 4 men and 4 women. We are straight, gay, lesbian and transgender.
WHAT PEOPLE SAY ABOUT CANYONWALKER CONNECTIONS:
"Kathy Baldock is one of the most tireless, dedicated, and influential advocates for LGBT Christians in the evangelical church. Her work has helped to transform the lives of thousands of people, and her ministry is a model of the kind of effective, conciliatory bridge-building work the church desperately needs." —Matthew Vines, President of The Reformation Project
______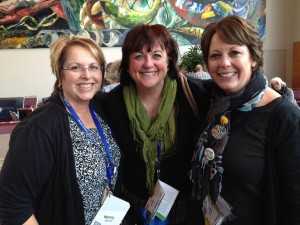 "Your seminar was the first time in my life (45 years) that I saw the true interpretation of the historical timeline and the Bible side by side. I realized that I was not an abomination to God as my mother states. Thank you for enlightening my path as I walk with God in my new understanding of His Word." — Brian, Sacramento
______
"Kathy's seminar has changed my whole understanding of the history of the American Church, American politics, and the LGBT community.  Her precise way of cutting through the lies, mistruths, and ignorance of the general population regarding this information is transformative.  I walked away with a better understanding of what society has said about LGBT persons versus what God has said about LGBT persons.  This understanding gave me freedom of faith, an acceptance of my own sexuality, and cultivated healing and wholeness in my life."  – Alisa, San Francisco
______
"Finding Kathy's website was a blessing for us. We are Christian parents who raised our children in church and Christian school. Having a gay child brought years of shame and guilt. We were confused, struggling and searching for answers. When I stumbled onto her website, it was a breath of fresh air!
Kathy has been given a gift to share, a mission to reveal the truth, a ministry of reconciliation that cannot be stopped and
won't be silenced. Kathy, you are strong, you are kind, you are a blessing to so many. Thank you from the bottom of our weary hearts!" — Sandra, SoCal
______
"When I first heard you speak at a local conference last year I was touched by the passion and drive that the Lord had put on your heart for this topic. You are filling a hole in the story that has not been told and I'm excited to see where it leads. Thank You for standing up when called." —Clifton, KC, MO
______
"Kathy Baldock has achieved something remarkable. By tying together such disparate threads as historical understandings of sexuality, scientific discovery, 20th century political movements, and scriptural translation, she's created a timeline we can look to to better understand where we have come from and where we are now.
At a time of passionate discord over the efficacy of gay relationships and the mainstreaming of marginalized LGBT people both within the church and society, Baldock offers a necessary tonic to our understandings. Regardless of anyone's position on these matters, there is something new to be heard here.
Baldock herself is eloquent, charming and often quite funny. She seems to take herself seriously only in her passion for God, for truth, and setting people free – people who have been held captive for far too long by fear, by misunderstanding, and by just plain bad practice of the Gospel of Jesus Christ." — Shane, Sacramento, CA
______
"I support Kathy's work because I admire what she does and stands for. Her work, writing and speaking has been an encouragement to me in my personal journey as the proud mom of a gay son. She's an inspiration and I hope to, like Kathy, impact my community with the message of Christ's love for ALL." — Dena, San Diego, CA
______
"There are those who speak eloquently about spiritual abuses levied against the LGBTQ communities, and others who by their life model a different and holy path. Kathy Baldock is a national leader helping to facilitate honoring discussions with the goal of seeing latent prejudice, anger and ignorance dissipate with each handshake and hug.
Far from strident her teachings and presentations lays out a solid foundation for understanding and bridge building that can liberate many hard hearts and invite people to unclench fists. It is a must read. — Butch Maltby, domestic and global fundraising consultant, Senior Advisor Newton Media
______
Kathy Baldock
Executive Director
Canyonwalker Connections
EIN # 45-2410385
Organization site:  canyonwalkerconnections.com
Educator/Speaker site: kathybaldock.net
Comments
comments