With marriage equality in the rearview mirror, the transgender community has been the newer focus of the conservative Christian community in recent years.
Typically of most of these authors:
* They lack personal experience with Christian transgender people,
* They misuse studies where the authors of the studies have consistently requested that their studies not be misused
* Most typically connect first century Gnosticism with what it means to be trans — JUST STOP THIS. STOP.
* They use the Bible as a science text for sex and gender (biblical anthropology)
* They instruct readers to not use the transperson's chosen name
* They say they love people, but tell readers: don't buy into the transperson's delusion, or "gender confusion."
**********
What Does the Bible Teach About Transgenderism? by Owen Strachan and Gavin Peacock
Without exception, all the conservative Christian authors I've read and reviewed in this category ignore what is known in the science of human sexuality about transgender issues. Consistent with the pack, Strachan and Peacock "go to the Word of God, the one source on planet earth that offers us timeless truth. Strangely, Christians sometimes focus a great deal on what psychologists and doctors say about gender dysphoria and related issues." (p. 29) Strangely?
We pick and choose the sciences we like. We like advancements in medical science because they serve us, yet some, including these authors, resist, or more accurately, completely ignore the science of human sexuality and its advancement. Sexual orientation and gender identity are categories within medical disciplines, not moral or ethical disciplines.
In the third book of the series, "What Does the Bible Teaches About Transgenderism?" (Christian Focus, 2020, UK) the authors assert their "little book" is "about truth even as it is a book about love." As I read this book, I tried to imagine the reception it might find within the progressive Christian community, in particular, what my transgender Christian friends might think about the contents. (Continued on Amazon, continued on this site.)
*************
Linked within this post are the reviews hosted on Amazon.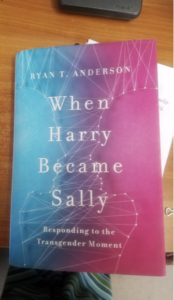 Ryan T. Anderson, research fellow at The Heritage Foundation, when asked why he was working on "When Harry Became Sally—Responding to the Transgender Moment," wrote "The simple answer is that I couldn't shake from my mind the stories of people who had de-transitioned. They are heartbreaking. Those most vulnerable to the transgender moment need a book like this, and I had the resources to research and write it." (p. 205
Having read and reviewed two other books by Anderson, I question his stated altruistic concern for "detransitioners" as the motive for his latest book. After all, as confirmed by the people whose stories he used, Anderson did not attempt personal contact with four of the six people he used as examples in Chapter Three: Detransitioners Tell Their Stories.
Anderson likely did speak directly to Walt Heyer, the perennial poster boy for conservative segments of the policy and religious arenas. I have read and reviewed a book by Heyer elsewhere on Amazon. By his own admission, he suffered schizophrenia. (Complete Review on this website.)
This book is no longer available on Amazon, the only review is hosted on this site.
**********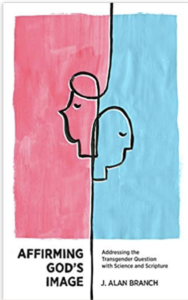 Affirming God's Image: Addressing the Transgender Question with Science and Scripture written by J. Alan Branch (Southern Baptist, and staff member of the SBC's Ethics and Religious Liberties Council), is the sixth such book I have read in the past six years which fall in the Christian genre of anti-transgender books.
Before fully reviewing this latest addition, I would like to make a blanket plea to conservative Christian authors who constantly feel compelled to add to the category of anti-LGBTQ books—please, for the sake of the message of the Bible and adherence to the example of Jesus, get into relationship with those who you are creating theology about. When one develops their theology about any group of people in a vacuum and does not allow their beliefs to be intersected and disrupted by those we are evaluating, condemning, or judging, we will most assuredly lack compassion in our formed theology. Theology that does not consider the intersection of the Scriptures and humanity will end up being bad theology that favors our unchallenged views.
It is clear in reading Branch's book that he lacks personal relationships with those who are transgender, particularly those who are both transgender and Christian. Rather than doing the work that requires one to empathetically listen to those whose lives are unlike his own, Branch makes the same mistakes all his predecessors have. (Complete Review on Amazon)
**********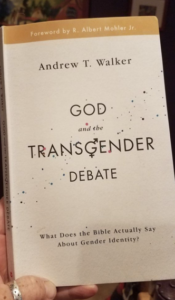 "God and the Transgender Debate–What Does the Bible Actually Say About Gender Identity?" authored by Andrew T. Walker, Director of Policy Studies with the Ethics and Religious Liberties Commission (ERLC) of the Southern Baptist Convention (SBC), has been positioned as a book that will help readers "learn more, (and) love better" (p 16) as he takes "a careful look at what the Bible really says about gender identity." (p15)
Settle in for one of my epic reviews. I will be challenging the author's premises and conclusions in three sections.
Walker begins his book, "At its heart, this debate isn't about a debate. It's about people; precious people made in the image of God who are hurting." (p 14)
In light of the "transgender revolution" that is "flipping over the table of centuries-old norms," (p15) Walker wrote the book for busy people "who want to consider what the Bible says about transgenderism." (p 16) (Continued on Amazon)
********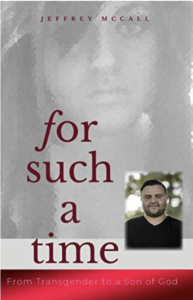 For Such a Time as This: From Transgender to a Son of God" by Jeffrey McCall (Amazon Digital Services, 2019) I decided to read this book after watching the Freedom March live from DC in May 2019. Every story and testimony from the stage recounted tragedy suffered by the person now declaring themselves to be no longer gay, or lesbian, or transgender. Knowing McCall was the organizer, I decided to read his memoir.
I find the subtitle alone intriguing — "From Transgender to a Son of God."
I am well aware that every person has a unique story, and McCall too has his. But, from listening to the stories of hundreds of my transgender friends, his story does not resonate with threads of similarities that I've heard so many times, mostly involving persistent knowing from an early age that the internal sense of self did not match the external body. Again, McCall has his story, but it is not at all representative of the transgender people I do know and am in close relationship with.
[Continued HERE on blog site and HERE on Amazon.]
**********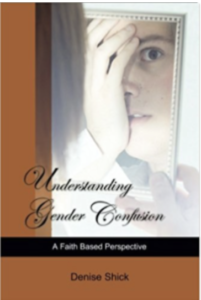 When I read information about sexual orientation and gender identity issues, the context of time is an ESSENTIAL piece of communication. This element is sadly left out of Shick's writing. I had to do the math — she is about 46. When she was 9, her father transitioned. That would have been around 1977. This IS a key piece of information conveniently omitted.
VERY LITTLE was know about gender identity at that time. Doctors were still regularly snipping and cutting intersex babies in attempts to make the body match the gender. Shockingly, that practice would go fairly unregulated without best practices standards until 2005.
The culture in which Shick's father came out was extremely naive by our standards. Cross-dressers and transgender people were regularly mistaken in common language. There would have been very little, if any, readily available resources for him to try to understand what was going on. Hey, maybe he was a cross-dresser and NOT transgender?
And on Amazon.
*********
Gender, Lies and Suicide by Walt Heyer
The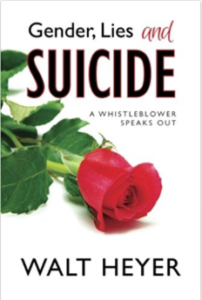 re is no doubt that author Walt Heyer is angry and dissatisfied with his choice to undergo sex reassignment surgery 30 years ago. He feels he was not properly counseled and was actually suffering childhood trauma that altered his view of his gender, and then subsequent adulthood depression. Do I think this is possible? Yes. I do think a person can be damaged from childhood trauma and have a skewed view of gender
.
It is estimated that there are between 32K and 40K male-to-female transwomen in the US currently. Heyer presents his story as a warning and somewhat typical. When I read his book, I immediately likened it to a person who has had a traumatic childhood, entered a life of abuses, and twisted his narrative of abuse, and often destructive behavior with sexual orientation "blaming" a homosexual orientation with childhood dysfunction. In fact, Heyer does PRECISELY that several times in the book:
"There is no proof that transgenders are born. How a child acts out their gender roles will vary depending on the parent or parents, siblings and anyone else who has an active role spending time with the child from a very young age."  (Continued HERE.)
**********
"TranZformed: Finding Peace with Your God-Given Gender" (2017), produced by David Kyle Foster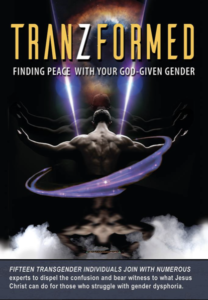 (founder and director of Mastering Life Ministries and the producer of "Pure Passion" TV, and member of the advisory board for the Restored Hope Network (RHN)) is the story of "15 former transgenders (who) join experts (to) bear witness to what Jesus Christ can do for those who struggle with gender dysphoria."
[I purchased this item directly from the seller]
Of note, I had a heck of a time getting a hold of this video. Over a ten week period, my payment was rejected and order was thrice unfilled. Three follow-up emails went unanswered. Finally, a friend ordered it, got it within four days and mailed it to me. Now, having viewed the film, I understand why Foster might be reticent to have me watch and review his movie.
Several years ago, I attended the inaugural RHN Conference. At the time, Foster was an RHN board member. Following the event, I wrote a four-part less-than-flattering commentary about the organization. Since then, I have reviewed books suggested by RHN and have found all of them consistently filled with inaccurate stereotypes, single stories, the voice of "experts" who are not experts, partial truths, and unrestrained lies. Unsurprisingly, "TranZformed" holds to the same pattern of content. [Continued on Amazon]
**********
A New Kind of Apologist by Sean McDowell — A Book Review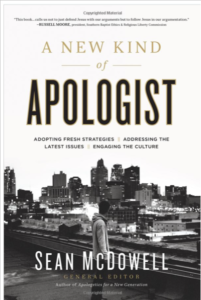 I wanted to be encouraged by the chapters on gay and transgender issues in Sean McDowell's A New Kind of Apologist (Harvest House, 2016) in which McDowell acted in the role as editor over 27 authors with "a new approach to apologetics." (Apologetics is reasoned arguments used to establish and defend the Christian faith.)
I have personally met and spoken with McDowell and two of the contributors to his book whose chapters I will be discussing here: Alan Shlemon, author of the "Transgender: Truth and Compassion" chapter, and Glenn Stanton, author of the "Being Authentically Christian on the LGBT Issue" chapter.
I had hoped each of these three men would indeed reject the myth-filled rhetoric on LGBT issues inside the evangelical bubble and instead address their respective topics well, as McDowell tells the readers the "new apologist" must. Along with being humble, relational, and living out their advice to readers, McDowell informs us, the new apologist must also be "studious."
[ORIGINAL POSTED ON AMAZON]