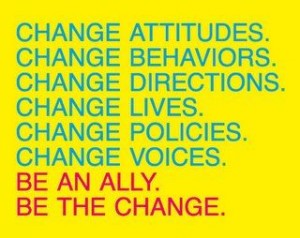 In the past decade, I have gone from  being a comfortable friend of the lesbian, gay, bisexual and transgender community (LGBT) to becoming a visible advocate. The gay community I had been warned about was not the gay community I came to know; the exclusionary practices of the Christian church were unsettling to the sense of justice and equality my faith had taught me.  Although, there were a few straight Christians beginning to speak for the inclusion of gay and transgender people in churches, there was no one with whom I resonated in tone and message. It was a lonely spot but, with God, I started to find my way through the seemingly overwhelming mess.
In 2001, I met my good buddy, Netto on a hiking trail; I walked thousands of miles and  had hundreds of conversations with her. I tagged along  with her to lesbian social gatherings.  These interactions were the bedrock upon which I began to shift my views of the LGBT community, within first, a social context, and then in growing relationships that challenged and changed my religious views.  Over the course of the ten years, virtually all my negative opinions of the LGBT community transitioned to positive ones.
Maybe this resonates with you.  Your revelation of Jesus does not align with the Jesus most often presented to the LGBT community by the church.  You have gay friends, maybe even gay Christian friends and you are wondering how to reconcile what you've been taught with what you are beginning to realize: gay people are just like straight people, except in sexual orientation.
In the US, half of us believes sexual orientation is a choice and half of us believes being gay or trans is innate. Once we realize sexual orientation and gender identity are not choices, we move away from categorizing homosexuality and trangenderism as behaviors, and hence, changeable.  For Christians, this can be an unsettling realization often in conflict with our religious teachings.  The more entrenched we are in a church community, the greater the risk becomes as we ask questions that challenge our faith traditions.
I am empathic to those in that process.  At the beginning, I navigated this path with little support and scarcely few role models.  I knew what I felt, but had little resources to support my inner passions. It was an uncomfortable place to be, wrestling with the conflicts of my faith tradition with what I could see as true in the gay community; and in the gay Christian community in particular.  I found myself saying, "I don't know" a lot.
So, now I am turning back to grab the hands behind me, to you, to those who are where I was.  I am offering you a place to learn and to connect.  When you are having theological dialogues and conversations and can't yet verbalize the answers, let me help you carry that burden.  I can point to something I have written or to on of the many excellent resources becoming available.  It can be a relief to point to an authority.
You don't need to know Greek, Hebrew, and the gay Christian culture before you start to speak up.  If you know that the Jesus you love is not being accurately portrayed to the LGBT community, start with a step and a whisper and refer questioners to reliable sources.  At some point, you will be able to speak and stand on your own.
I hear from straight people who read my blog , see my videos, go to my workshops or connect with me in other ways.  Relationships with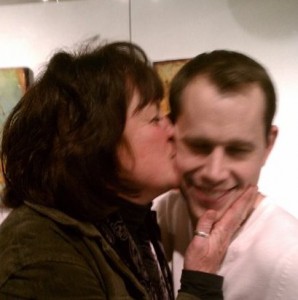 gay and trans people drive them to find answers and often, they find Canyonwalker Connections .  The insights and wisdom, resources and tools are the fruit of ten years of a long, thoughtful and prayerful process.
As gay people come out, as gay Christians claim and stake their equal status in Christ and as straight allies find one another, things are changing. There are reputable, passion-filled Christians who bravely started the public questioning. There are ways to connect and to be empowered.  You won't be alone and you will find leaders and resources.
Canyonwalker Connections is easily navigated and can be tremendously helpful to straight Christian allies and families.  Several topics of interest have dozens of related posts and links:
So, what is your next step?  Befriending gay and trans people?  Reconciling Bible verses with the call to equality and justice?   Becoming more outspoken in your own faith community?  Whatever it may be, I have probably stumbled through it already.  Experience is what I am offering to those "behind" me.  Take what I have labored to learn and point to my site  when you can't handle the questions or the controversy.  Be where you are comfortable for a while, but push to get to the next place.  Contend for grace and love and equality.
Christian allies are willingly entering this struggle on behalf of gay, lesbian, bisexual and transgender people.  The change in churches will likely come from the pews, from Christians who are willing to ask and to engage and to risk and to study.  We can energize this conversation together as well-informed, passionate Jesus-followers, gathering along a grace-filled road, standing for unconditional love and inclusion of our gay, lesbian, bisexual and transgender brothers and sisters.
Comments
comments