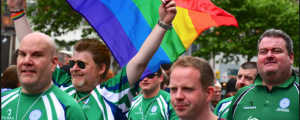 Guinness pulled its sponsorship of the St. Patrick's Day Parade in NYC when parade organizers said gay marchers were forbidden from carrying any gay-related signs.
Interestingly, 91% of Fortune 500 companies have non-discrimination policies which protect LGBT employees. Of that group, 67% offer benefits to same-sex partners.
"It's expensive to hire people, and you don't want to lose someone because they're gay," a former manager with Raytheon says. "For companies it will always be a business decision: 'Does it or doesn't it help me make money.'" Jennifer Delton of Skidmore College, author of "Racial Integration in Corporation in Corporate America, 1940-1990," investigated the impact of racial integration of the workforce. She says, "Once business makes the move, the move becomes somewhat institutionalized."
Businesses have been leading the way to equality since the 1980s and 1990s when their gay and lesbian employees began lobbying for same-sex benefits. Only 40% of states have laws prohibiting discrimination based on sexual orientation, and far fewer protect the rights of transgender Americans.
A Pew Research poll conducted last month found 54% of Americans favor legalizing same-sex marriage, up from 27% in 1996.
Christians should be leading on justice and equality issues, but we lag behind business, the  American population, and state laws. However, the support of Christians is ever-increasing — 32% of practicing Protestants support same-sex marriage, up from 24% ten years ago.
We are trending in the just, right and fair direction.
To Guinness — Sláinte and go raibh maith agaibh. Cheers and thank you.
Info from WSJ, 3/20/14 and Barna Research
Comments
comments