Twelve white Christian heterosexual (assumed) men whose mamas didn't teach them to share or respect the dignity of others.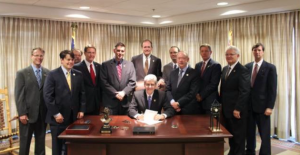 Tony Perkins on the passage of the "Religious Freedom Restoration Act" in Mississippi. "Today, I had the honor of joining Mississippi Governor Phil Bryant (R) at the signing of SB2681 — the state's Religious Freedom Restoration Act (RFRA) and had the opportunity to thank him first-hand — and others who were instrumental in passing the bill — for their tremendous leadership in defending religious liberty."
I read the Bible — I have not once seen a list of my "rights" — just a whole bunch of do-for-others, justice, and fairness stuff in there.
I need the Persecuted Christians Version.
Comments
comments