[I do a recipe for gift giving each Christmas. Not quite the focus of this blog, yeah, I know. The blog is a convenient place to host the recipes that I get asked for so often. ENJOY!]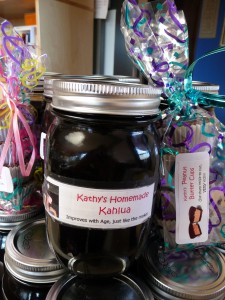 I owned a Christmas store for almost fifteen years and have seen so many excesses in purchasing.  Personally, I have moved to a more simple life and when it comes to holiday gift-giving. I don't wander the malls or holiday craft fairs trying to match item to friend. I now find food items to make so  that I can share a talent and love with friends in a more simplistic  manner.
Last year I gifted friends with Bailey's Irish Cream and cupcakes. This year, it will be  Kahlua and Peanut Butter Cups. Ah, peanut butter cups, I love 'em! If you too are peanut butter cup devourers, you will have noticed that the commercial ones have gotten smaller and the chocolate shells have gotten thinner.  At my public disappointment on Facebook after Halloween (an official Peanut Butter Cup Holiday),  a friend suggested I make my own. "Great  idea!", I thought, so, now, I have.
After making one batch of  both the online Kahlua and candy recipes, I then adapted them with my preferred nuances. Here are my versions:
KAHLUA
12 cups of strong coffee
2 lbs. of brown sugar
6 T vanilla extract
1 – 750 ml bottle of vodka
1 1/2 inch by 1 inch high mini-muffin papers, twice the amount of the recipe final count. You form the candy in one paper and will tear it off and present it in another paper.
In a pot, heat coffee, add brown sugar, mix and bring to soft boil. Cool pot off in sink of cold water to speed up the cooling process. Add vanilla extract and vodka. Divide into glass gift bottles saving some for yourself. Aging the mixture for a week improves the flavor, but it really is good right away!
I used pint canning jars for the "moonshine" effect. The above filled about  6-1 pint canning jars with some left over for me to "test" right away.
PEANUT BUTTER CUPS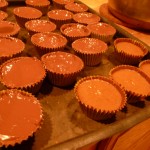 4 cups of milk chocolate chips, milk chocolate, NOT semi sweet
1 cup butter
1 cup smooth peanut butter
2 cups confectioners sugar
1 1/2 cups of graham cracker crumbs
Makes 25-30 pieces
Melt chocolate chips in double boiler (hot water should not touch the bottom of the chocolate holding pot; it will scald the chocolate or make it grainy). When chocolate is smooth, use basting brush to coat inside of mini-muffin cups. The size papers I used was 1 1/2 inch by 1 inch high. The first 1 inch basting brush I used was a high quality one, the even at the bottom and thick style. It was far less efficient than a second cheap, uneven bristle version which worked far better.  Put the pan of chocolate coated muffin papers outside to cool off or in the refrigerator. It is pretty cold where I live and the coated cups were solid in about ten minutes.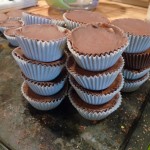 Meanwhile, melt the peanut butter and butter over medium heat, stirring occasionally until melted.  Stir in confectioners sugar and cracker crumbs until smooth. Cool the mixture.
When cups are solid and peanut mixture is mostly cool, spoon peanut mixture into cups. Let the cups settle and set a bit in the frig or outside again.  After the peanut mixture is settled and a bit solid, brush a layer of chocolate on the top, covering to the edges. Refrigerate a few hours.
Peel the paper off the cups. It may take a sharp knife to start the process, then place the candy into clean paper cups.
For festive packaging, I used cello bags, ribbon or wire and fun labels I printed out for the candy.
These are rich and way more than a biteful.  You may want to offer or suggest sharp knives to your guests to cut them
into four pieces as they eat them. One piece is plenty for a yummy dessert served alongside the above Kahlua poured over half and half with ice.
I will start the simplicity of  Christmas day with an early morning hike with my dogs in the snow.  Then, in  a tradition started a few years back with my now 24 year old daughter, I spent much of the day at the movie theater catching three new flicks with Sami.  My son, who works at a ski resort, will be serving others in their family fun.  I end the evening at a friend's home along the Truckee River eating old country Italian foods and playing games with great enthusiasm in the midst of people I love.
Merry Christmas to my readers; I appreciate the loyalty, the interaction, the encouragement and yes, even the challenges.
And, Happy Symbolic Birthday to my Savior. In Him I live and find the purpose and passion of my life.
Happy Trails,
Kathy, Canyonwalker
Comments
comments