Young Jessica K has become an unlikely Youtube "sensation" in the past few days. Her "Rated T for Tolerance" video jumped from about 5K views in 8 months to over 223K views in just four days. Publications and people reacted to the ignorance and bigotry of Jessica's severely offensive anti-gay, stereotype-filled spoken word diatribe.
If you were to follow the circuitous route back to her infamy, you would find it in blog post I published on February 25th.
The complete story unfolds in "My Youtube Stalker David Jarzabek is a PASTOR". In late 2011, an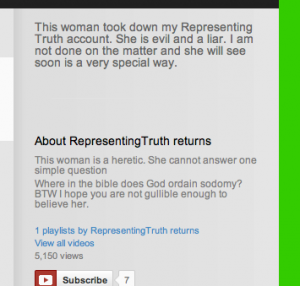 unknown man calling himself "Representing Truth" had created twenty videos in twenty six day directly attacking me for the work I do as a heterosexual Evangelical for the full inclusion of LGBT Christians in the church. Following persistent reporting to Youtube, I was successful in removing seventeen of those video under the Youtube Community Guidelines for: hate speech, cyberbullying, harassment, infringement of both privacy and copy write. The bully had been operating under three channels and six identities. My only direct communication with this tormentor was responses   to three posts the day he initialized the attack. Seeing he had commented on fourteen of my videos in short succession, I knew he was obsessed with all-things-gay and soon, all-things-me. I blocked him with the intention of ignoring him.
By December 2011, he seemed to go away. Big sigh. Big lie.
In early February 2013, a video of me being thrown out of an Evangelical church hit 6K views in a few days. The video shows me standing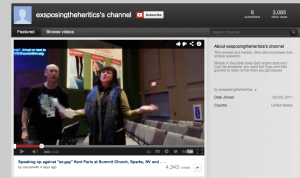 to make a protective statement for LGBT youth on the dangers of reparative therapy during the Q&A of ex-gay leader Kent Paris; five security guards grabbed me and evicted me. The notoriety of the quickly rising numbers of views must have been too much for "Representing Truth" and he began his cyberbullying and threats again. 
He reopened three channels posting my eviction video and again, began the threats:
Representing Truth was taken down by this woman (me) and she almost took this one down. There's a surprise for this witch. Stayed tuned . . .
and
This woman (me)  is a heretic. She cannot answer one simple question. Where in the Bible does God ordain sodomy?
and
This woman (me) took down my Representing Truth account. She is evil and a liar. I am not down on the matter and she will see soon in a very special way.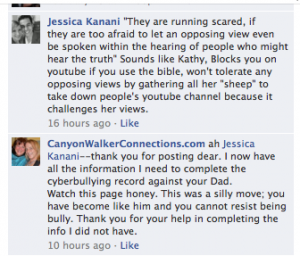 He was back using three channels, four identities and now uploading onto his daughter's channel "Apoiogetics" too. Foolishly, "Apoiogetics"/Jessica also could not contain her own desire to "scold" me. She posted to my Facebook wall:
"Sounds like Kathy blocks you on youtube if you use the bible,won't tolerate any opposing views by gathering all her "sheep" to take down people's youtube channels because it challenges her views."
I saw that comment at about 11 pm on Sunday, February 24th; it rang familiar and I started to follow the Facebook links, taking screen captures and looking for the identity of both "Apoiogetics" and "Representing Truth". At about midnight, and after 16 months of being cyberbullied and taunted by "Representing Truth", I saw his face of my cyberbully  for the first time and now, I knew his name: David Jarzabek.  [This is the identity, voice and creator of the video "50 examples of how Same Sex Marriage affects society" on his daughter's Youtube channel.]
What stunned me was, aside from his day job as a software engineer, he was also a pastor at an Assembly of God Church in Grand Prairie, Texas! I listened to the voice of my stalker giving sermons from a pulpit.
I wrote about the experience, posted it and tracked down the head pastor the next day. Jarzabek had already spoken to Pastor Frank Tull, who knew nothing of Jarzabek's dark side, and convinced him that I had cyberbullied him by getting the channels removed on Youtube.
Eleven days have now passed and I have not had one conversation beyond the initial not-very-productive one with the pastor. "We will look into it, " I was told. I've contacted the District Assemblies office in Waxahatchee, TX with again, no response. The national office did respond telling me that Jarzabek was not ordained by the Assemblies.
I am greatly appreciative to Youtube. All of the relief from attack that I have received to date is from the legal offices of Youtube; I applaud them for protecting me.
I am however disappointed that the "Biblical" process of Matthew 18:15-17 has netted me no response.
If your brother sins against you, go and tell him his fault, between you and him and him alone. If he listens, you have gained your brother. But if he does not listen, take one or two others along with you, that every charge may be established by the evidence of two or three witnesses. If he refuses to listen to them, tell it to the church."
After posting, I decided to take care of the last of the links between me and Jarzabek on Youtube: three lingering videos breaching my privacy and copyrights and the removal of my name from both his and his daughter "Apoiogetics"/Jessica's videos.
On March 1st, I posted Jessica's "Rated T for Tolerance" on my Facebook page and identified her as the stalker's daughter who was also using my name to tag her hateful video. I warned her in a message and reported her  to Youtube for abusing and linking my name to her hate-filled videos. Because I am fairly well connected, the video was picked up and linked on blogs and various online sites. Five days later, it has 223K views.
Jessica Kanani is now an (in)famous Youtube star. A reading through the thousands of comments is interesting. Both father and daughter believe their variety of telling and preaching is the work of God; the comments do not reveal that the viewers see God in what they do.  There is a quite simple way to test if God indeed is in the mix: if the actions brings life and love, it is God.  The actions of David Jarzabek and daughter, Jessica fail the test.
I wish I had clarity on why it is that David Jarzabek, who exercised and modeled the greater offense, is seeming to skate by, and it is his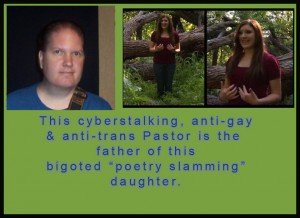 daughter that is being highlighted in the court of public opinion. I do know that as a parent, if I had caused one of my children this kind of negative exposure with my intentional actions, I would be writhing in internal pain. As a responsible and loving parent,  I would be doing all I could to step away from the public eye, close down the accounts and make amends.
Sadly, I can be confident, having dealt with both father and daughter, that this experience will add merit badges to their "Persecuted for Jesus" sashes. Yes, this will be their war story of "suffering for Jesus" rather than acknowledging the fruits of tormenting other humans.
So, for those of you who cannot imagine how this young girl became so hateful about LGBT people but ignorant about the core message of the Bible as love, treatment and service of others, all you need do is understand the obsession modeled to her by her father. She had planned on a career as a professional drummer; unfortunately, the internet has a long memory that stretches beyond this week.
My personal disappointments about this experience as a Christian are multifaceted.
A man like Jarzabek can be convinced that what he is doing by bullying a person with another theology  is a sacred and holy action. The LORD I follow always stands with the marginalized, not the oppressors.
The infection with his poisonous discrimination and indoctrination of bullying to his child.
The guidelines for dealing with offense within the Christian community have been ignored. I have been victimized, the offender exposed and I am being ignored.
Conversely, "worldly" institutions like Youtube provided better safety and protection than did the church in this instance. The courts will now dictate amends that could have been/could be settled with Christian repentance.
The further degradation to both the Name of Jesus Christ and public image of conservative Christianity. (I am an Evangelical Christian and consider myself to be of fairly orthodox theology.)
So, there you go. That is the backstory to the rapping/spoken word girl in the forest who can rhyme words that end in "ate" and is convinced that she does not hate nor discriminate. She learned well from her father. The apple did not fall far from that tree.
[Mr. Jarzabek — I can see when you read these posts.]
Comments
comments