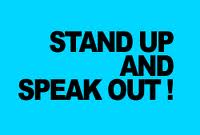 This is being spoken from some  pulpits of churches filled with good and caring Christian people.
The intensity is getting worse.
Christians MUST make a decision to get educated on the issues of same-sex attracted people and the Bible.
While you remain passive and ignorant on these issues, gay, lesbian, bisexual and transgender people, and even those that are  believers are being dehumanized.
You MUST speak up.
In your silence, often the most  prominent Christian voice being heard is filled with "sacred hatred", lies and half truths.
"Sacred hatred" is rampant.
If you hear the lies and the hate coming from your pulpit, stand up, move to the side, bow your heads and do not sit under these teachings.
Leave these churches. Tell them why you are leaving.
Get educated. Stand up. Speak out.
Both these messages were delivered on Mother's Day, May 13, 2012 in Christian churches. One was delivered  in North Carolina where Amendment 1 was voted by popular vote into the NC State Constitution. Amendment 1 recognizes only a man and woman as the legally protected union in that state. The other was spoken in a church in  Houston, Texas.
This is Pastor Charles L. Worley of Providence Road Baptist Church, 3283 Providence Mill Rd, Maiden, NC 28650.
Email:  pastor@prbcnc.com
Next, is Pastor Gregg Matte, Senior Pastor, Houston First Baptist, 7401 Katy Fwy, Houston, TX 77024.
Email: gregg.matte@HoustonsFirst.org
Go to minute mark 4:30 where Pastor Matte says:
Did you know that the average age of death for the homosexual is 41 and of AIDS is 37? One percent of the population lives to old age, 1%.
For clarity, this "statistic" is from Paul Cameron  (1994). At the height of the AIDS epidemic, Cameron collected 6,516 obituaries from 16 gay newspapers over a year and arrived at an "average" age of death of 41 for gay men.  And this is scientific research worth repeating in the House of God? This wholly discredited half truth has been "pulpit-worthy" for two decades.  Here is an excellent explanation of  the  Cameron "research" analyzed by Jim Burroway, BoxTurtle Bulletin.
When Pastor Matte repeated this "statistic" from the pulpit, I hope he is not intentionally lying.  I hope he is misinformed and will now be more careful. A correction and apology would be appropriate.
Minute mark 4:30, Happy Mother's Day Moms of gay children.

Get educated.  Stand up. Speak out. 
Comments
comments