The Gay Christian Network (GCN) holds an annual conference each January as part of its mission to share the love and light of Christ.  GCN was started in August 2001 by Justin Lee , recently named one of the 15 most inspiring LGBT religious leaders and author of the upcoming "Torn: Rescuing the Gospel from the Gay-vs.-Christian Debate" . When Justin started blogging in 1997, he found that his voice was resonating with other lesbian, gay, bisexual and transgender (lgbt) Christians all over the world who were struggling with their Christian faith and sexual orientation.  The organization has now grown online to over 20,000 LGBT Christian believers and their allies.
In 2006, just 40 people attended the first GCN Conference; this year about 450 people will be meeting in Orlando, FL for the Seventh Annual GCN Conference January 5-8, 2012.  The main speakers will be: Justin Lee, Misty Irons and Jeremy Marks for the "Ambassadors of Reconciliation" themed event.  Misty Irons and her husband, Lee began to question same sex civil unions in the church they planted and pastored in California; they were forced to leave.  Jeremy Marks founded Courage UK in 1998, one of the leading ex-gay ministries in the UK for lesbian and gay people. After 12 years, he became fully gay-affirming after recognizing the despair of people who unsuccessfully sought change.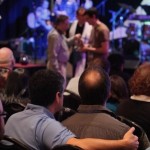 WHO SHOULD THINK OF ATTENDING?
Gay, lesbian, bisexual and yes, even transgender Christians. For some lgbt Christians, it is the first time they experience authenticity before God.  Every year I meet a few people who have never stood amongst their fellow lgbt believers in worship to God. Communion on Sunday morning in a liturgical service is a beautiful time that never ceases to make me cry; I watch people welcomed at the Communion Table that so many have been barred from.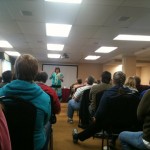 There are workshops on topics such as the Bible and homosexuality, dating for single Christians, celibacy, couples   communication,    prayer, responding to homophobia, telling your story and ex-gay recovery.  Besides the two general sessions with speakers, music and skits each day, there are two workshop time slots with many options.  The extensive meal times are one of the most valuable relationship-building times offered.  Two and a half hours will seem too short at times to make new friends and reconnect with old ones.  Several marriages and life partnerships have come from those meal times!
Parents and families of lgbt Christians.  I have watched this group grow over the years. The first year I did the targeted workshop, I spoke to less than ten people.  Last year, I had over seventy people in the session.  The feedback I hear from parents on their conference experience is excellent.  They are thrilled at the resources available to their children to both follow Jesus and maintain dignity as a lgbt Christian. In their home churches, these parents and family members may have wondered, "Will my child ever find happiness and a life of Christian integrity?"  All those fears are countered as they watch healthy gay and trans Christians communing.  It is a life-altering and soul-comforting experience for parents with lgbt children.  This is not limited to parents of youth; last year, one man in the over-50 range pushed his dear, sweet Mama around in her wheelchair.
Pastor and youth leaders. Gay and trans Christians are in your churches and unfortunately, most churches are lacking healthy role models for them.  The prevailing current options are "stay and hide," or "get out."  More church leaders are aware of the need to create a safe place for gay and trans Christians.  Come to the conference to form relationships, hear stories and get help in making your faith community more welcoming.
All Christian denominations.  The first two days tend towards Evangelical-type worship, and Sunday is liturgical.  The GCN message boards have groups for Catholic, Anglican/Episcopal, Pentecostal/Charismatic, UCC, MCC, Disciples of Christ, Quakers, Seventh Day Adventist, Presbyterian, Non-denominational and Lutherans.  All the flavors of Christianity are represented and  welcomed, and everyone gets along!
Spouses in mixed orientation marriages.  In increasing numbers, we are seeing these couples come to the conference for fellowship and connections with other couples that understand their particular situation.  One of the keynotes in fact, Jeremy Marks, is in a mixed orientation marriage; he is gay and remains married to his wife.
Gays and lesbians who have gone through or are currently in Exodus-type programs. Many attendees have

been in reparative therapy programs. Last year in my workshop, I had a woman who was still leading an ex-gay program.  Wherever you are on this journey, you are welcome.  The conference, however, is targeted to affirming gay and trans Christians in reconciliation of their sexual orientation and gender identity with Christianity.  If you are more accustomed to the Exodus-type conference experience, the stark difference that I understand people encounter is the freedom in worship.  I have been told repeatedly, many lgbt people at Exodus are constantly longing for more healing with a God-please-fix-me-attitude.  That is not the atmosphere at GCN.  You will see people accepting of who they are before God and "free" in their spirits before Him.
COST AND FACILITIES:
The host hotel is Doubletree at Seaworld in Orlando with room rates of $99 extended before and after the conference as a courtesy (Jan. 1-12).  Many people are also staying in condos and nearby rentals with groups of friends.  The fee for the conference is $135  with a special Friends & Family Rate of $35 for first timers.
Consider joining us; people come from all over the US and Canada and as far away as New Zealand.  This will be my sixth conference; some of my closest friendships have been formed at the GCN Conference.  The days can be as laid back or intense as you want them to be; expect games and conversation in the hotel lobby until one or two in the morning.  The long mealtimes are some of my most treasured moments.  Many reading this will have been the recipient of my uber-hospitality as I grab people in the lobby and beckon, "Come along with us."  This is the attitude at the conference: repeat attendees are strongly encouraged to find first timers (name tags marked with a star) to join them.  Groups will be enjoying the theme parks before and after the conference; you can check on the GCN message boards and tag along; no one is left out.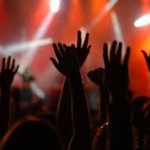 The experience of a conference will linger all year long.  Many areas of the country have very active local GCN groups that meet regularly for Bible Studies and events.  We stay connected on the GCN message boards and Facebook and anticipate the next January when we can be together again at the next conference in a different area of the country. So, join us.  Get involved beforehand and make some friends on GCN  so that your experience will be even richer.
Whether you are gay, lesbian, bisexual or trangender or one of those who love or advocate for them, the GCN Conference is an excellent time of encouragement, connection and FUN!  See you in Orlando.
Comments
comments