Focus on the Family, a conservative Christian ministry, wants high school and college-aged students to join them in their "truth telling"

sacred bullying-in-Jesus-Name of the lesbian, gay, bisexual and transgender community during Day of Dialogue. Even when words are wrapped in heart-themed paper and tied with a "Jesus-loves-you" ribbon, if there is something rotten at the core, people can smell it. And, there is something very rotten at the core of the Day of Dialogue event sponsored by Focus on the Family. Their Day of Dialogue event is thinly disguised sacred bullying of gay and transgender youth.
Day of Dialogue, scheduled for April 18, 2013, "encourage(s) student-initiated conversations about the fact that God cares about our lives, our relationships and our sexuality." It would be more honest to call it the "Eighth Annual Tell the Gay Kids They Need to Change for God to Love Them Day."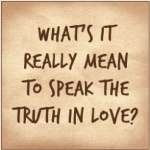 Day of Dialogue is not focused on the message of God's care and love for fellow students. If it were, how lovely would it be to sponsor a "Jesus Hearts You Day" the day before Valentines Day? That might be more along the lines of the Gospel. The target of the "truth telling"  is kids outside the heterosexual normative and those that might identify as "gender queer".  Is there anyone that thinks those kids have not been badgered constantly by people that disapprove of them? So, let's have our kids do it some more of it "in Jesus' name".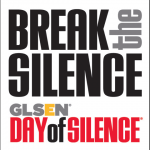 Day of Dialogue is on Thursday, April 18th and is a reaction to the "Day of Silence" which takes place the next day, April 19th. Day of Silence, sponsored by the Gay, Lesbian Straight Education Network (GLSEN), began in 1996 to bring attention to anti-LGBT name-calling, bullying and harassment in schools. During Day of Silence, students and schools are encouraged to share the problem of anti-LGBT behaviors.
Focus on the Family views the efforts of GLSEN as "promoting homosexuality to our kids." When will groups like Focus begin to comprehend that you do not promote sexual orientation to humans? People have a sexual orientation that they do not choose or decide upon.

In the "Guiding Principles" for Day of Dialogue, there is an anti-bullying statement, yet Focus on the Family publicly stands against inclusion of both sexual orientation and gender identity in Safe Schools Information Act, Student Non-Discrimination Act and Elementary and Secondary Education Act renewal.  Approving those protections would mean recognizing gay and transgender people as a class of fellow humans and the existence of homosexuality as a normal variation of human sexuality. (Make every effort to watch "Bully" available on demand in Netflix, then consider "Why wouldn't any Christian ministry not actively support the federal protection of gay and transgender children?")
Did you know rejected gay youth:
Are eight times more apt to attempt suicide than those who are accepted
May suffer depression six times more often than those who are accepted
Are three times more likely to get involved in drug abuse than those glbt youth that are accepted?*
How could it possibly be appropriate to use Christian children to further marginalize gay, lesbian, bisexual and transgender children?
Escalating the demeaning of gay and transgender youth further, several Christian ministries** are calling for a "WALKOUT on Day of Silence" by Christian students.
To clarify, the packaged plan is:
tell the most marginalized of children that God needs them to change
then skip the following day when those youth, in turn, seek to educate others about what it means to be gay, gender queer or transgender.
The 27 Christian groups and ministries behind the WALKOUT insist the Day of Silence "exploit(s) public schools to promote

homosexuality and gender confusion as moral and normative through political protest." What a silly statement.
Sexual orientation is neither moral or immoral, it just "is"; according to every professional medical and health care association in the US, both homosexual orientation and issues of gender identity are normatives of human sexuality and expression. One of the goals of Day of Silence is education and sadly, the Christian ministry sponsors of the WALKOUT think the correct response is more badgering of  these kids and keeping their own children uneducated on the issue.
The WALKOUT group further states:
GLSEN's end game is the eradication of conservative moral beliefs and the creation of a social and political climate in which it is impossible to express them. Their cultural vehicle of choice for this radical social experiment is public education. What a strategic coup for homosexuals and their ideological allies: use our money to capture the hearts and minds of our children.

Efforts to exploit public education for the purpose of eradicating conservative moral beliefs are dramatically increasing every year. Homosexual activists and their allies are aggressively targeting younger and younger children through "anti-bullying" laws, policies, and curricula; through the effort to nationalize "comprehensive sex ed"***; through laws mandating positive portrayals of homosexuality and gender deviance in curricula; and through events like the National Coming Out Day, Ally Week, Spirit Day, LGBT History Month, LGBT Pride Month, and the Day of Silence.
Don't miss the tone and these words:  fear, persecution, stripping religious freedoms, radical social experiment, targeting youth. (As an aside, I am for "comprehensive sex education".***)
And further:
Conservatives need to start acting and speaking as if we think our moral beliefs are objectively true. Conservative teachers need to create activities that require students to speak on the Day of Silence.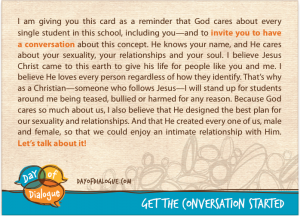 Day of Dialogue is unmistakably sacred bullying of at-risk children; to promote it as anything less is to be quite disingenuous. Focus on the Family attempts to pose the day as a time to "talk about faith". My goodness, freedom of speech and a student's religion are protected every day. Under Federal Law however, sexual orientation and gender identity are not included in Safe Schools legislation. Hence, the need for awareness and the Day of Silence.
What should the Christian response be to Day of Silence? Listen and learn from others unlike themselves. That is how we learn to be people of compassion. Love and serve. Every day. Many of these targeted gay kids are Christians and they have spent more hours than you can imagine attempting to reconcile the orientation they cannot choose with the faith they can choose.
Focus on the Family seems to be ramping up the anti-gay rhetoric from within the organization again. The newsletters are using the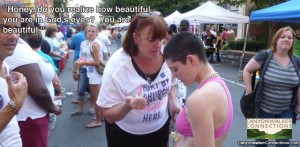 mythical "radical gay agenda" more often and demeaning LGBT people in fear-fueled fundraising. That is pretty low, but using kids to target the most marginalized of other kids, that is heartbreaking.
_____________________________________________________
HAVE SOMETHING TO SAY TO FOCUS ON THE FAMILY?
Candace Cushman, Head coordinator of Day of Dialogue at Focus on the Family 1-888-317-5611
Email: StudentVoices@FocusOnTheFamily.com
_____________________________________________________
* Research from The Family Acceptance Project
**Day of Silence WALKOUT endorsements:
Abiding Truth Ministries (Scott Lively), American Family Association (Bryan Fischer), AFA Michigan, AFA Pennsylvania, Americans for Truth, Capitol Resource Institute, Citizens for Community Values, Coalition of Conscience (Michael Brown), Community Issues Council, CWA of FloridaCWA of Ohio, CWA of Texas South, CWA of Illinois, CWA of Washington, Don Feder, Don Feder Associates, Faith2ActionFaith, Family & Freedom Alliance, Good News Communications, Inc., Illinois Family Institute, Informing Christians, Jimmy Z Show, Liberty Counsel, MassResistance, Matt Abbott, Catholic Columnist for Renew America, Mission: America (Linda Harvey), Montana Family Foundation, Sandy Rios, VP Family PAC-Federal, Save California
______________________________________________________
*** I have recently been lobbying in my own state, Nevada for Comprehensive Sex Education. Not all school districts offer comprehensive, age-appropriate and medically accurate sexuality education curriculum that includes: reproductive and sexual anatomy, accurate  HIV/AIDS and STI prevention and treatment with an emphasis on abstinence, the development of healthy life skills to make responsible decisions about sexuality and sexual behavior, inclusion and acceptance of people regardless of race, gender, gender identity, religion, sexual orientation, ethnic or cultural background, identification and prevention of domestic violence, sexual abuse and exploitation, and awareness and understanding to prevent participation and exploitation of sexually explicit materials over the internet and other media. Comprehensive programs often have dedicated instructors to ensure that all children get all the information. Often, children in rural areas, in most need of the information, are left out.
Who would NOT want this for their children?  Lack of education mot often leads to poor choices.
Comments
comments