Last Saturday and Sunday, I was at Disneyworld in Orlando for Disney Gay Days. A group of gay Christians I associated with flew me into town, got me two park tickets and hosted me at the home of one of the members.
The group, mostly members of The Gay Christian Network (GCN), intended to treat me to a fun experience at Disney Gay Days followed by speaking at their bi-weekly Bible Study gathering. Because there is controversy and mythical rhetoric pumped out from conservative family sectors about the event in Disneyworld, I thought it might be beneficial to counter the propaganda from One Million Moms (there are 57K of them on Facebook), Florida Family Association (FFA) and American Family Association.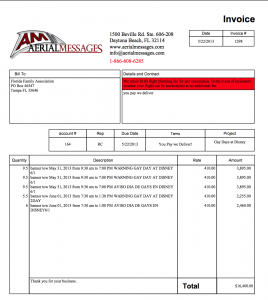 Together, those groups lead a nationwide fund raising campaign to fly a plane over the surrounding area for 40 hours of the weekend cautioning:
WARNING: GAY DAY @ DISNEY 6/1
The contract cost for that alert was $16, 400.
According to Feeding America, the $16,400 that Florida Family Association spent to warn people about other humans unlike themselves attending a public park would have purchased 131,200 meals for the poor and homeless.
With almost 25% of the residents of Orlando below the poverty line, 131,200 meals may have been quite welcome to families and children. But instead, they were treated to 40 hours of banner-flying.
Interestingly, I had done community service with this GCN host group of LGBT Christians in January 2012 at the Community Food and Outreach Center in Orlando. About eighty of us cleaned and stocked food shelves and help organize the clothing store for 8 hours.
Oh, what the heck. Jesus would much prefer that we invest in discriminatory practices than feed the hungry.
Disney Gay Days began in 1991 when some gay and lesbian people decided to make a point to the Disney corporation which, at the time, did not offer the same discount rates to same-sex couples as they did to heterosexual couples. Organized by the Orlando Gay and Lesbian Center, participants of the first Gay Days decided to write "Queer Money" on the money they spent. For higher visibility, they all wore red so that Disney could recognize the economic impact of the LGBT community and understand the unequal treatment.
At the first Disney Gay Days, about 3,000 LGBT people and their allies showed up in red. Today, it is estimated that about 30,000 LGBT people and supporters attend the Saturday event at The Magic Kingdom.
This weekend, I proudly attended in my red shirt and enjoyed the day with a dozen friends.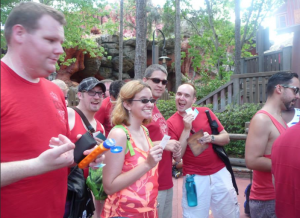 If I had paid heed to the posted warnings:
"With the cheerful strains of classic Disney music playing in the background, mainstream families with little children are subjected to seeing throngs of homosexuals wearing read T-shirts that proclaim: "A day of magic . . . a night of pleasure." Throughout the day within Disney's Magic Kingdom, they can be seen fondling each other, groping each other, engaged in open-mouth kissing, group urination in public restrooms – and worse. And that's just during the daytime hours."
I would have avoided The Magic Kingdom fully expecting to enter the Garden of Hedon.
The Florida Family Association, who sponsor the airplane messages, invested money in hopes that they:
"  . . . ENSURE(D) TENS OF THOUSANDS OF CHILDREN were not exposed to this coming out sordid spectacle."
Have these people ever attended Disney Gay Days?
I have a relatively high "gaydar" sensitivity, yet, if people did not wear red and I were not aware of Gay Days, I would have thought it was another day at a major US recreation attraction that drew from the cross-section of society.
The society I envision is a melding of the society I exist in — diversity in race, ethnicity, gender, age, body types, clothing styles, orientation and economic classes. Not all of us are Mom, Dad and kids in strollers.
I did not see "fondling, groping or open-mouth kissing" and, because I stuck to the women's restrooms, I cannot attest to "group urination" either way in the men's restrooms, but none of my friends alluded to it.
I do wonder what "group urination" is.
I did, however, see a quite unusual sight in the women's restroom. One mother of quadruplets was preparing eight milk bottles for her children while her partner and co-parent waited outside in the shade with the 4 toddlers.
There were hundreds of same-sex couples with their children at Disney Gay Days. I am often amazed at the gay dads that adopt the children so many of their white heterosexual counterparts do not seem to prefer. They were at Gay Days enjoying the time with their families. Surely even these families are entitled to a safe day at Disney.
I intentionally studied people, conversations and body language. I tried to see if there were families giving non-verbal hints as to their discomfort at the presence of red-shirted gay park-goers. I did not see any dismissiveness. None. On either side.
So when, Florida Family Association reported last year:
"This team (FFA) has routinely witnessed thousands of people enter the park after they paid for parking, tickets and novelties only to see the gay day revelry and leave the park immediately.  In several years past, the team has witnessed as many as 10,000 people enter the park only to promptly exit before 1:00 pm."
and the supposed decline in gay attendees because:
" . . . Gay Day patrons felt unwelcome after seeing the airplane banners last year.  Gay Day patrons knew more banners would be at the Magic Kingdom again this year."
I pause and am amazed at the psychic abilities of the FFA team to know so much about the decisions of others.
Fabricating silly suppositions raised $16,513 this year to support the banner-flying while openly and publicly exposing their own fear and ignorance.
The only time it was apparent that there was something different about the day was at the 1:00 o'clock "Country Bear Jamboree Show". Hundreds of gay "bears" and those of us who would be fools to miss the event, formed an early line.
I have been to this dull entertainment event many times over the years with my own now-grown children. The entertainment value of the outdated audio-animatronic feature soared as the "bear" majority audience sang along with the bear characters. I enjoyed the 20 minute show more than I ever have in the past.
A few "mainstream families" (as FFA labels them) may have missed out on the bear fun, but only because they did not line up 45 minutes before as our group did. The Jamboree host of the show,"Pete", clearly enjoyed the rare audience participation.
I am not gay, my adult children are not gay. I went to Disney Gay Days with my friends and we interacted throughout the day with their local and visiting friends as we crossed paths. It was a magnificent time!
I hope that the majority of those "mainstream families" went away with the defining lesson of the day — gay, lesbian, bisexual and transgender people are just like the rest of us. They have families, relationships and friends and are just another segment of society.
The group I was with included: an architect, a grocery store seafood counter person, a state disabilities insurance agent, a property manager, two Disney employees, a retired FAA agent and a pastor.  A pretty "normal" cross section of workers and that is the point. Normal.
One of the personally most glaring ironies happened during the final hours of my visit to Orlando. The GCN group that brought me to Orlando hosted a potluck at which I spoke about the reconciliation, education and engagement work that I do at Canyonwalker Connections.
The majority of the attendees have suffered tremendous discriminatory pain in their lives at the hands of their Christian families and churches. Most are not fully accepted by family; most have left the churches of their youth to find (thank God!) new churches that will accept them as both gay and Christian and allow them a safe space to grow in relationship with Jesus Christ.
The contrast between the actions of the family groups and my gay Christian friends  are stark. I see evidence of the work of the Gospel to which I adhere in the latter.
Family groups spent an amount of money equivalent to over 131K meals to try to fence this group out from society and churches and Disneyworld –the same group that donated about 800 hours of labor to food pantry project as part of community service of The Gay Christian Network.
The hatred and discrimination coming from religious and conservative groups is getting beyond silly; it is a waste of human effort, energy and money.
I am thankful to my friends at GCN Orlando for allowing me to experience Disney Gay Days so that I can offer a strong counter to the panic-producing fringe groups which do not want the integration of a minority group into their comfort and rights.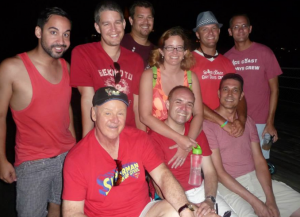 I think Disney Gay Days is a brilliant idea that creates a space in a joy filled atmosphere  where those that have little or no interaction with the gay, lesbian, bisexual and transgender community can comfortably merge.
And, let's get honest here, if people are that troubled by gay people, they may want to consider not going to Disney at all. Are folks so unaware of the cheerful, artistic, creative and entertaining atmosphere at Disney rooted in a huge LGBT employees base? Take out the gay people and you might as well shut the gates of Disney.
Sadly, while we miss the opportunity for unity in most of our churches, at least it can be found at Disney on Gay Days.
ADDITIONAL INFO from Converge Orlando — Orlando's LGBT Convention & Visitors Bureau:
The Orlando LGBT Visitor's Bureau wrote a thank you to the Florida Family Association to thank them for the additional advertising to Disney Gay Days with their banner-flying.
To the area economy:
$3M in rooms
$550K in tourist and sales taxes
$5.5M in transportation revenue and $250K in airport taxes
$13M in Park fees
$6M in non park food and drink
$750K in tips to servers
Comments
comments