In a recent interview on Up for Debate, Dr. Michael Brown was asked by host Julie Roys about what can be done about
Christians (in this particular conversation, the Jen and Brandon Hatmaker family) who advocate within community for acceptance of gay marriage.
Brown, whose expertise lay in ancient languages spoken by dead people, says those who "encourage others to fall into sin and lead them down the path of deception" are "spreading poison" in the church.
Brown added, "love requires me to care about you" and "discipline is always for the person's good, that is the goal."
I agree; love does require that I care.
I care that Brown's version of discipline is not good. His teachings about sexual orientation and gender identity as they intersect faith result in destruction, shame, and impenetrable barriers to God.
Just as does Brown, I also see those who encourage others to fall to sin; those who lead others down the path of deception; those who spread poison in the Body of Christ. But, when I look at the offenders, I see Brown and those who intentionally close their eyes to what is known, easily found and understood about sexual orientation and gender identity, and who then wrap up their willful ignorance in Scripture.
Along with Brown, they are the ones who spread poison in the church.
Those who advocate for justice and education are not spreading poison in the church.
The goal of discipline within the body, Brown says, should be good.
So, for the witness of Christ, for the lives of LGBT people and those who love and advocate for them, and for the eventual correction of Brown himself, I will strive for good.
May truth, humility, justice, mercy, and education serve as antidotes to the spreading poison in the church disguised as discolored and muddied brown versions of love.
**************
For those who align with Brown's teachings of "truth and compassion" with respect to his treatment and beliefs about LGBT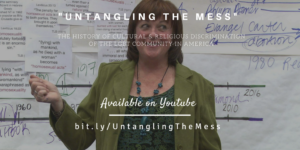 people, please watch this video "Untangling the Mess: a History of Cultural and Religious Discrimination against the LGBT Community in America," and I engage you on any thoughtful objections you may have.
If you just want to tell me I'm a heretic and going to hell, skip it, I've heard it.
Comments
comments