Thank you to Matt Roth of Matthew J. Roth "Embracing Religion without Religiousity" for interviewing me, Kathy Baldock, in his month-long series "Homosexuality & Christianity". He posed some excellent questions and I appreciate the opportunity to answer them succinctly in a public forum.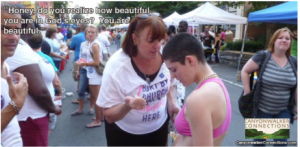 1. Your ministry, Canyon Walker Connections, is geared towards bridging the gap between the LGBT community and the church. Share how this ministry came about and where you see it going.
2. You shared on your site that you have been an evangelical Christian for almost 3 decades. As an evangelical, what brought you to the place of no longer seeing homosexuality as a sin (an issue that most within the evangelical church sees as sin)?
3. What is the biggest issue that you have come to recognize in your relationship to the LGTB community?
4. But aren't you neglecting so many scriptures in the Bible that appear to be against homosexuality?
5. How would you respond to those that say you are hindering more than helping the LGTB community by not calling sin for what it is and speaking the truth to them in love about their problem?
6. What do you find some of the biggest problems in the church's relationship to the LGTB community?
7. What about the arguments being made that gay activism is threatening freedom of speech, freedom of choice, freedom of conscience? How do you deal with those?
8. Have you seen many individuals like yourself from the evangelical community change their perspectives concerning homosexuality as being a sin?
Other interviews in the series:
Comments
comments