Since 2011, a group of LGBT Christians and allies have formed a Wall of Love surrounding the virulent street preachers at Charlotte Pride. We have blocked the hatred while extending love, acceptance and resource information to the festival goers.
Our group (4 people in 2011, 13 in 2012, 50 in 2013, 62 in 2014, 40+ in 2015 !) hands out thousands of stickers with a website link back to a resource page on the Canyonwalker site. The stickers this year will be printed with "LGBTQ  God Adores You!"
Other information includes:
Locations of welcoming and affirming churches worldwide
Reconciliation of Bible verses with same-sex behavior
Free audio chapters from Walking the Bridgeless Canyon on sex, gender, and orientation, and marriage equality
LGBT Christian social networking connections sites
Conference opportunities for LGBT Christians
Lists and reviews of affirming books and videos
Other useful information for LGBT Christians and allies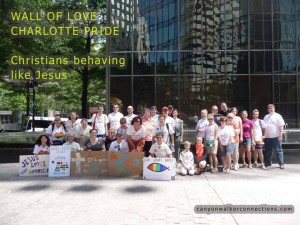 Thank you to Lisa Salazar for the more inclusive new redesign — "LGBTQ  GOD adores YOU!"  The cost for 10K stickers, printed, and shipped to Charlotte, is $600.00.
This year, the members of the Wall of Love want to add 5,000 purple silicon wristbands printed with " LGBTQ GOD ADORES YOU!" They will cost $700.
If we can raise the entire amount of $1300, the Wall of Love will have 15,000 give-aways for both the Saturday and Sunday of Charlotte Pride.
We have always successfully raised the necessary funds for the give-aways.
Please help in our effort to reach out with a message of Christ's love and acceptance at Charlotte Pride 2015.
TX-DEDUCTIBLE contributions can be made on the DONATE button on the sidebar of this blog and notate STICKERS or WRISTBANDS in your giving.
If you would like to join us in Charlotte Saturday and/or Sunday, August 20, 21st, join our Wall of Love Facebook page.

For the first time in six years, I will not be with the group at The Wall of Love; my nephew in NC is getting married in Charleston, SC that weekend. The group which has escorted me for five years will carry on the good work!
Directly contact Michael Bower (dakkie@gmail.com), Donna Faile donnafaile@gmail.com) or Jaleesa Pauling (Lhng8691@gmail.com) for information about where and when to join The Wall of Love in Charlotte. Also visit the website, The Rainbow Footsteps,  and email: therainbowfootsteps@gmail.com for local LGBT events in the Charlotte area.
THANKS,
Kathy and the Charlotte Pride Wall of Love Committee — Donna, Michael, and Jaleesa.
Comments
comments