[UPDATE April 11, 2016 — GOAL REACHED!]
The Study Guide for Walking the Bridgeless Canyon is almost ready. But . . .  I need help getting it finished and printed. Though it will be available online on Amazon, selling the book, and now the Study Guide, directly and at events is a large part of the income for Canyonwalker Connections, a non-profit organization.
I finished the final edits on the Study Guide. [Updated: it is now formatted and the back and front covers are done. I want to be able to print it as soon as possible, and need your financial help.
The Study Guide fundraiser will be short, just one or two weeks until I raise the necessary funds, which are $2,500.
*********************
About the Study Guide — it is very good. Fifteen people helped review the manuscript to ensure the discussion questions and text were accessible, gracious, and moved people along understanding with a good balance of push and kindness. The Study Guide will also be a great tool for those who are already affirming. But the ultimate market, is Christians who are undecided and/or uneducated about sexual orientation and gender identity at the intersection of faith.
If you want to read through the Foreword so that you can get a feel for the tone of the guide, you can read that here: WTBC Study Guide Foreword.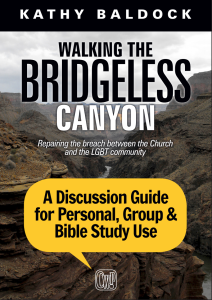 The study can be done alone, or in a group. If the group format is chosen, the process is nine-weeks long. I make strong suggestions that LGBT people, or parents of LGBT children, should be included for broader perspective. Relationship and education — my mantra.
The first week is proposed as an introductory meeting best done over a meal while discussing five questions. Each session, participants will be assigned between 25-80 pages of reading from Walking the Bridgeless Canyon. The corresponding section of the Study Guide includes a five to six page summary of the reading, and on average, nine related questions. Participants should plan on each session lasting one and a half hours.
Anyone can lead the study. Just make a space available and follow the guide. Though the material is challenging, often quite challenging, the structure is done for you.
The last session is proposed as another meal and discussion meeting.
The need for a Study Guide has been the most frequent request I have gotten. And it is done, or pretty close to done. Now, please help me get it formatted and printed.
Thank you!
[The Study Guide will be 94 pages long and sells for $8.95. Your gifts will ship by the first week of May.]
Donate on the sidebar of any page of my blog (to the right).
Comments
comments