This past weekend, I attended the Restored Hope Network Conference (RHN)  in Sacramento, California.  They are the new spin-off from Exodus International. When Exodus became more gracious and honest about orientation change, RHN formed in response. I will be writing a three part series with my insights over the next few days. But, first . . .
The day after the conference, I was reading observations and background information on various people and sorting through my  twenty-six pages of notes. I checked the Facebook wall of Dr. Robert Gagnon who had taught and was newly elected to the inaugural Board of the Restored Hope Network. He was the "darling" of the conference, the Bible rockstar.
Gagnon was on both the forming committee for RHN and has been elected to their first Board. He  is also the  perhaps the most aggressive Christian theologian in holding a hard line between grace and law on the issue of  lesbian, gay, bisexual and transgender (LGBT) Christians.
This was publicly posted on his Facebook wall: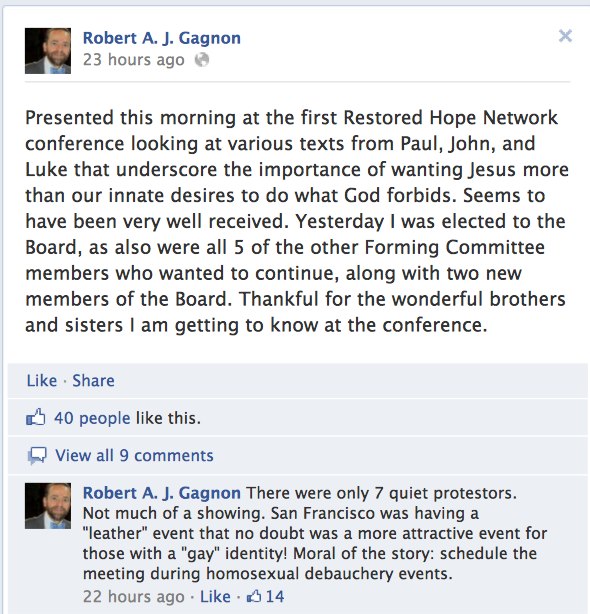 First, there is the screaming irony. At the conference, Gagnon taught on how to counter the "innate desire to do what God forbids". Of course, he is alluding to "homosexual sin." He did not however apply that teaching to his own innate desires to by-pass and tread on Christian love to scoff at  the LGBT community.
We know from the Apostle James that what comes out of the mouth (or typing fingers), exists in the heart.
Comments
comments