I tend not to use my blog site to tell personal stories about my life. Today, is the exception.
Last week, I attended my tenth Annual Gay Christian Network (GCN) Conference. In that decade, it can be easy to forget the long-distant, quiet times when thousands of beautiful moments and valuable interactions have since passed.
And then I am reminded.
While sitting in the Exhibit Hall at my book sales table, a friend and his husband came by. A friend I had not seen in about five years.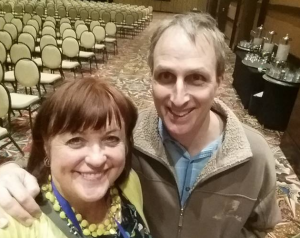 I had met Michael Zwiers in the hotel lobby at the 2007 Seattle conference. It was my first conference. Upon arrival, I didn't know anyone. I had only spoken to GCN founder, Justin Lee, on the phone for about ten minutes a few weeks prior, before registering for the event.
After reading an article on the front page of the New York Times about Justin and GCN, I needed to "see" gay Christians in person. I didn't even know gay Christian existed; the concept was not part of my doctrinal understanding at the time.
On the first night, I spotted Michael, Dennis (a recently widowed closeted gay pastor in a mixed orientation marriage), and Roy, a gay nurse from Arizona. All of us seemed unlinked to any other person in the room. I did what I have done hundreds of times since. I suggested we all share a meal and get to know one another. We enjoyed a long and chatty dinner.
My experience at the entirety of the conference was significant. After the first night in worship, an internal switch clicked in me and I became an advocate-in-the-making. But, that's not what this post is about.
When I came back to Reno, the man with whom I had been in a five year relationship was relentless in mockery and disbelief at my rapid shift in willingness to consider that LGBT people could indeed be Christians. His taunting was mean and ugly.
Despite his loud external voice, I kept hearing my spirit urgently prompting me. Person or purpose? Person or passion? Kathy, choose.
I did choose.
Three days after arriving home from Seattle, I ended the relationship that had been moving toward marriage. He and I had rarely even exchanged cross words. My decision seemed so indiscriminate and baseless. What the heck was I doing?
Back to Michael. He is Dr. Michael Zwiers, then child psychologist primarily treating abused children, and currently a professor at the University of Calgary. Because Michael and I had formed a connection, I contacted him and we set a time to talk on the phone.
Most of my friends know I am a daily hiker and have been for over two decades. Even when it meant hiking in the dark of winter, when I got home from work, I still maintained my daily ritual.
A few days after ending the relationship with the beau, I kept to my routine, put on layers of warm clothes, a headlamp, and snow shoes and headed out with my dogs to the hills near my house where I could get cell reception. After parking the car, I could clearly hear the howls of coyotes in the hills where I had intended to hike. I opted to stay low out of the hills to protect my dogs, and walked a huge oval swath in the snowy desert over the next 1 1/2 hours while talking to Michael.
I laid out my pain to him. I was not even clear about my decision to end a love relationship, yet knew I had to make it. Therapist Michael with his calming wise voice counseled me. What I recall most was his advise to "lean into the pain" and allow God to heal me. I kept crying and staring into the cold black sky twinkling with starlight. I did not even know what it meant to "lean into the pain." Michael kept repeating the advice in different words and with examples.
After the call, I was so cold, yet I didn't want to go home, face the pain, stare into my darkness, and consider the new self-imposed loneliness. I was terrified at having made a wrong choice.
Michael kept tabs on me in the coming months.
I did lean into the pain. I did get through it. I did realize the decision, though tough, was of God. I did heal.
I needed to leave that relationship behind (he was, and is even today, not accepting of LGBT Christians) to fulfill a purpose and a passion, to become the ally, then advocate, to the LGBT community that I have grown into.
When I saw Michael and his husband, Aharon, at the GCN conference last weekend, emotions and gratitude swept over me again. We talked about the past and cried together.
It was one of those wonderfully reflective joy filled times when I realized once again the greatness of relationship and the mercy of God.
I will be visiting Michael and Aharon this year in Calgary to reconnect.
Even before my theology caught up with my head, heart and emotions, God used a Canadian gay Christian man named Michael Zwiers at a critical time in my life and I am so grateful.
Comments
comments