I sent Christian a note on March 11th, 2011, a few days after I had seen him on the Lisa Ling Our America: Pray the Gay Away show. There was something unsettling and robotic about him in the televised interview. He said he was no longer gay; to me he looked empty.
Ling visited his apartment; Christian Schizzel shared his love for finding throw-aways and making them into something beautiful. I saw a treasure in him, but it was hidden, somewhere just below the surface straining to escape, just like the beauty in the articles he was transforming into art. As Ling interviewed him on a drive around Minneapolis, his words were measured and empty. Yes, he still felt an attraction for men. Yes, he hoped to marry some day. "Oh my God," I thought, "don't do it. You are a gay man. You will fall in love with a man, not a woman."
In some of the next scenes, we were introduced to Janet Boynes of "Called Out" ministry. She assured the listeners that people could indeed change from homosexual to heterosexual and that she had been "called out of the lesbian lifestyle" 15 years ago. As with many of these ex-gay speakers, listen closely to the language. Not engaging in same-sex sex does not mean one is no longer gay or lesbian. She is on her own journey though, and that is between her and God. To give her credit where it is due, she did come into Christian's life when he was in a completely destructive spiral and found him a safe place to live.
Then, for the next six years, she molded Christian into her star protégée as a "transformed heterosexual man" in her ministry at Living Word Christian Center, the same fundamentalist church Michele Bachman attends. (Boynes will soon be  on staff at  Eagle Mountain International Church, Newark, TX  — a new place to sell her Say-It-And-It-Must-Be-So Snake Oil.
And she put Christian on television and presented him as her star pupil.
I could not stop thinking about this 25 year-old  man, so from his first name and connection to Boynes, I found him on Facebook.
I wrote:
I watched the show and the person I felt the greatest compassion for is you. If you are completely content with the process you are in, ignore me. Lots of people use Exodus to even come out as gay believers. Everyone is somewhere in their walk with Christ and in reconciling their sexuality.

Blessings on you whatever you choose. I see loneliness and sadness—on a lighter side–I am envious of your tidy closet and you are VERY creative with re-discovered cast offs.

Keep my contact information, you may need it someday. Blessings on you young man–your artwork is cool .
Christian responded politely with all words I had heard before: God's best, second best, fruit of brokenness, yada, yada. He knew the denial drill well.
Within a few more exchanges, it deteriorated. I warned him that if the crossed the line of disrespect again, I would be done. Then he opened up with a long and tragic story of  childhood physical, sexual and mental abuse. We ended on a respectful note.
Seven months passed; I wrote to Christian again. It started out pleasant, and sank into a disrespectful tone quickly, so I exited telling him, "I am delighted that you have found peace in what Janet offers; you are the exception. Blessings on that continued peace." He wanted to argue: I did not. He told me he had started to look over my blog one night when it was slow at work.
I read it seriously so I could take in ur thought process. I'm sure we'll run into each other again sometime. Either for a hug or a bite i dunno… but in all honesty God bless u Kathy! I hope u enjoy ur summer!
And again, seven months passed. In March, 2013 I got a completely unexpected note from Christian.
I've meant to send this since November but its been embarrassing to think about. I finally see th gospel and gained space in my heart to understand it has nothing t do with works. I have a lot of apologies to send to people I've spoken down to through my religion. Thank you for being patient and long suffering on my behalf. I re-came out to my church and Janet as I see feigning perfection to be acceptable by God is not what Jesus died to give me. It's a terrifying place to be on the exterior but I have the Holy Ghost in me an His peace is pretty epic. You are one of the people I knew I needed to tell and apologize to again as I acted egregious and religious towards you. I hope this finds you well.
And, this picture was attached.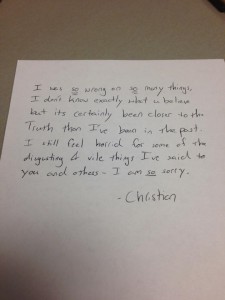 Michael Bussee, who runs a support groups for ex-gay survivors and was one of the founders of Exodus,  had also been on the Lisa Ling Our America – Pray the Gay Away show had tried to reach out to Christian two years before. Janet Boynes demanded that Christian not respond to him and block him. Christian had complied. I let Michael know about the change in status for Christian and he reached out again.
When Alan Chambers wanted to publicly apologize for misleading and damaging people during his work at Exodus, Lisa Ling contacted Michael to be part of it. Michael told Ling about Christian's recent changes; she called Christian and invited him to LA for the taping of the apology and filmed dialogue.
Christian and I had reconnected. He saw my frequent postings for my involvement with The Reformation Project (TRP).  Christian, no longer the measured robot I had first seen on television, now exuded passion in every sentence. He wanted to apply and asked, sheepishly, if I, as a member of the TRP board, would write his recommendation letter. I laughed; we had certainly come a long way!
He was selected and, along with 49 other Reformers, did homework all summer-long including over a thousand pages and two books of readings on both sides of the issue.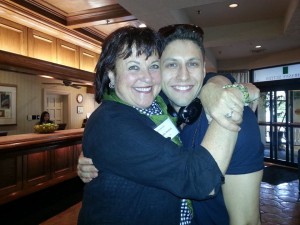 I still had not met Christian face-to-face before the conference. When that young man walked into the lobby of the Hyatt on September 18th, the emotions for both of us soared! We had navigated a tough exchange for 2 1/2 years; had not lost connection and we now joined together to be trained in productive dialogue for inclusion of LGBT believers in conservative Christian churches.
We sat together one morning on the bus to to our daily sessions at Asbury Methodist. He reached into his pack and told me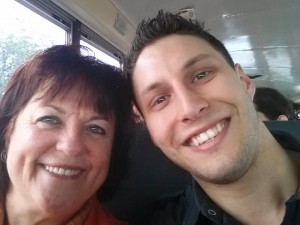 he had a gift for me. Christian's Dad died this summer and, on a final outing with him, they went for a hike in Arizona. They met a Native American and talked. The older man made a special connection with Christian and gave him three feathers. Those feathers were symbolic to Christian of the last time he spent with his Dad.
I opened my package; Christian made me earrings with one of the feathers.
Yeah, go ahead and cry; I did.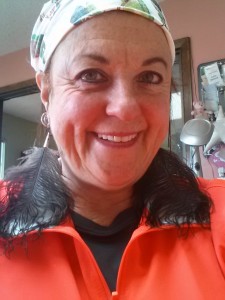 When we arrived at chapel for worship and services that morning, Christian sang. I knew what nobody else in the room knew. The entire six years that he was being transformed into a "heterosexual man" that would be acceptable to God, he was not allowed to use his singing gift on an altar. He was too "broken" to take his place on an altar.
It was gorgeous; it was passionate and honoring to God. When he finished, I shared with the group that he had been denied the opportunity to lead worship on an altar while going through the ex-gay program.
We all cried.
My passionate friend Christian, who takes throw-aways and makes them into beautiful art, had exactly that done for him; he has been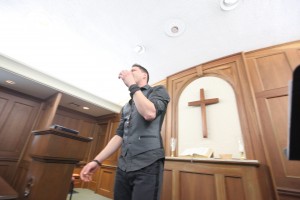 transformed by God. He stood, once a throw-away and now, as a gay man of beauty, inside and out.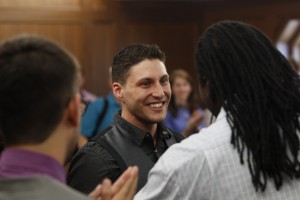 Comments
comments