In 1959, when David was a 21-year-old seminary student in Canada, he wrote a letter to  Dr. Luther Weigle, the head of the translation team for the newly published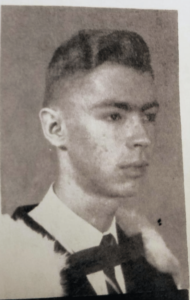 Revised Standard Version (RSV) of the Bible.
David made a strong, personal, and theological case that the team had made a mistake when combining and then translating two Greek words to one "homosexual." The 1946 RSV NT and the 1952 RSV full Bible were the first times the word homosexual was used in any translation, in any language.
Working from historical contexts and research for
my first book,
I had speculated the teams' decision was ideological and cultural, and likely not at all theological.
Ed Oxford and I went to the RSV and Weigle Collections in the Yale Archives in September 2017 to search over 60K pieces of paper for answers. No one had ever gone through the full RSV/Weigle archives before. Knowing how important and impacting the translated word had become, this lack of academic study into the archives in itself shocked us. It was there that we found David's letter and a series of exchanges and responses from Dr. Weigle written in 1959.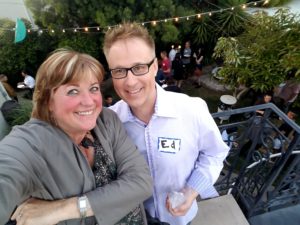 David's query had resulted in the
only
record explaining why the translation team made the decision it had. Surprisingly, there were
absolutely no
records of decisions made while the translation was happening. In fact, the evidence shows the decision appeared to be made without much thought. Records were kept on important, slight and seemingly insignificant changes, but not the decisions made in translating 1 Corinthians 6:9-10.
David wrote the
only
letter challenging the team directly. His letter was
extremely
important because it caused the response to be written by Weigle himself just a few years after the Bible had been published. The exchange indeed proves the decision to use the word "homosexual' as a "suitable" translation was done in ignorance and at a time when a homosexual orientation was understood as a mental illness and in fact, the word homosexual carried contextual baggage no longer associated with the current meaning. Words indeed can change in meaning over time.
Through the most amazing series of events (with the hard work of a friend, Tina Wood) we found David almost 11 months after our visit to the Yale Archives. It seemed an overwhelming challenge because he had written the letter under his first and middle names only, using a PO Box in another city as the return address.
After a few months of chatting and emailing with Pastor David (yes, he became a pastor and served in 7 pastorates over a span of 37 years), Ed and I invited him to the Q Christian Fellowship Conference in Chicago last week where we met him in person
for the first time.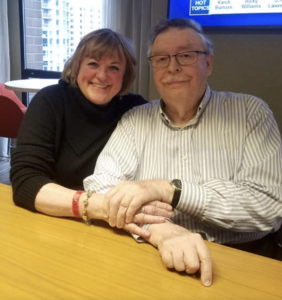 Pastor David had never been around so many LGBTQ Christians; he didn't even know such organizations existed. Not only was his appearance at our workshops a
huge surprise to hundreds of attendees, Pastor David, at the age of 80, came out publically for the first time as a gay man while he was speaking and telling part of his story during the workshops.
Pastor David was also honored with a standing ovation from 1300 conference attendees during Sunday morning services. His story is the anchoring thread that will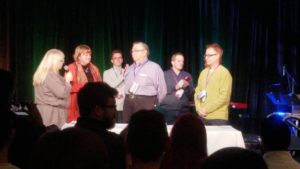 weave through the next book I am writing along with Ed. The book has the working title "A Sacred Weapon".
What a gift his letter, written almost six decades ago, is for historical purposes. It resulted in an exchange giving us an important piece of hard evidence we needed to challenge the decades of Bible mistranslations that came after the RSV.
We never even imagined the man behind the letter was still alive! What a blessing and a bonus it has been to discover him and then to find him to be such smart, witty, kind, sweet. and pastoral man. It is the stuff great documentaries (hint, hint) are made of!
Ed and I will be working diligently over the next several months writing "A Sacred Weapon" which addresses the question we went to the Yale Archives to begin to investigate: as we knew better about human sexuality, did we do better with Bible translations?  
The research process has been fascinating and compelling. Traditionalists have long contended that taking a negative view of gay people, and particularly, gay people of faith is a 'historical" stance. No.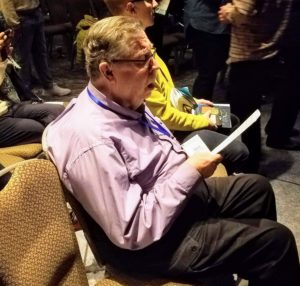 This relatively new "theology" partially arose from the RSV mistranslation done without malice and in ignorance of the normal spectrum of sexual orientation that we now understand far better. Such a claim surely cannot be made of many modern translations. As information grew about human sexuality, some modern translations teams have refused to revisit original assumptions. They have, in fact, chosen to fully ignore what is known by medical and professional health care experts about sexual orientation in they considerations while translating words that have so deeply affected the lives of others.
I will be updating the progress in monthly newsletters. I hope you'll follow along on this illuminating journey.
Comments
comments