Robynne (Roby) Sapp and Dotti Berry were married in Multnomah County in the State Of Oregon in 2004 shortly after the county attorney ruled that it was legal to issue licenses to same-sex couples. In the following months of 2004, same-sex marriage was legal, then halted, then legal again.
Later that same year, in a public vote on Ballot Measure 36, the citizens of Oregon decided 57% to 43% to amend their state constitution and restrict marriage in Oregon to one man and one woman.
Roby and Dotti, along with 3,021 same-sex couples received letters stating that their marriages were now void. People who had come to Multnomah County from surrounding counties and states, as did Roby and Dotti who lived in Washington, were refunded their $65 fee and told they were no longer married.
This week, the people in Roby and Dotti's home state of Washington voted on Referendum 74, which would extend marriage rights to same-sex couples. By a vote of 52% to 48%, the Referendum was approved and Roby and Dotti, who have been together for ten years, are planning a June wedding.
Roby, now 47, was raised in an Evangelical home where Dr. James Dobson from Focus on the Family was a staple on the radio. She went to Bible School in Sweden and was intent on becoming a missionary. She knew she was gay and could not even utter the words, "I am a lesbian," to anyone. She had been in two long-term, closeted relationships in a small town in Washington with a population of 11,000. Eventually, the pressure of lying and hiding got to her.  Unless she could come to an understanding that the Bible was not condemning of homosexuality, Roby thought suicide might be a viable option.
In 2001, as is common for struggling LGBT Christians, Roby went online and searched for "lesbian Christian" and found a chat room run by Rev. Anita Cadonou. That lead her to Mel White's book Stranger at the Gate, in which she felt assured that indeed she could be both gay and Christian. Seeing an opportunity in the chat rooms to gather with other gay Christians at an Evangelicals Concerned (EC) Conference that year in Denver, she made "work related" excuses, and in desperation, went.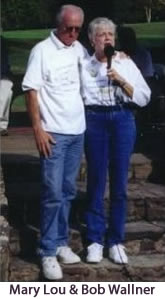 Among the speakers at the conference were Mary Lou and Bob Wallner, who had become strong advocates for the LGBT community. The Wallners, devout Evangelical Christians, refused to accept "the gay thing" when their lesbian daughter Anna Wakefield came out to them in a letter sent from college. Mary Lou thought having a lesbian daughter "was the worst thing possible." What followed the letter was a stormy, non- accepting relationship between mother and daughter. Ten years later, Anna hanged herself in a closet. That began the Wallners' journey of understanding what the Bible actually did say about same-sex relationships.
The story they told touched Roby, and the Wallners invited her to come and live with them in a safe, loving environment in Chicago. There, she wouldn't have to live in secrecy as she had in her small town in Washington.For the first time, at the age of 35, Roby was able to freely admit she was a lesbian. In her new found honest abandon, Roby found herself even telling store clerks that would listen: "I'm a lesbian!"
The path via the Wallners eventually lead Roby to meet Dotti.
Dotti is 12 years Roby's senior. She was raised in Atlanta in a Presbyterian home. Dotti married a man at 24 — a relationship that only lasted three years. Although she did not realize she was gay when she got married, Dotti came to an awareness of her attraction to women. Not knowing how to share those feelings with her husband, they were divorced  and Dotti left to become the assistant coach of women's basketball at the University of Kentucky. Today, years later, Dotti and her former husband enjoy a sweet and understanding friendship.
The single value that Dotti most remembers being stressed in her family's home growing up was "tell the truth." She thought the family really did mean it, in all circumstances. Sitting on the bed at her grandmother's home, she faced her Mom and shared the truth. Her Mom wanted to get her "help". Dotti told her Mom that because she had already gotten help, she was able to share the truth; Dotti knew she was gay.
"I was out before Ellen was in," she quips. Adding, "If I have to lie to get someone to like me, what have I really gained?
Dotti is a strong woman, full of resilience. She owned an award winning small business and refused to compromise authenticity about her orientation. She went through a series of getting kicked out of churches and service organizations, concluding, "They let me stay when I lied, but when I was honest, they asked me to leave."
In 1999, Dotti stood with the group, Soulforce, in Lynchburg, VA; Soulforce engages with groups that participate in anti-gay campaigns and behaviors. The Wallners were also in that group, now advocating for understanding. It was there that Dotti began a deep friendship with the couple.
Finally, the connection between Roby and Dotti.
While living with the Wallners in Chicago, Roby planned to visit a friend in Kentucky one weekend. Mary Lou went along to visit her friend, Dotti. "I wasn't interested in a relationship, did not want to be set up and did not want to meet some old lady," Roby laughed. But when Roby laid eyes on Dotti, she thought, "Oh shit, I'm in trouble."
Over the next three months, a long distance friendship evolved over occasional e-mails. With both women single, Mary Lou played "match-maker" telling them of her epiphany: they should be together.  They listened to Mary Lou's insistence and talked about "the elephant in the room" over the phone–it was a very long phone call. Six months later, they were together in Washington where they have lived since 2002.
When the opportunity arose to get married in Oregon in 2004, the women jumped on it. The demand for licenses exceeded the supply of officials ready to marry the couples. The licenses remained active for three days for couples to find an official to perform the ceremony.
Rev. Bernie Turner performed the ceremony for the women. Rev. Turner also played another key role in Roby's life. When Roby was at her low point of desperation, she confided in one friend that she was a lesbian. Her friend's response was, "Oh, my Dad is a minister and he can talk to you about those verses. He is an American Baptist and he understands all of that."
Conversations with Rev. Turner were part of the divine connections that saved Roby's life in 2001. Hearing from a straight minister that God did indeed love her had kept Roby alive and searching for answers.
So, Roby and Dotti were married in Oregon in March 2004. Later in November that same year, the citizens of Oregon voted to amend the State Constitution, restricting marriage and making the license null.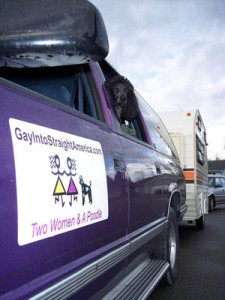 The two never felt "unmarried," even when Oregon withdrew approval. "We took the refund check, went out to a really nice dinner and said, 'It does not matter what they say; we are married,' and that is how we lead our lives. I introduce her (Roby) as my spouse. We forget we are gay; we just want to be who we are. We are just two people living our lives," says Dotti.
And that is how they have lived. They took a year-long cross country trip they blogged about called "Gay into Straight America" with their poodle, Rylee Joy, in a car with a sign reading, "Two Women and a Poodle." The trip was an intentional honoring of part of their wedding vows:
"I come to you with an open heart,
and vow to change the world through the expression of our love."
The women travelled and shared their story of love and God (and dog). Dotti said, "One thing we found — when people see love, they like it. It makes them feel good. We put a normal face to "gay people" and we never compromised who we were. We have spoken in churches and groups and I always say (as she pulls out $100) 'This goes to anyone who can ask us a sincere question we refuse to answer.' We just want to be honest with people."
"And," I asked, "which was the most unusual question you got?" They both agreed. "We get asked 'Which one of you is the man?'" And they politely answer that question too, trying to clear up the gender role myths and lack of information about what it means to be gay and in relationship.
In the time leading up to the vote on Referendum 74 in Washington, the women have had numerous conversations. To those that may not fully agree with the equal rights of same-sex couples, they have asked, "If you cannot not vote for us, will you please not vote against us?"
And the people of Washington complied. On November 6, 2012, eight years later, the women  have the right, with the majority approval vote, to marry in Washington.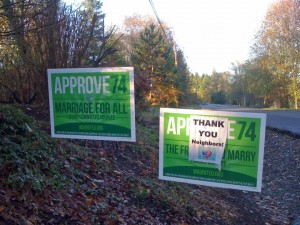 They put "Thank You Neighbor" signs on their Referendum signs in front of their home. There was lots of happy horn-tooting, waves and congratulations from the neighbors.
Roby and Dotti are married; they have been married since 2004 when they made a commitment to one another, before God and community. Oregon took a piece of paper away from them, but to them, they were still married. This July however, they will have another ceremony in Washington and use the opportunity to re-commit and be legally united in their home state.
This November, the vote of the people spoke for same-sex couples in three other states. Both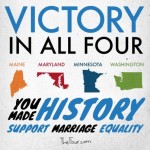 Maine and Maryland voted to allow same-sex couples the right to marry. In Minnesota, the attempt to ban same-sex marriage by including marriage as "one man and one woman" in the state constitution failed to pass.
State by state this process will be repeated, as it should.
The Defense of Marriage Act (DOMA) restricting marriage to "one man and one woman" has now gone through five levels of the Federal Court system. Soon DOMA will be struck down too.
Same-sex couples and their families are denied over 1,000 federal protections without federally recognized marriages. This is discrimination.
When we deny the rights of others because we don't like how they live or how they love, we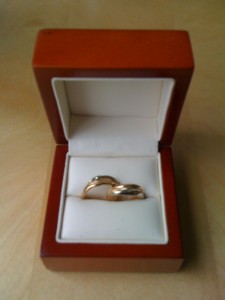 Christians, in particular, are not exercising our "religious liberty"; we are, in fact, infringing on the liberties of others. There is no discrimination against the majority when we seek justice and equal rights for a minority.
Dotti is right. "When people see love, they like it. It makes them feel good."
Love is love. It is to be honored, valued and protected, equally.
Comments
comments