In  the 1998, at the height of the marriage of Evangelical Christianity and conservative Republican politics,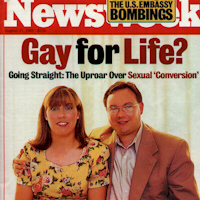 another marriage was being hailed as "proof" that gay people could indeed overcome their homosexuality. John and Anne Paulk, former gay and lesbian people, were displayed on the cover of Newsweek magazine with the header "Gay for Life? Going Straight: The Uproar over Sexual 'Conversion'". John Paulk then served as Chairman of Exodus International, the largest umbrella organization of conversion therapy counselors, churches and ministries and as the director of Love Won Out conferences for Focus on the Family.
He and Anne were held out in holy hands as the proof that, with enough faith in God and adherence to strict self-controls, gay and lesbian people could become heterosexual. Families and churches outsourced their gay "strugglers" to Exodus affiliates and, in desperation, attended  Love Won Out events hoping to follow the example of the Paulks.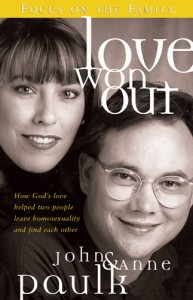 Convinced that gay and lesbian people could change their sexual orientation, this unholy pilgrimage to reparative therapy has been been religiously repeated for almost forty years. Yes, people have claimed "change" in orientation. I would contend that the overwhelming majority of those people: were actually bisexual, living as heterosexual and still homosexual or choosing to live a celibate life with no change in orientation. Exodus now admits there is no change in sexual orientation.
In 2005, the Paulks left the conversion therapy world behind, moved to Portland and John become an extraordinary chef, caterer and owner of Mezzaluna. They have stayed away from the Exodus/Love Won Out arena for the most part. Anne Paulk, however, recently took a position on the newly formed Restored Hope Network, a more stringent retread of Exodus.
A few months ago, I came to befriend John Paulk. During 2012, it had become quiet public knowledge that he had left Anne and was identifying as gay. Although in the final stages of a divorce, John has remained a loyal father to his three sons. To say that he is starting life over may underestimate what is happening for him at 50.
John Paulk, a gay man, has tried to do what society, churches and organizations have expected of him; he has tried to be a heterosexual man. He is now being honest and admitted his past failings in a statement released April 24, 2013:
For the better part of ten years, I was an advocate and spokesman for what's known as the "ex-gay movement," where we declared that sexual orientation could be changed through a close-knit relationship with God, intensive therapy and strong determination. At the time, I truly believed that it would happen. And while many things in my life did change as a Christian, my sexual orientation did not.

So in 2003, I left the public ministry and gave up my role as a spokesman for the "ex-gay movement." I began a new journey. In the decade since, my beliefs have changed. Today, I do not consider myself "ex-gay" and I no longer support or promote the movement. Please allow me to be clear: I do not believe that reparative therapy changes sexual orientation; in fact, it does great harm to many people.

I know that countless people were harmed by things I said and did in the past,

Parents, families, and their loved ones were negatively impacted by the notion of reparative therapy and the message of change. I am truly, truly sorry for the pain I have caused.

From the bottom of my heart I wish I could take back my words and actions that caused anger, depression, guilt and hopelessness. In their place I want to extend love, hope, tenderness, joy and the truth that gay people are loved by God.

Today, I see LGBT people for who they are–beloved, cherished children of God. I offer my most sincere and heartfelt apology to men, women, and especially children and teens who felt unlovable, unworthy, shamed or thrown away by God or the church.

I want to offer my sincere thanks to everyone who encouraged me to take this initial step of transparency. Even while promoting "ex-gay" programs, there were those who called me on my own words and actions. I'm sure I didn't appreciate it at the time, but they have helped me to realize this truth about who I am.

This is a life transition that has been and will continue to be, challenging. Sadly, my marriage of 20 years is in the process of ending. I want to take the time to make sure my next actions come from a place of truth and authenticity. Therefore, I'm drastically limiting my public engagement until my own personal life can be settled. After that I eagerly anticipate giving back to the community.

Finally, I know there are still accounts of my "ex-gay" testimony out there being publicized by various groups, including two books that I wrote about my journey. I don't get any royalties from these publications, and haven't since I left the ministry nearly ten years ago. I discourage anyone from purchasing and selling these books or promoting my "ex-gay" story because they do not reflect who I am now or what I believe today.

John Paulk
Untold damage to people, families and relationships has been done by the false notions of change in sexual orientation. Sadly, it continues. Among the wounded are our brothers, sisters, children, parents, friends and fellow church members. Until we can learn to be respectful and give equal dignity to people unlike us, we will endeavor to change them into images of ourselves rather than honor the God-image in each person.
John Paulk was part of the system that left people hopeless and drove them from churches. He was part of the regime that told parents and pastors that gay people needed to and could be changed. And, he spoke these messages into his own life as well.
At fifty, he is leaving the lies behind. It is his hope and mine that people will no longer participate in the dangerous, ineffective, hope-robbing practices of attempting to shift or deny the natural sexual orientation of any person.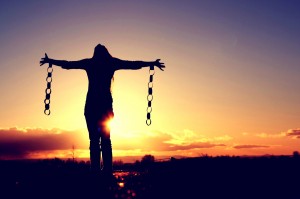 It is time for the people of God to stop creating and thickening the dividing lines between ourselves and those who are not like us. We are the ones who have created false prisons for gay, lesbian, bisexual, transgender and intersex people that have real effects.
He came to set us free, let us be free indeed.
Comments
comments