On April 23rd, I'll be speaking at a church in NoNev—the event description is below. Feel free to share!
____________________________________________
Untangling the Mess: Separating the Truth and Mistruths about What it Means to Be LGBT and Christian is being presented on Saturday, April 23rd by Kathy Baldock at Trinity Episcopal Church, 200 Island Drive, Reno, from 10 am till 4 pm. The event is hosted by the Northern Nevada Episcopal Diocese and back by the Episcopal Church in Nevada.
RSVP Office@TrinityReno.org
The presentation is an ideal opportunity to understand the intersection of faith and sexual orientation and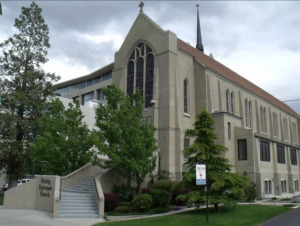 gender identity. Whether you are in the fully affirming camp, still investigating and seeking to understand the issue, or even one who holds a traditional view of homosexuality and the Bible, you are welcome to attend.
Baldock is the author of "Walking the Bridgeless Canyon"(2014), a well-researched and highly accessible history of the cultural and religious discrimination in America. She is the Executive Director of Canyonwalker Connections and serves on the Advisory Board of The Gay Christian Network and the Board of The Reformation Project.
Here's the general outline for the free 10 am till 4 pm session:
1st Hour: Same-sex behavior and homosexuality in history and in the culture
Early understanding of same-sex behavior
The "discovery" of heterosexuality and homosexuality
How did heterosexuality become the "good" sex?
Historical terms about same-sex attracted people and the link to views on women
How did homosexuality come to be understood as a mental illness?
The beginnings of reparative, or change therapy
Gays in the American culture from the 1940s to the 1960s
2nd Hour: Religion and Politics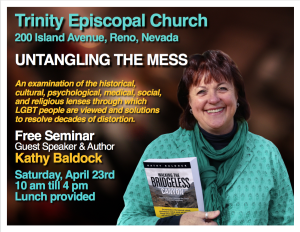 The roots of Fundamentalism
The need to galvanize unregistered blocs of Fundamentalists in the mid-1970s
Conservative voters and gay activists rise in response to actions by Anita Bryant
The AIDS crisis in the 1980s and the response of the American public and Christian church
3rd Hour: Science
What is sex?
What is intersex?
Understanding gender
Understanding transgender
The science of sexual orientation
"Gay sex" — so, do the parts "fit"?
4th Hour: Same-sex behavior in the Bible
Leviticus 18 and 20
Romans 1
1 Corinthians and 1 Timothy
Deuteronomy 22:5
Civil marriage and biblical marriage
5th Hour: LGBT Christians and their allies
Trying to "fix" gay Christians and the rise of the Exodus-type ministries
Mixed orientation marriage where one spouse is straight and one is gay
The beginnings of the gay Christian movement
QUESTIONS are welcome in each segment and at the end of the presentation.
RSVP Office@TrinityReno.org
************************
Comments
comments