Each of these stories is in the chapter of the book "Walking the Bridgeless Canyon –Repairing the Breach between the Conservative Church and the LGBT Christian Community." (May 2014)
A Biblical case for same-sex marriage is based upon the covenant, selfless, sacrificial requirements of Ephesians 5 and the one flesh demand for covenant of Genesis 2.
*************************
I go to the lovely city of Bozeman, Montana each year to present and educate during Pride week.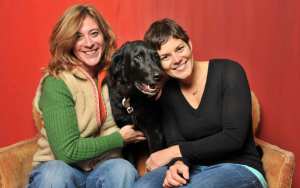 Last summer, I was honored to be part of a team of educators, theologians, and pastors who spoke to St. James Episcopal Church. Before I spoke, Wendy came to me. She had been with her partner Abby for 13 years. They wanted their home church to make a transition to accepting and blessing same-sex unions; yet, she was tentative about causing tension within her church.
"My partner and I have been together for 13 years. We live and love in a committed, working relationship that is full of joy but, like all relationships, we don't always agree. In fact, the fact that we don't always agree is what makes us a great couple. We are each other's check and balance.
In July of 2013, when the Supreme Court ruled that the federal government would recognize same-sex marriages performed in states where same-sex marriage is legal, regardless of the couple's state of residence, my partner and I were in instant agreement: we would get married. Because it seemed so unattainable, we'd only ever casually discussed marriage. We dreamed of getting married the way all girls do! Ours would be like something right out "Annie Get Your Gun." We imagined a wedding in a big church with bridesmaids and flower girls. We started making plans.
We live in Montana, a state where same-sex marriage is not yet legal. We are lucky to be part of a surprisingly supportive community. We had each lived in New York at some point in our lives. In December 2013, we went to New York and got married.
In August of 2013, our church announced an educational series to discuss the topic of same-sex blessings. The Episcopal Church has provided a same-sex blessing liturgy for a couple of years, but each parish must democratically approve the use of the liturgy before the priest can perform the blessing. Over the period of several months, our congregation met to listen to different opinions, insights, and arguments both for and against the topic. My partner and I love our church family, and while we have been fully accepted and embraced by the parish as a whole, the last thing we wanted was to offend anyone by our desire to marry. We were delighted and humbled when — after 14 weeks of panels, speakers, proper deliberations, and casual chats — our vestry voted 14-1 to accept the same-sex liturgy.
Our priest can now perform the blessing, not a wedding ceremony. We are planning a ceremony at our church for the spring of 2014. It is important to us that we have both federal/ and legal recognition of our union, as well as the blessing of God and our church family.
We'll have bridesmaids, a bridesman, and flower girls. And, the pretty dresses we grew up imagining. Family and friends'll surround us. We'll dance the night away. It's a dream come true. We are proud to be making history in the state of Montana and in our great United States, but, most importantly, we are committed to God and to each other, forever."
****************************************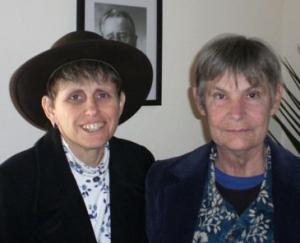 My friend CJ Barker — a brilliant feminist lesbian Christian from the Bay Area. Her contribution to the marriage chapter. This appears directly after God calling the unions sacred and holy:
"Human beings really don't get a vote on what does and doesn't constitute a marriage. The covenants being entered into by same-sex couples in courthouses and churches all over the world are real or are not real before heaven. The relationships being attested to by thousands and thousands of people before families and communities either are righteous or are not righteous, godly, and holy. We as human beings have it in our hands to change human institutions to rightly reflect the spiritual reality. We seek to make them on earth, as they are in heaven.
If you agitate, legislate, and adjudicate against same-sex marriages and they are real before heaven, you'll only be doing what Gamaliel cautioned the Council about in the book of Acts. When you oppose a move of God, you will not be able to stop it. In state after state and country after country, each sets of beaming couples eagerly await at courthouse doors. They joyously emerge a few hours later with big smiles and a palpable boldness about their own equality before God; the law further seals the deal.
LGBT people are being changed in the process. I'm one of those people. I'm not sure which has surprised me more — how fast the world has changed since then, or how much I have.
What happened that day was sacred and powerful. The people of the city of San Francisco conducted as massive act of corporate municipal civil disobedience. We did what human law said wasn't legal. We knew in our souls before any God worthy of His name, it was not only legal but necessary. Heaven blessed it and power went out from it. Power most definitely went out from there.
It's suddenly not a political calculation or a theoretical argument anymore. It's knowing to your toenails that you're not the same person. You think maybe the church has got this right. Marriage is a holy sacrament even when civilly performed.
This is what people who oppose same sex marriage are now up against, whether they understand it or not. How do you curse what God has blessed? How do you undo a sacramental change in somebody else's soul?
*************************
If you knew them . . . you would NEVER doubt the need and blessing of marriage equality. They are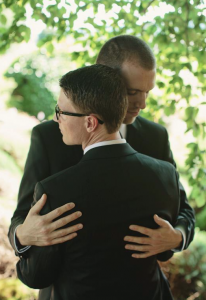 a VERY lovely and WELL matched couple. I asked them to contribute to the chapter on marriage.
Here is what David Evans-Carlson wrote about his marriage to Colin Evans-Carlson:
"Colin and I grew up in Christian homes and active in our churches. Gay people were considered people who didn't care about God; and if they cared about God they certainly wouldn't be gay. As men who had accepted Christ and identified fully as Christian, it was difficult to begin to realize that we ourselves were gay. Within the Christian church, it was thought that straight people fell in love and gay people are reduced to a sex act. So falling in love with Colin was an amazing, surprising, and life-giving experience. We shared a love for each other and love for God that bonded us together deeply.
What we wish churches understood is that Colin and I want to be held to the same standard of love and commitment other married straight couples are in the church. We want to be held to our vows of faithfulness and fidelity. We want to be supported and prayed for when times are tough. We want to raise our children to love Jesus.
Marriage brings a certain universal weight and understanding to a relationship. It is not just a boyfriend passing through, but rather something substantial and permanent. Our families could see that the other man was their son or brother's husband for life. We were building a home now. Marriage provides this beautiful space for our whole selves to be opened up in a context of love and acceptance. My husband knows all about me; the good, the bad, and everything in-between, and he still looks at me with love. There is something so divinely redemptive about this kind of covenant love. It is a love I wish for all people to be blessed with, both gay and straight, within the context of marriage."
*************************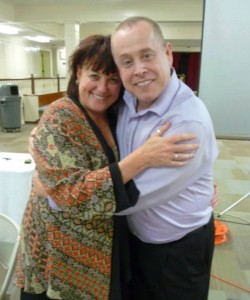 I met David Farmer through my association with the Reformation Project. David, is a conservative Baptist who lives in Springfield, Virginia with his partner of 22 years and husband, Ron.
"We have been together for 22 years. I never entertained the thought that marriage would be possible in my lifetime. Even when it was not yet legal, we made our commitment to each other early in the relationship. In 1995, we held a commitment ceremony officiated by an ordained Southern Baptist minister to express our covenant to one another in the presence of God, and our close friends. We were legally married again in 2008, however our 1995 ceremony is our true marriage.
I wish I had known early in my life that same-sex marriage would be possible. I might have not given up on organized religion for a period. Nonetheless, God had a plan for me and I found the perfect person to spend my life with, and together, we found our way back into a fulfilling church life.
My church, Ravensworth Baptist Church, would officiate a same-sex marriage today if it were legal in Virginia. I am hopeful that more churches will open their hearts on this issue. I pray that more pastors and congregations discern Scriptures and rightly place the six or seven passages mentioning same-sex activity in cultural context in which they were written. I pray that the Holy Spirit will move them to become inclusive."
********************
Comments
comments