"What does the Bible say about loving, same-sex relationships?" Nothing. Not a thing. And in that absence of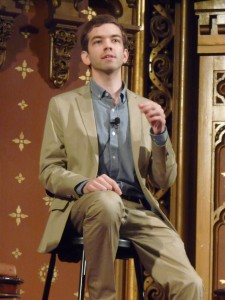 Biblical direction of support for or condemnation of these relationships, Christians need to follow the general principles of the Bible: love, justice and kindness. This was the point Matthew Vines wanted to emphasize at his recent presentation at Marble Collegiate Church in Manhattan.
My interaction with Matthew preceded his presentation in New York City recently covered by the New York TImes. When Matthew first released his sixty-seven minute video, "The Gay Debate: The Bible and Homosexuality" in March, he sent it to me. I watched it over two evenings and, on the second night, I sent him a brief email: "Let's talk soon." And we did, the next night, for over two hours.
His story is intriguing. Matthew began to understand and accept that he was gay while in his first semesters at Harvard. The Wichita native knew, that by accepting his sexual orientation, he was risking his long time status in the Presbyterian church in which he had been raised, as well as relationships with family and friends. "You realize how alone you might be when you come out," recalled Matthew. He resolved to take a leave of absence from Harvard to embark on a scholarly study of the subject of homosexuality in the Bible.
What most people see and know of Matthew is his excellent 67 minute video. The presentation in itself is quite remarkable; the young man that I have come to know is even more impressive.
This summer, my daughter Sam and I drove from Nevada to New York for the start of her Masters Education in Public Policy at SUNY-Albany. Along the way, we took a detour to spend the night with Matthew and his parents, Kim and Monte, in Wichita, Kansas.
Both Mom and Dad are lawyers. Monte is the quiet, deliberate parent and Kim is the bottomline, down-to-earth, sassy, smart Mom. (Kim and I would be buddies if I lived in Kansas.)
 Over dinner in a neighborhood pizza place, I asked Monte if he was surprised at the notice Matthew was getting from the video. "No, not really." That was not the answer I expected, but I did not yet know the drive of this young man. "We are delighted, but not surprised. What Matthew sets out to do, he accomplishes."
Monte and Kim then told us about Matthew's work when he was a high school junior to influence the investments of the state's largest pension fund. The Kansas Public Employees Retirement System had $38 million invested in companies with ties to Sudan. If Kansas and other states divested funds in Sudan, there would be increasing pressure on Sudan to end the violence in Darfur.
"A college student was heading it up, but he had abandoned the effort, so I decided to take the lead," said Matthew. Sam and I laughed. Oh, of course, that sounds like what every high school junior would do. Lead a statewide initiative on retirement pensions. "I drove him all over Kansas that year and he personally spoke with half the legislators," Kim told us. At the end of the effort and ten days in Topeka working in the capitol, a bill forbidding Kansas pension investments in Sudan was passed and signed into law by Gov. Kathleen Sebelius in 2007.
The willingness to lead and reform, along with determination and resolve, was evident in this young man five years ago.
Sam, Matthew and I walked home through the neighborhood slowly after dinner, still chatting. My daughter is on her own rocket-path to changing systems, so I was excited to see these two young adults interact. The entire exchange was filled with enthusiasm and promise. Sam suddenly stepped out front of Matthew with her huge smile and exaggerated wow-arms, "This kid, Mom, I  love  this kid. This kid is so cool." Yes, he is winsome in his unique way. He is a blend of quirky "Doesn't everyone think this way?" and zeal for minutiae and details. 
Once home, over ice cream, the conversation about his studies and the work to be done never waned. Matthew brought books to me, stacks of them. He turned to very specific chapters and essays saying, "Oh Kathy, you must read this one . . . oh, and this one." I was taking notes and jotting down book titles. Without a doubt, before me was the most scholarly resource I had encountered on the subject of homosexuality and the Bible. The parade of books and dialogue did not stop until 2 am when, exhausted from the 525 mile drive, I surrendered to the day, "Matthew, I have to get some sleep."
Matthew is absolutely the ideal "poster child" for scholarly study on the subject of homosexuality and the Bible. Because he is a delightful young man who is serious about his own relationship with God and is the quintessential "great young man at church that all the adults love" (that is, until they find out he is gay), he makes an excellent spokesman for the issue.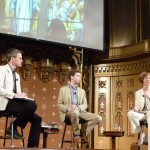 And, he is a gifted teacher. His mannerisms are humble, yet sure. He is intelligent, yet approachable and emotional.
After leaving Kansas and the Vines family, I was in New York City a week later on the night of Matthew's presentation at Marble Church, an event co-sponsored by Ross Murray, GLAAD and Shari Brink, a pastor at Marble. Matthew outlined his story and took questions from the predominantly older gay Christian audience.
The assembly was filled with people who had struggled, not so much with their sexual orientation, but with the treatment they had received in families, communities and churches just for being gay. They had been outside the margins of acceptance when they were Matthew's age. It was encouraging and hopeful to hear a young, gifted man willing to devote himself to end the misuse of the Bible against the community represented that night at Marble Church. "Twenty years ago", Matthew said, "I would have been expected to marry a woman. Enough work has been done so that I am now on the margins of the conversation and not outside of the conversation."
And that is exactly where the dialogue is–precisely on the margins in most churches. As more of us meet gay, lesbian, bisexual and transgender Christians, it will challenge the dogma to which we have clung and believed to be true. The vast majority of people in the pews are not intentionally motivated to be unkind or hurtful; they simply have not heard another valid interpretation of the verses used to condemn the gay community.
I have recommended many books and movies for seekers and doubters, but the beauty of what Matthew has done in "The Gay Debate: The Bible and Homosexuality" is that he has created an accessible, scholarly, easy-to-understand one hour video. His heart is to educate; he does it humbly and well.
I have learned much from this young man standing at the margins and willing to reform the dialogue of homosexuality and the Bible. Expect to see great efforts from Matthew Vines in the near future. He is helping to move the informed, thoughtful, compassionate conversation about gay Christians from the edge to the center, where it needs to be, now.
Comments
comments