Edie Windsor, 84, loved her partner, Thea Spyer, for 42 years before losing her to multiple sclerosis.  They met in a lesbian bar in 1963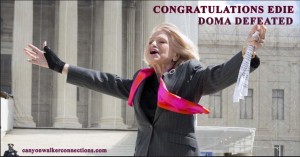 and got engaged in 1967.  "It was purely symbolic," says Windsor. "It was a way for us to say we wanted to spend our lives together."
Because of their professional careers, Edie as a computer systems programmer, and Thea as a clinical psychologist, they did not wear wedding rings. In 2007, the couple flew to Canada to exchange wedding vows. They no longer wanted to wait for justice to catch up with their relationship; Thea was wheel-chair bound and Edie was taking  care of her full time.
When Thea died two years later, Edie was forced to pay over $363,053 in estate inheritance taxes. The next year, Edie requested a refund from the IRS and was denied. For a widowed partner in a heterosexual marriage, the refund would have been standard. Although Edie and Thea were indeed a legally married couple recognized by the State of New York, Section 3 of DOMA defines marriage as a man and a woman. DOMA effectively excludes same sex couples from federal recognition, as well as from IRS tax exemptions.
In February, 2011, President Obama instructed the US Justice System to no longer defend DOMA. In March, 2013, the test case of DOMA was heard in the Supreme Court of the United States.
I have a personal connection to this story and this woman. (You can get all the sweet and loving details of their lives and love in a documentary "Edie and Thea: A Very Long Engagement" —very sweet movie!) In January 2012, I went to The National Gay and Lesbian Task Force annual conference in Baltimore. The first evening, a lovely petite lady, Edie Windsor,  was recognized by the moderator as a special guest.  Applause, applause, but I had never heard her name nor did I recognize her  face on the Jumbotron.
The next night, I went to a networking mixer and, as I walked in the door, out the door bounded this same petite fireball.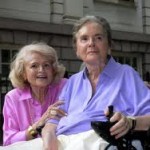 Thank goodness, I am curious beyond reason, and an extreme extrovert. "Hey, I saw them announce you from the stage, who are you?" And thus began an hour long conversation filled with love, laughter and tears.
Edie told me her story. We both cried through much of it. "What did you love about Thea?", I asked.
"Oh, when that woman walked in the room, I loved her smell, I loved her walk. I loved everything about her."
It seemed an intimate a moment as Edie drifted off to her memories. It was so sweet and it touched the depth of me. I was listening to a woman who fell in love at first sight and never stopped loving her partner of 44 years. "Did getting married after 42 years make a difference, Edie?", I wondered. "Oh, Y E S ! It felt like we were finally recognized by friends and family and people around us. It felt wonderful!"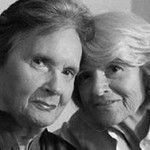 "You know what is overwhelming?", Edie said as she counted out each word in the air slowly, "to see the actual suit and it says 'Edith Windsor versus the People of the United States of America.'"  To appreciate the bigness of that statement and how charming the scene was, you would have to appreciate Edie; she is a little pixie of a women with spunk and joy beyond her 84 years.
In conversation, Edie speculated that it would be "five or six years" (it only took 14 months!) until her case was heard in the Supreme Court.
I became quite anxious for Edie's health, "Oh my, Edie, you have to live to see this thing to the end. Do you take good care of yourself?", I asked.  "Oh yes, and people are so good to me. They take good care of me."
We parted after a long while.
Does it matter that all citizens in this country are treated equally and fairly under our Constitution? Sweet Edie says,
"Oh, Y E S ! It felt like we were finally recognized by friends and family and people around us. It felt wonderful!"
For all the same sex couples that are able to marry in a State where it is legal, the US government can no longer deny them the federal protections afforded to heterosexual couples. The repeal of DOMA will not grant the right to marry to same sex couples.  Instead, it will no longer be legal for Congress and Federal laws to treat married same-sex couples differently from married opposite-sex couples in federal laws and programs like Social Security benefits, immigration, and income taxes.
Edith Windsor vs The People of the United States
You got this one, Edie honey.
You won, for you and Thea and for all the same-sex couples in Massachusetts, Connecticut , Iowa, Vermont, New Hampshire, New York, Maryland, Maine, Washington, Rhode Island, Delaware and Minnesota. And counting.
Comments
comments