The Nevada State Senate passed SJR13 the Marriage Equality Amendment late last night, April 23rd with a vote of 12-9. The Senate is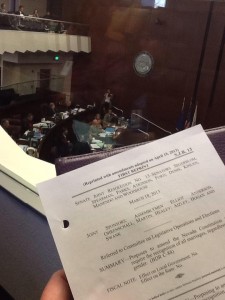 composed of 11 Democrats and 10 Republicans; the sole Republican to cross party lines was Sen. Ben Kieckhefer (District 16, South Washoe County and Carson City). SJR13  states "Proposing to amend the Nevada Constitution to require the recognition of all marriages, regardless of gender."
The Nevada Legislature meets every other year for 120 days. In order to amend the Nevada Constitution, a bill must pass through both houses of the legislature twice before it goes to the vote of the people. In 2000 and again in 2002, the Nevadans voted to include a marriage amendment in the state's constitution which restricted marriage to only a man and a woman. This is the issue SJR13 addresses; it will amend that restriction on marriage.
Eleven years after the popular vote restricting marriage, Nevada is now estimated to be 54% (2012) for marriage equality. Nationwide, the rate of same-sex marriage approval is 1.5% increase per year. By the time the vote goes to the public to amend the Nevada Constitution's definition of marriage with no gender restrictions, approval in the state should be 60%.
For over an hour, several legislators stood to give emotional testimony on both sides. Sen. Kelvin Atkinson (D-North Las Vegas) (@katkinson702, Kelvin.Atkinson@sen.state.nv.us) publicly declared for the first time that he is gay. After describing his own father's marriage to a white woman that would have been illegal before  the 1967 Loving v. Virginia Supreme Court decision, Atkinson publicly announced for the first time "I'm black. I'm gay. I know this is the first time many of you have heard me say that I am a black, gay male."
"I don't know if I'll be allowed in church on Sunday," said Sen. Ruben Kihuen, a Catholic, who voted in favor of SJR13.
Sen. Justin Jones, a Mormon, elected by a strong southern Nevada Mormon base, (@Jones4Nevada, Justin.Jones@sen.state.nv.us), spoke about  his gay brother-in-law. Jones said he couldn't bring himself to vote against extending him marriage rights. His re-election after this first election to the Nevada Senate was threatened by proponents of the gay marriage ban. He stated that if this were the only time he served, then he knows he did the right thing.  "I would rather lose an election than look my brother-in-law in the eye every Sunday and tell him he doesn't have the same rights as I do." He too voted for SJR13.
The sole Republican to cross party lines was the senator from my home district, Ben Kieckhefer, a married man and father of four. I am glad to say I did vote for this man. (Please do thank him:@Ben_Kieckhefer, Ben.Kieckhefer@sen.state.nv.us) In preparation for the Assembly vote, I have already spent 30 minutes with Assemblyman Randy Kirner from my district. He does not appear, as yet, to be ready to vote in favor of marriage equality.
SJR13 now goes to the Nevada Assembly where it will first be heard in committee then be brought for public testimony; I will be there. It then goes to the Assembly consisting of  27 Democrats and 15 Republicans for a vote. This is all repeated again in our next biennial Legislature in 2015. Once it has passed twice in the legislature, it goes to a popular vote in 2016. The Nevada State Constitution will then extend marriage rights to two people regardless of gender.
I anticipate with a 60% approval at minimum in 2016, this will pass and Nevada will become open, fair and welcoming to all people who seek to marry the person they love.
As a 30 year resident, I was a proud Nevadan to be in the Senate Galley late last night as my legislators took the first step to justice, and fairness and marriage equality.
Comments
comments