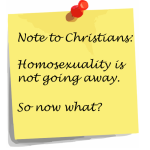 "Perhaps conversion therapy seemed viable when homosexuality was still thought to be an illness; at this point, it is an idea whose time has come and gone" (Halderman).
Those of us who endured the ex-gay movement can certainly agree with that statement. What makes it more significant, and a little disturbing, is that it was written in 1994. Twenty years later, and countless studies after the fact, the mainstream Evangelical church continues to push its LGBT members toward a practice that is "nothing more than social prejudice garbed in psychological accouterments" (Bryant Welch, for APA executive director for professional practice, 1990).
We've known this for a long time. Irving Bieber's 1962 work reported a 27% success rate, though he failed to account for the fact that 50% of his subjects were bisexual, and his reporting methods were highly subjective in the first place. Assertiveness training, introduced by Feldman and McCulloch in1965, showed no better results. Similar suspicious studies, such as those produced by Sammual Bernard Hadden appeared in 1966. A 1976 study by Conrad and Wincze again showed "physiological measures of sexual arousal remained unchanged" (Halderman, 1994, p153)
When Evangelical Christians stepped into the scene, they took a bad problem and made it worse. Psychologists Weinberg and Williams (1974) noted:
It has been shown that those gay men most likely to be inclined toward doctrinaire religious practice are also likely to have lower self-concepts, to see homosexuality as more "sinful," to feel a greater sense of apprehension about negative responses from others and to be more depressed in general.
I frequently hear from gay men, decades after they have abandoned their church, and many their faith, that they are still struggling to make sense of their lives and God. Some live with guilt over their otherwise successful partnerships. Others have given up on the idea of finding love and settle for anonymous hookups. They feel they can better justify an occasional indiscretion, than a monogamous gay relationship.
Homosexuality is immutable. Regardless of how, it is a biological condition of human beings and animals. Either God has made a gargantuan mistake, or His plan is higher than our finite human minds can comprehend. I choose to believe the latter. How many more years will the evangelical church subject it's LGBT members to archaic and barbaric methods to try and fix what is not broken?
I have long since removed myself from the arguments around homosexuality and Scripture. As I've noted previously (Why I don't talk about Scriptures), the Bible can be made to say what we want it to say. This has been demonstrated throughout history via women's rights, slavery, and science. Unfortunately, for many evangelicals, once this argument is removed, they go silent. Applying known science to the Scriptures is akin to blasphemy, or it is simply dismissed as "worldly knowledge."
So I ask my Christian brethren, what then? What will you do? How can you continue to justify placing your laws on those who cannot stand up under them? Can you justify hardening your hearts to those who suffer depression, self-hatred, and even suicide? Have you determined that homosexuality is too big for God's grace? Does your fear of sin consume your faith, rendering your ability to love powerless?
Perhaps the issue is not about homosexuality at all, but our inability to see God's power as larger than the box of ideals in which we have placed Him. Perhaps the answer does not lie in social activism, but in releasing faith larger than the fear that drives our words of anger and destruction. Perhaps, if you so strongly believe in a Gospel of change, and it isn't working, maybe the person that needs to be changed is you.
Tim Rymel, M.Ed. was the Outreach Director for Love in Action, once the oldest ex-gay organization in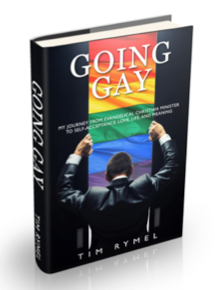 the world. He shares his story in his latest book Going Gay My Journey from Evangelical Christian Minister to Self-acceptance, Love, Life and Meaning, CK Publishing, (2014).
For speaking engagements call (707) 563-xgay (9429) or
Email: Tim@TimRymel.com.
Twitter: @TheRealTimRymel
Facebook: facebook.com/TimRymel.AuthorPage
Comments
comments