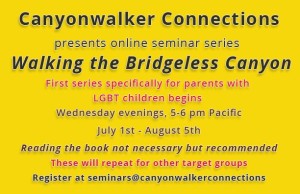 Canyonwalker Connections is developing several online seminar series to help train and educate. The new curriculum will be offered in repeated six-week sessions throughout the year.
Each session will be specialized for targeted audiences including: Christian parents of LGBT youth, PFLAG chapters, and GSAs, and pastors and church leaders who are seeking understanding. Anyone is welcome to any session. (The space will be limited during the first few series.)
The first  6-week-long session, targeted toward Christian parents of LGBT children, will begin Wednesday, July 1, 2015 and continue each Wednesday through Wednesday, August 5th starting at 5 pm Pacific. The online sessions are free. Each session will include at least 20 minutes of Q&R with the attendees.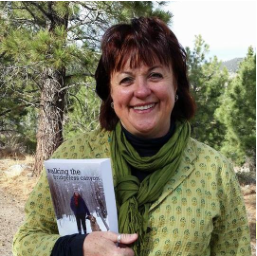 The outline will follow the section break of Walking the Bridgeless Canyon. While it is recommended that attendees may most benefit by reading the sections prior to the presentation and discussion, it is not necessary.
Important note to parents who may believe their child is LGBT or may not understand what this means or what response you may offer: you are very welcome to participate anonymously. 
My co-host for most sessions will be Yvette Cantu Schneider, a former policy analyst for Family Research Council, and head of Women's Ministry for the now defunct Exodus International. Yvette and Kathy are both educated on the many issues associated faith and sexual orientation and gender identity. Our tone is gracious and inclusive and you will find a safe space to ask the question that most concern you.
 We may have expert guests join us for some of the session segments. (Lisa Salazar, Tim Rymel, Matthew Vines, Allyson Robinson, Linda and Rob Robinson, Joani Lea Jack, Brody Levesque, and others)
Weekly segment topics:
Week 1. Same-sex behavior and homosexuality in  history and in the culture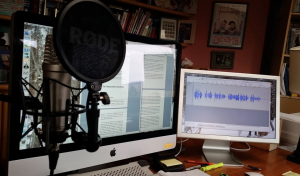 Early understanding of same-sex behavior
The "discovery" of heterosexuality and homosexuality
How did heterosexuality become the "good" sex?
Historical terms about same-sex attracted people and the link to views on women
How did homosexuality come to be understood as a mental illness?
The beginnings of reparative, or change therapy
Gays in the American culture from the 1940s to the 1960s
Week 2. Religion and Politics
The roots of Fundamentalism
The need to galvanize unregistered blocs of Fundamentalists in the mid-1970s
Conservative voters and gay activists rise in response to actions by Anita Bryant
The AIDS crisis in the 1980s and the response of the American public and Christian church
Week 3. Science
What is sex?
What is intersex?
Understanding gender
Understanding transgender
The science of sexual orientation
"Gay sex" — so, do the parts "fit"?
Week 4. Same-sex behavior in the Bible
Leviticus 18 and 20
Romans 1
1 Corinthians and 1 Timothy
Deuteronomy 22:5
Civil marriage and biblical marriage
Week 5. LGBT Christians and their allies
Trying to "fix" gay Christians and the rise of the Exodus-type ministries
Mixed orientation marriage where one spouse is straight and one is gay
The beginnings of the gay Christian movement
Week 6. How best to become an ally or help create safe places for those coming out
The first studies on LGBT youth did not begin until the early 1990s
How best to help your LGBT child as they come out
Helping to create safe places for LGBT youth and adults in churches
Please send an email below and we will let you know where online you can join us beginning in July, and then continuing several times throughout the year.
Share this opportunity with your friends on Facebook and Twitter.
Comments
comments