Without doubt, there is a growing need for civil and informed conversation at the intersection of faith and sexual orientation and gender identity. It is often gay and transgender youth who suffer most as a result of a distinct lack of information or misinformation.
I'll be part of team leading an effort to bring information — primarily to LGBT youth, their parents — in the Palm Springs and Palm Desert, CA on Saturday, January 23, 2016. The evening is sponsored by New Covenant Church Palm Springs.
I well understand both "sides" of this discussion on faith and sexual orientation. I've come from the solidly entrenched ideology supported by conservative Evangelicalism to my current position of advocacy for full inclusion of LGBT Christians in Christian communities.
I am a straight Evangelical Christian and the mother of two heterosexual adult children. I have all the Evangelical pedigree markers. I even homeschooled my children for six years to shield them from infiltrations of "the world." Until 2001, I didn't even have any gay friends (that I knew of) and was a typical "you cannot be gay and Christian" conservative.
My theology was working quite nicely for me until, in the crisis of a dissolving marriage, I turned to daily hiking as a place and time to process my thoughts. It was on local hiking trails that I started a friendship with a fellow hiker, a lesbian.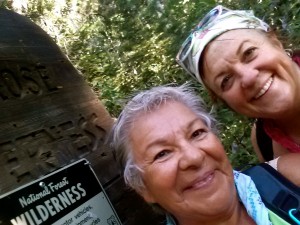 I figured out quickly that Netto was a lesbian, yet I was too drained to "tell" her anything. I just did relationship which distressed a group of Christian friends I met with weekly. They kept encouraging me to "tell her the Gospel," but my "teller" was broken. I was in agony over a marriage ending and did not have the desire to tell anyone anything.
Netto and I hiked each weekend for a year, and when she finally came out to me as a lesbian, I loved her and did not care what sexual orientation she was. She could have been purple and spotted. I came to love her as a friend.
Over the next four years, I became socially involved in the local gay community. During that time, I never met anyone that identified as both gay and Christian.
In December 2006, I read an article on the front page of the New York Times about Justin Lee and the Gay Christian Network (GCN).
I was astounded, "GAY CHRISTIAN? How can that be?"
Three weeks later, I was in Seattle at the GCN annual conference. I knew no one. I was one of the first straight person/advocate-to-be to attend a GCN conference. That was 2007.
In 2011, after 4 years of being entrenched in the gay Christian community, I formed Canyonwalker Connections to formally do the work I was already doing: educating, encouraging and engaging people on the issues of sexual orientation and gender identity. My niche is the conservative church. I know the language; I was and am very much part of that tribe.
In 2014, after three years of focused research, I published Walking the Bridgeless Canyon, a history of the cultural and religious discrimination of the LGBT community in America.
For the past two years, I have presented this research and information to a variety of groups across the U.S. And now, New Covenant Church Palm Springs is bringing me to the Palm Springs area to present this compelling and highly accessible information.
I use a large, multi-track interactive timeline that helps bring all the research together in an understandable, memorable way. This unique visual illustration shows all the moving parts in different sectors of society that have come together to create socially conservative anti-LGBT beliefs. The timeline is one of the key tools that helps bring understanding, and what many might call their "aha!" moments.
The three hour presentation covers a variety of topics including:
Same-sex behavior and homosexuality throughout history
How did homosexuality come to be understood as a mental illness?
Gays in the American culture from the 1940s to the 1960s
The merger of religion and politics in the late 1970s
The origins of AIDS
What is sex, gender and sexual orientation?
Understanding same-sex behavior and the Bible
The unrealistic call of celibacy on LGBT Christians and consequences of mixed orientation marriage
LGBT youth and their parents
How to advocate for inclusion of LGBT Christians in faith communities.
Join us for this special evening in Palm Springs, CA on Saturday, January 23rd. All questions are welcome in each segment and at the end of the presentation.
Comments
comments