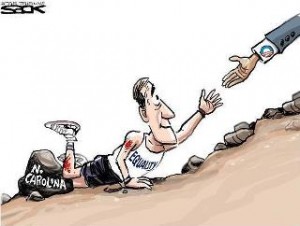 On May 9, 2012, President Obama became the first sitting United States President to support same sex marriage.  There are at least 8 million  adult gay Americans. Although they are still a minority, this is equivalent to the entire population of  the state of North Carolina who on May 8th voted by in majority at the voting booth to legally discriminate against, not only its gay residents, but also against those in domestic partnerships and civil unions.
President Obama came to his fully supportive view of same sex marriage much the way many others of us have–through relationship. The rules change when you get into relationship. The demon of dogma transforms to a human with dignity similar to the rest of us.
The decision to extend full civil rights to the gay, lesbian, bisexual and transgender community will be examined, in time, by the Supreme Court and thankfully, not by a popular vote. It is interesting to note that the vote which just yesterday excluded all non-husband-wife marriages from legal protection in North Carolina was not actually the voice of the  majority of registered voters in that state.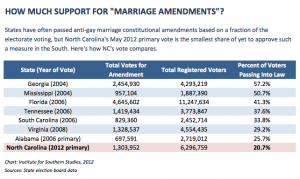 Only 20.7% of the registered voters ( 6.3 million registered) voted to amend the state constitution on the issue of marriage. In effect, only fourteen percent of all North Carolina voters decided the fate of equality for all other families of that state.  After such a devastating blow to the minority, the admission of support by Obama lessened the sting of discrimination.
I know thousands of gay, lesbian, bisexual and transgender people and most of the ones I am in relationship with are Christians. It is for all gay, lesbian, bisexual and transgender Americans that I am glad  this issue is coming into full and open dialogue with the support of the most powerful leader in our country. Thank you President Obama for seeing the equal dignity of all Americans and having the courage to be the first sitting President to state so.  It makes the clear bigotry of the Amendment 1 vote less painful.
Related Posts:
The 61% in North Carolina Miss the Message of Christ and Civil Rights on Amendment 1 Voting
To Christians in North Carolina | Four Reasons to Vote Against Amendment One
Comments
comments