"Relationship." It is my mantra. As an advocate for the lesbian, gay, bisexual and transgender (LGBT) Christian community for full equality and inclusion in the church, I am engaged in conversation at every level of understanding.
Those that hold a hard line on "you cannot be Christian and gay" often share one thing in common: they have never been in community with gay Christians. How illogical is that? We would count someone as silly to have an opinion on a food not eaten, a book not read, a movie not seen yet, but when it comes to people and a subject as serious as a relationship with God, many feel free to speak with authority that they do not have.
The exchanges I have with those who oppose the work I do, and even call it heretical, can be scholarship-packed. The "authorities" will invest hours writing me notes with original Greek and Hebrew symbols trying to prove that I am doing the devil's work.
I must confess, I read the first paragraph and maybe the last and reply in this way most often:
thank you for your input

I am comfortable with where the Holy Spirit has lead me in my beliefs

here is a list of affirming churches in your area

let me arrange to have someone host you at a church that you might visit

have a meal with a few people in that congregation

when you have accomplished that, we can open up this exchange again
I have learned from years of experience that people rarely come to an affirming, or even accepting stance of LGBT Christians without investing some time in relationship with LGBT Christians. The battle of verses in a spiritual duel may make each party feel like they are defending the faith like modern day Crusaders, but, for the most part it is non-productive.
I have an old copy of Everything You Wanted to Know About Sex But Were Afraid to Ask from 1970. My goodness, the chapter entitled "Male Homosexuality" would scare anyone away from approaching one of these rare and frightening species of humans. I often use readings from it as a form of entertainment at dinner parties. As amusing as that is, it does remind me that some people still do not have an accurate view of what it means to be gay or transgender. Add to that the mind-twisting concept of tacking "Christian" onto that description, and you have indeed offered an enigma.
I think it would be accurate to say that most of the people with which I attend church do not have intimate relationships with any gay, and certainly not transgender, people. They are typical. They just do not know gay people. Most of their social calendar is consumed with fellow pew-sitters. And until we pursue relationship, from both sides of this divide between the LGBT Christian community and the traditional church, people will operate and form judgments in ignorance and even fear.
The mind is a wonderful machine and its thinking functions are differentiated between "fight and flight," and a true processing of concepts. The amygdala is at the stem of the spinal cord and helps us respond to a threat, which is quite handy when a taxi cab is gunning for you on a city street.
You don't process thought there, you just respond. When people have no history with LGBT folks, and the story lines they hold to be true about them are fear-filled, it is darn difficult to get them to shift from that position unless you remove the fear component.
Progress can be made when a fearful response can move on up to the frontal lobe of the brain, where reasoning, problem solving, judgment and impulse control occurs. That shifting takes an investment of time and relationship.
I am quite intentional when I do get the opportunity to speak with a person that is clearly making assessments on the LGBT community, and especially LGBT Christians. I   S  L  O  W   down the conversation and define terms. I am careful to not let fear-based terms get tossed around as if they have any valid place in a rational dialogue. I tell lots of stories to bring the human factor into the exchange. I try to avoid labeling and introduce people. And finally, I encourage fostering of personal relationship to move that whole scary mess embedded in the amygdala on up to the front of the brain.
Sure, this may all sound a bit technical but it really has helped me in fostering productive engagements. When I can visualize and understand that the person I am speaking with is doing what comes naturally — reacting in fear–I can more readily treat them with empathy. Labeling them a "bigot" or a "hater" is not useful. If conversation and understanding are my goals, my own empathy must be in play.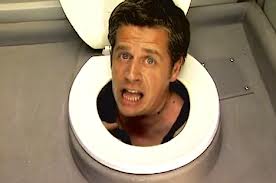 I would be a relational genius and ambassador extraordinaire if I could say that this always works. It does not. When the conversation takes a detour, I step off the path and do not run over the cliff with it. When the intended conversation shifts from considerate statements to the inclusion of insane "slippery slope" assertions, painting images of marriage between a person and a dog, child or sister, I remain calm and respond with a variation of "If you choose to drag this conversation into the toilet, you can go there by yourself. I will not join you." And most often, I then exit the conversation.
My own path to understanding and advocacy can be summed up in one word: relationship. In 2000, I was the model Evangelical, homeschooling mom who knew no LGBT people and liked it just fine that way. I hike daily in the foothills near my home in the Sierra Nevada Mountains. One day, having some extra time, I offered to hike the trail again with a woman I often saw there. And that was the simple beginning of a life-changing friendship.
Netto, a Native American, dark skinned, agnostic (no longer!) lesbian, is now my closest and most loyal friend.  I countered all the amygdala-embedded stuff by just hiking hundreds of miles with her. In the following years in her social circles, I did not meet one lesbian attending a Christian church. Although I was learning what it meant to be gay, I still had not put the word "gay" beside the word "Christian."
Five years later, enter Justin Lee, author of Torn: Rescuing the Gospel from the Gay-vs-Christians Debate. (full review of the book) The New York Times had just run an article about Justin and the Gay Christian Network. I was stunned to see those two words "gay" and "Christian" side by side. I met him over the phone for the first time in December of 2006. "I see you are having a conference in Seattle. Can I come? I promise I am not coming to change anyone; I just cannot believe you exist and that there are enough of you to have a conference."
I did go and have been going to the GCN Conference for six years now. (Next  year, the conference is in Portland in January.) Justin Lee is one of the most gifted, funny, humble, able, compassionate, intelligent and gracious people involved in this very difficult dialogue about gay Christians and their place in the church.
If you are not in a place of having relationships with LGBT Christians, start with Justin's book. His passion comes off every page; his heart and love for Jesus is in every chapter.
Camp out on my blog and learn. Get brave and educated. Look for a welcoming church in your area, go visit it and plan some time to have a meal afterward to sit and chat.
And to my LGBT Christian friends, make time for relationship too. Most of us traditional Christians have little or no history with people like you. Help us overcome the fear we have been served up and stuck in so that we might see in you the Spirit of God. It will make the "gay Christian" conversation flow so much better.
With a base of relationship, revisiting the verses in the Bible that have been used to discriminate take on new meaning. Those once condemning verses can now be seen with the eyes of the heart.
We'll get there; together, we will get there. It will take time and RELATIONSHIP.
Comments
comments