RECOMMENDED & REVIEWED BOOKS:
Books written by Christian authors that are damaging the the LGBT community are hosted on a separate page.
Here are several books I recommend, or popular on the topic of sexual orientation and Christianity. |
I also review books on Amazon. I will be adding books over time. I read over 100 books in researching my own book, Walking the Bridgeless Canyon. I'll review many of those books on Amazon and/or on this blog.
If you have a book you would like me to read and review, send it to: P.O. Box 19017, Reno, NV 89511 or pdf to:  kathy@canyonwalkerconnections.com
_________________________________________
God and the Gay Christian — The Biblical Case in Support of Same-Sex Relationships by Matthew Vines is an important book for the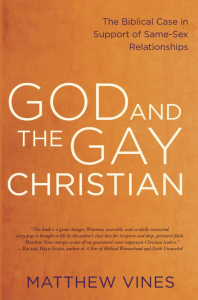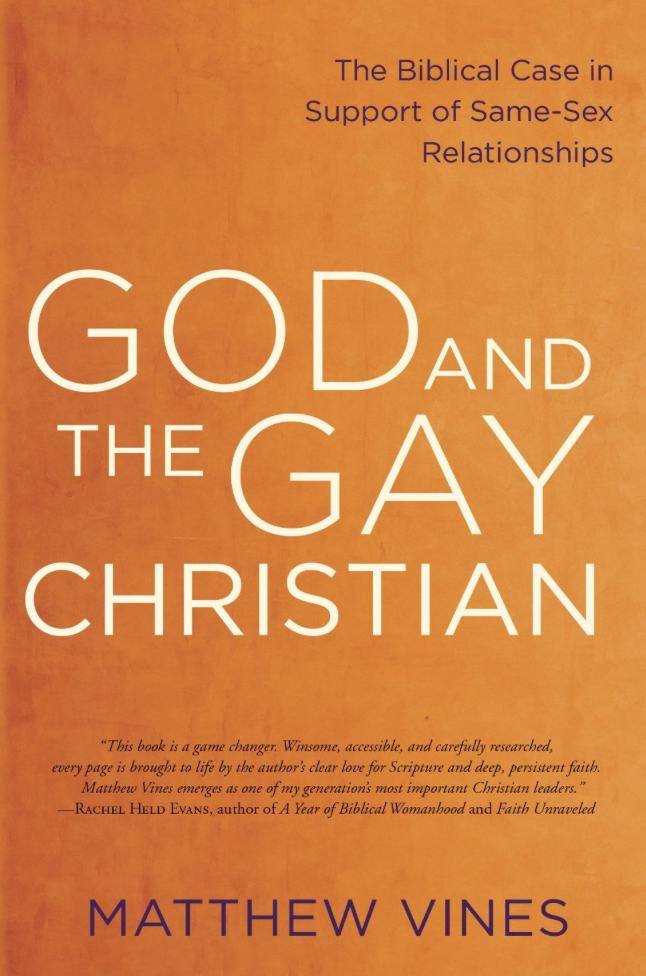 conservative Christian church, now. Vines presents clear and well-sequenced arguments to support a more accurate interpretation of six passages in the Bible which have been used to exclude lesbian, gay, bisexual and transgender (LGBT) people from conservative churches.
Vines was raised in a conservative Christian home in Wichita, Kansas. In his family, gay and Christian were not words that co-existed side-by-side, until Vines realized he was gay and a Christian. He began a several years' project to make sense of the Scriptures, historical Bible teachings and his faith. God and the Gay Christian — The Biblical Case in Support of Same-Sex Relationships is the culmination of that work.
Arguments for inclusion of lesbian, gay, bisexual and transgender (LGBT) people in faith communities have evolved over the past 45 years.  Often, arguments for inclusion have been dismissively labelled as "pro-gay theology." Vines presents a careful and more accurate reading of Scriptures in context, and with understanding of the culture in which they were written. The information in his book reveals insights that may be new information for many readers.
_______________________________________________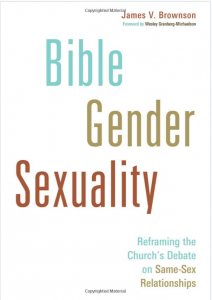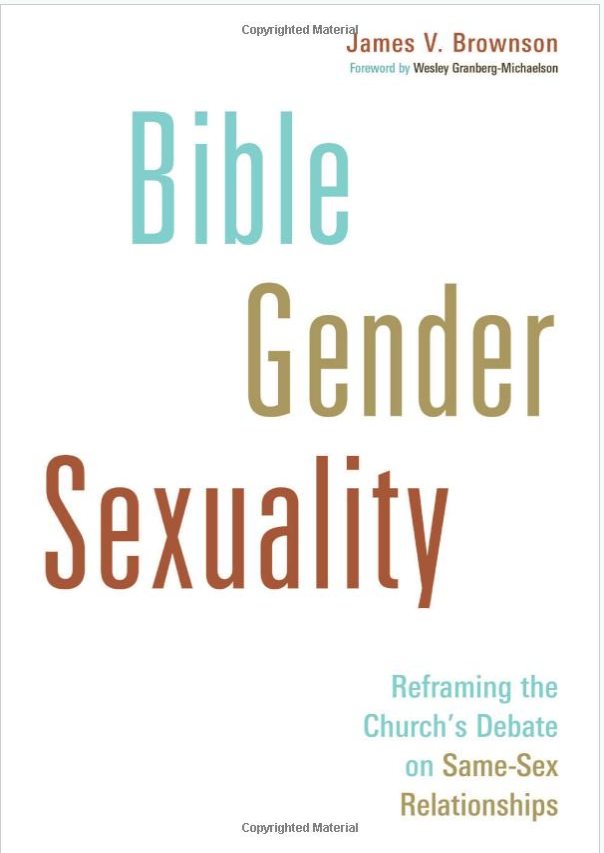 "Bible Gender Sexuality | Reframing the Church's Debate on Same-Sex Relationships" by Prof. James Brownson (2013)  Prof. James Brownson has taught New Testament Theology at Western Theological Seminary, New Holland, Michigan, for over 30 years. When his 19 year old son came out as gay, Brownson challenged himself to revisit the Scriptures believing that his own child was both gay and a Christian. This book is the culmination of his decades of Biblical scholarship, relationship and an openness to God's leading.
Brownson methodically presents questions and information the church has neglected to productively consider in the last 40 years. The lazy approach in the use of words on the page to understand verses in the Bible has dominated the "can you be gay and Christian?" conversation since the late 1970s. Brownson does an excellent job of examining these difficult verses that have been so carelessly exercised to condemn same-sex relationships, and gay and lesbian people.
One of the primary objections held by the conservative church and political communities is the belief that marriage can only exist between one man and one woman. This has created a strong wall against marriage equality. Marriage, according to Ephesians, is the reflection of God's covenant relationship with His people. Section 2 of Brownson's book addresses covenantal marriage within our culture brilliantly.
Brownson deconstructs "gender complementarily," the Part A into Slot B approach to human sexuality, which has been elevated as a primary reason for marriage and the only "God-approved" sex.  If your civil rights hearts says "yes" to marriage equality, and your Christian brain resists, you need to read this book.
________________________________________________________________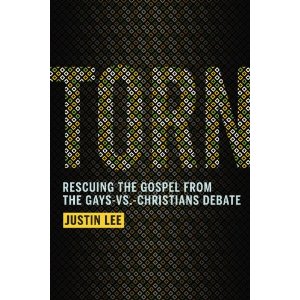 "TORN | Rescuing the Gospel from the Gays-vs.-Christians Debate" by Justin Lee, President of the Gay Christian Network (2012) FULL review here.  I am going to recommend, again and again, that you read Torn: Rescuing the Gospel  from the Gays-vs.-Christians Debate. I am also going to suggest you buy an extra copy for your parents and family that don't quite "get it" and add another one for the youth pastor of the church you attended while you were too afraid to come out. Oh, and drop one off to the leader of the campus Christian ministry you attended while in college, too. Yes, this book is that good, that meaningful, that well done andthat important. Now, to the review . . .
In Torn, Justin link to blog recounts his own story from "God Boy" — you know the type: the kid with the verses at-the-ready, the Bible Answer Kid– to Gay Boy. Not only did Justin not think you could possibly be both gay and Christian, he didn't think he even knew any gay people.
Justin tells us about his own journey as he considers that he might indeed be gay.  As a teenager, he attends a "super-secret meeting of anonymous homosexuals" that was suggested to him. Justin hears discouraging stories from homosexual men struggling "to feel some level of sexual attraction to their wives, or any woman. CONTINUED HERE 
__________________________________________________________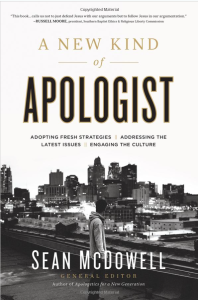 A New Kind of  Apologist––I wanted to be encouraged by the chapters on gay and transgender issues in Sean McDowell's A New Kind of Apologist (Harvest House, 2016) in which McDowell acted in the role as editor over 27 authors with "a new approach to apologetics." (Apologetics is reasoned arguments used to establish and defend the Christian faith.)
I have personally met and spoken with McDowell and two of the contributors to his book whose chapters I will be discussing here: Alan Shlemon, author of the "Transgender: Truth and Compassion" chapter, and Glenn Stanton, author of the "Being Authentically Christian on the LGBT Issue" chapter. CONTINUED HERE
____________________________________________________________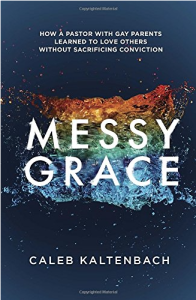 Messy Grace — Conditional Grace and Flawed Truth IS Messy (2015) by Caleb Kaltenbach  
Caleb Kaltenbach's Messy Grace: How a Pastor with Gay Parents Learned to Love without Sacrificing Conviction (2015, WaterBrook Press) had been recommended to me as a compassion treatment of the intersection of faith and sexual orientation.
Kaltenbach's book is one of the recent book offerings in latest genre of Christian authors extending what they perceive as a more merciful perspective on the lesbian, gay, bisexual and transgender (LGBT) community. CONTINUED HERE
____________________________________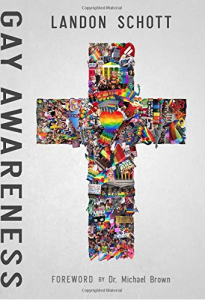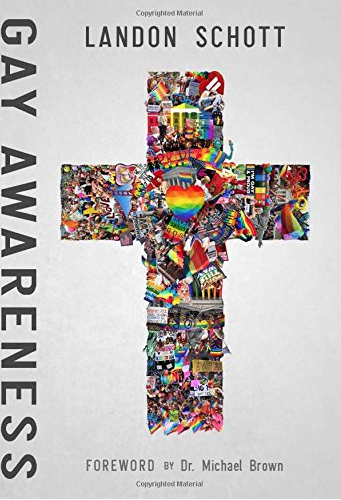 Landon Schott's Gay Awareness is Poison in a Pretty Package (2016)–Texas-based, traveling evangelist Landon Schott is certainly not unique in his strongly anti-gay theological and ideological beliefs. His lack of academic integrity and immature reasoning skills alone should render him inconsequential in the conversation about faith as it intersects sexual orientation. Yet, he can't be dismissed because his target market is teens and young adults, in particular, the most vulnerable of them, gay youth.
Schott's new book Gay Awareness: Discovering the Heart of God and the Mind of Christ on Sexuality " . . . is primarily for the individual who struggles with same sex attraction, but truly loves God with all his or her heart. . . . This book is for the Christ-follower who desire to know what the Bible truly says about homosexuality." (p. 17) Schott adds, "I want you (the reader) to feel respected and safe." (p. 18) While I do trust Schott believes his motives will match outcome, tragically, he seems appallingly unaware of the consequences of his message. CONTINUED HERE
_______________________________________________________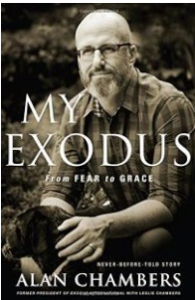 Alan Chambers' My Exodus — A Book Review–Alan Chambers' newly released book—My Exodus: From Fear to Grace—written with his wife, Leslie, is self described as " . . . simply our story. It's a story about our parents, our childhood, our coming of age, our marriage, and our journey out of a system of beliefs driven by fear and rules," (p. 15).
Chambers has played a significant role in the faith and sexual orientation landscape. From 2001 until 2013, he was the president of Exodus International, a Christian umbrella ministry overseeing religious-based gay conversion to heterosexuality. Exodus' primary target groups were: Christians who identified as lesbian or gay, their families, and paraministries or churches with outreach programs to gay people and their families — all who were seeking a way "out of homosexuality" towards heterosexuality, or as a compromise, celibacy. Beginning in the early 1980s, Exodus member ministries adhered to an ideology which combined long discarded psychological theories about reparative therapy with a spiritual component. CONTINUED HERE
_________________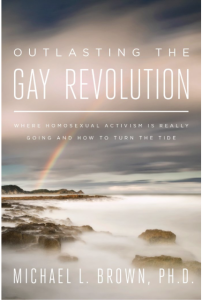 Michael Brown's "Outlasting the Gay Revolution" Continues His Non-Academic Anti-Gay Rantings
Michael Brown called the last public review I posted on one of his books Brown a "revision" not a review. I expect this book review will receive a similar response.
I'm taking the time to post what I realize is a lengthy review: to be a strong counterbalance to Brown's ideology, to alert those who may be tempted to give this book to LGBT persons as a "loving" action, and to expose Brown's poor academic research.
Before addressing Michael Brown's "Outlasting the Gay Revolution," I need to lay some groundwork as to how I approach all books I would term as Christian and anti-gay and anti-trans. CONTINUED HERE
_________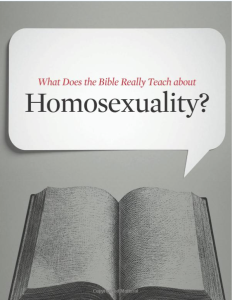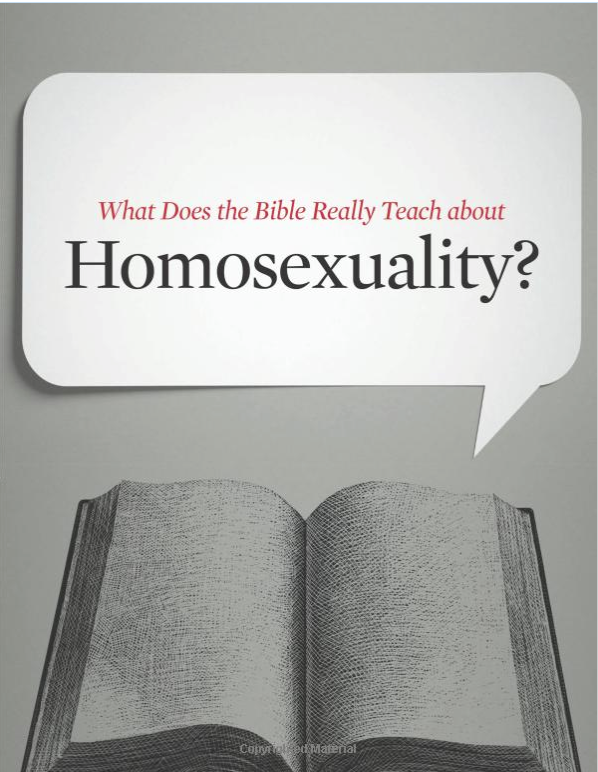 Kevin DeYoung's Book — Another Author Lacking Academic Integrity But Telling Us What God "Really Says" Anyway––Kevin DeYoung's What Does the Bible Really Teach About Homosexuality? offers yet another utterly maddening viewpoint of "God's truth" about gay people.
I've read the bulk of such books written over the past few decades, beginning with the first "gays are out to destroy America" book written for the evangelical community by Tim LaHaye in 1978: "The Unhappy Gays."
Once the new genre started, it triggered an onslaught. Next came the religious-political booksThe Unhappy Gays by Tim Lahaye from authors like Falwell and Dannemeyer in the 80s. In the 90s, came a deluge of we-are-no-longer-gay books by Chambers, Dallas, Jernigan, et al. I have slogged through most of them, including the "truths" built upon assumptions tome by the contemptuous anti-gay theologian Gagnon. I've endured the lunacy of Lively and even tried to find a pastoral heart in Hubbard and McDowell's writings. To my great disappointment, they too failed. I've stomached Brown's fringe venom poorly cloaked as compassion, and been left nonplussed by the shallow philosophical-political arguments of Anderson and Satinover. CONTINUED HERE
_________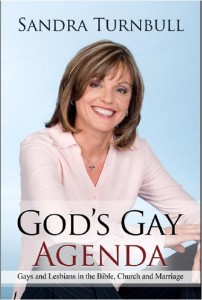 "God's Gay Agenda"by Sandra Trunbull (2012) I have read most of the recommended book on the issue of same sex attracted people and the Bible. Sandy Turnbull does an EXCELLENT job covering the many topics of interest on the issue. Her cultural background information for the time in which the verses associated with homosexuality was so, so well done. Even a person with little understanding of this topic theologically will come away saying "HOW have we as a church missed this so badly?"I usually read away from my desk, but found that I wanted to take notes on most of the chapters. It was important enough and well done and WORTH recording the notes in my notebook for future references. If you are GLB and YES YES–even T, this book will be an encouragement to you. You will know God has NOT forgotten you and CERTAINLY that you are not a mistake, an afterthought or sexually broken. You will gain a far greater understanding of your specialness to the Father. If you are straight, which I am, you will feel empathy as you read the purer explanation of the verses and context and you will be in awe that your GLBT Christian friends have stayed the course under so much oppression that is NOT the heart of God.Sandy's life is a reflection of gody integrity as well–she lives what she writes.
Read it, give it to your struggling-with-God gay and trans friends; give it to your struggling-with-you straight friends and family. I am now going to RE READ it.
__________________________________________________________________________
"THE REBUTTAL |  A Biblical Response Exposing the Deceptive Logic of Anti-Gay Theology" by Pastor Romell D. Weekly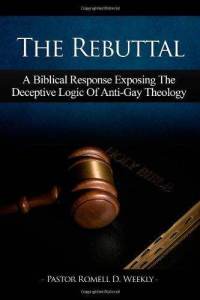 (2011) As an advocate working in the Christian church for understanding, education and dialogue between the LGBT Christian community and the church, I am often asked for recommendations of books that people can read on their own journey. I recommend BOTH of Romell's books regularly.
If you are GLB and are trying to reconcile your sexual orientation with your faith, BOTH books "Homosexianity" and "THe Rebuttal") are a must. Romell is a man who cares deeply about Scripture and was willing to obey God and His Word in the living of his own life as a gay Christian. He recounts his journey to reconciling theology well; his story will resonate with the struggle many endure to find GOD'S truth.
In trying to counter the misinterpretations of the Bible so commonly used to tell gay people they have two choices: stop being gay or be celibate, Romell takes those popular misinterpretations and dismantles them. These arguments are those used by several anti-gay theologians that are well known and well respected by the reparative therapy groups. In churches, it is these very arguments pastors and leaders will often use to keep their LGB congregants in bondage and submission. Point by point, Romell counters the dogma. "The Rebuttal" is then a HANDY tool to have.
For straight people trying to understand this chasm, using both of Romell's book will give you a clear grasp of the issue. My copies of the books are highlighted and written in and even falling apart from lots of usage.
Either book is great, but in tandem, the reader will gain great understanding of the verses IN CONTEXT and have tools to engage in respectful, intelligent conversation about same-sex attracted Christians and the Bible. "Homosexianity" recounts Romell's own journey as he researched the Scriptures. We follow his own journey of searching for the truth and the results of those studies. "The Rebuttal" then deconstructs the most popular conservative fundamentalist objections to affirming theology. He does a particular excellent job of dealing with Dr. Robert Gagnon's verbose anti-gay theology.
Just as a side note, Romell is a black man. There is little written affirming the black Christian gay community. "The Rebuttal" fills that much needed niche.
Get both books; I ensure you you will be marking them up and saying "yes, yes, yes!!" as you read Romell's words. Get the books, get free of a bondage not from God.
___________________________________________________________________________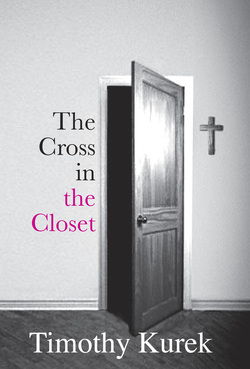 "The Cross in the Closet"by TImothy Kurek (2012) COMPLETE review Timothy Kurek exhibits fine story telling in his new book The Cross in the Closet. It is admirable that a young straight man would undertake a radical experiment to confront his own homophobia by "coming out" as gay. It takes courage to be willing to be wrong, especially about theological or social issues; I know this from my own advocacy work.
I can echo many of the wonderful comments about The Cross in the Closet, but one section was quite troubling for me. The chapter "angela" has the danger of reinforcing stereotypes for a group of people I dearly love and for which I advocate — the transgender community.
By his own admission, Kurek had "only ever met two transgendered people," so his experience is quite limited. In The Cross in the Closet, Albert/Angela, a transgender person, is beautifully introduced. She has a tragic story. In the telling of the story, however, every one of the negative stereotypes and myths about transgender people as a whole is presented as part of Angela's past.
Although the effective story telling does evoke empathy, it also unfortunately paints a picture and strongly reinforces destructive myths and stereotypes: transgender people are playing dress up; are victims of sexual abuse by the gender they are trying to "escape"; they lack strong gender models; or perhaps have gender models that are too strong.
While writing in the subsequent follow-up years to the experiment, it would have been a wise, responsible, deferential kindness for Kurek to have researched or had more interaction with the transgender community. Lacking understanding, the chapter should have been omitted entirely. Even the addition of a few informed paragraphs after Angela's story would have been tremendously productive in dispelling strong myths and misconceptions about the transgender community.
The simplest way to describe how person with non-normative gender identity  might feel is this: the brain stamp does not match the genitalia. The brain says the person is one gender and the body presents as the other sex. There will be an internal struggle to align the two to achieve emotional health.
Many people that read The Cross in the Closet will have had little or no experience of understanding of the T part of LGBT; transgender people are a very small segment of the population, perhaps only .25 to 1%. An equally inexperienced Kurek, in recounting his experience, will be their "eyewitness"; they may see his depiction of Angela as a typical story of a transgender person. And, it is so completely atypical. Sadly, in challenging his own "homophobia," Kurek adds to "transphobia.
When I first became and advocate for the LGBT community within the Christian church, my friend, Ed Ness, very wisely told me, "Kathy, just be with us; listen to us; learn who we are. You don't know anything, so don't speak for us." And I did that, for several years. I listened and learned. I have used this same wisdom while coming to know and advocate for transgender people.
Understanding and empathizing with the transgender community can be a long journey.  Most people do not even know a transgender person. In that lack of relationship, we unfortunately default to stereotypes; and in his book, Kurek was no exception.
Over and over, the transgender community is shut out and misunderstood.  So for them, I need to speak out and not recommend the The Cross in the Closet. In shining a more positive light on some lesbian, gay and bisexual people, the book reinforces the wrong, destructive and hurtful myths held so strongly about the transgender community.
___________________________________________________________________________
"UNFAIR: Why the "Christian" View of Gays Doesn't Work" by John Shore (2011) What shifted the dogma that had been handed to me when I entered the Evangelical movement was RELATIONSHIP. Even after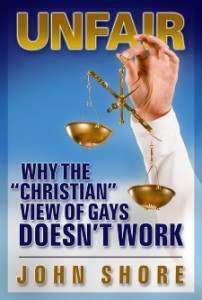 hanging out with gay and lesbian friends, it was almost five years until I met a gay or lesbian Christian. Camped out in the life of the church, the average Evangelical or Baptist Christian will have no context in which to honestly question "Can one be both gay and Christian?"
THIS is the beauty of "Unfair", you will get a glimpse into the life of a few LGBT Christians. If you are non-affirming, you will get all those nagging questions answered — when did they know? are they REALLY believers? did they try hard enough to change? is it possible to be in full relationship with Christ?
Reading these many varied stories from both men and women in various age groups and from differing denominational background, you will at least come away convinced that you are indeed reading stories filled with the love of Jesus and struggle to battle the messages the church so clearly gives–you cannot be both gay and Christian. The myth of that will be broken by the time you invest in lives of strangers opening their hearts for your consideration.
Interspersed are blog posts by John Shore. There is surely insight here, but the overwhelming value is the personal stories. Go meet these people and then start your own real-life journey of listening to the LGBT Christians around you with a compassion that will grow.
_______________________________________________________________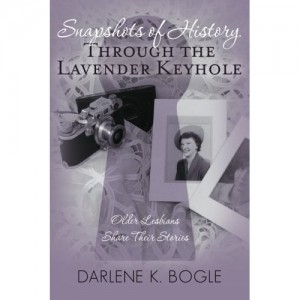 "Snapshots of History through the Lavender Keyhole: Older Lesbians Share Their Stories" by Darlene Bogle (2012)  Stories are the most basic way of relating to others and discovering things often so unfamiliar to us. Darlene Bogle in "Snapshots of History through the Lavender Keyhole: Older Lesbians Share Their Stories" has given us a gift by collecting stories from older lesbians. There are some "ordinary" women in this collection, but each one of them is fascinating and unique. Growing up and into their sexual orientation when people often avoided the subject completely, each woman shares some insights that endear every storyteller to the reader.
Some women have experienced events of note adding to the depth of the story. This would be a good read for older women who lived through these times or even for a younger lesbian woman to connect to those whose lives were so different from today. The only drawback is that you will want MORE. More of their past, more of their story!
I would very much want to share a long weekend with these women to hear more and learn more. At the end of this easy and sweet read, you will come away knowing that some fine women struggled to make her-story for the freedoms women are beginning to live today.
________________________________________________________________________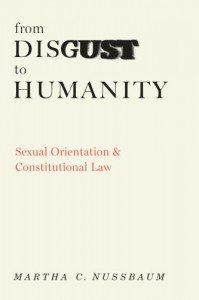 "from DISGUST to HUMANITY" | Sexual Orientation & Constitutional Law" by Martha C. Nussbaum (2010) Martha Nussbaum is a professor of law, philosophy and divinity at the University of Chicago.   The premise of Nussbaum's book is that disgust is the prime motivating factor fueling the fight against equality for LGBT citizens. As part of the faith community, one of the most prevalent arguments I hear in support of the withholding of same-sex marriage is "Marriage is NOT a civil right." Well, that is true for now, BUT, as I read this book, it was abundantly clear to me that it is inevitable under the Constitution.
This book has strongly solidified my own understanding of how the Constitution, civil rights and emotionally charged human disgust intertwine. Nussbaum carefully, elegantly and compellingly builds the case for same-sex marriage by relying on Supreme Court and lower court decisions. Since reading this book, I have found that my own arguments in conversation and writing for same-sex marriage are greatly strengthened. Even as  Christian, I realize that no matter what I may have once thought about same-sex marriage morally, that is insignificant when positioned aside the legal guidance of our country, the Constitution.
Each chapter is carefully constructed to form logical arguments. We are given the background of how we have been manipulated with the dogma of "ickyness" to believe that the denial of marriage for same-sex loving couples is right for our nation, our families and for LGBT people themselves. The body function focused conservative darlings of the '80's and '90's tainted how we think about and see LGBT people.
Nussbaum then deals with Supreme Court decisions having roots in: religion, race, gender and disabilities. The touchstone cases for LGBT equality are dissected in a completely understandable manner and you will comprehend why each of these cases is important and pivotal.
My copy of the book is marked up, highlighted and written it. It is a record of "aha moments" for me. I am an advocate for LGBT equality in the church and this book may have been the most significant book I have read in years. It really does not matter in a legal sense what I believe should or should not be legal in the US, those decisions are made within the context of the Constitution and not the Bible. Christians may often think they can influence civil rights through their moral beliefs. They can't; the Constitution reigns.
In order to be both a good citizen and a Christian who is devoted to equality and justice for all citizens, it is important to follow the trend of what the Constitution offers in terms of civil rights. Opposing the rights of others is neither Christian nor American. "From Disgust to Humanity" will give those who dialogue about marriage equality the tools you need to have intelligent conversations about rights. For those who are not clear on the progression of marriage as a civil right for LGBT people, this book might be a great primer to read so that you stop saying, frankly, absolutely stupid things in conversation.
Moral assessment of people is not a tool by which you may withhold civil rights. I found myself saying "YES, YES!" constantly throughout this book. Imagine that happening while reading Constitutional Law? Nussbaum makes it understanding without dumbing it down and the logical progression is masterful.
I had the pleasure of attending a lecture of Nussbaum's in NV last spring with my daughter who is headed to a life of service in equality issues. We were both amazed at her ability to build intelligent arguments from her background of law, ethics and divinity. She is a brilliant woman and excellent writer.
"From Disgust to Humanity" is one of the best purchases I have made in a hard cover book. I refer to it often. If you want to engage in discussions with credibility from a legal POV, get this book. You will be smiling while reading Constitutional Law, really, as amazing as that sounds, really.
____________________________________________________________________
"The Rainbow Kingdom | Christianity & the Homosexual Reconciled"by David W. Shelton (2006)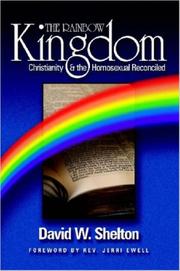 David W. Shelton's "The Rainbow Kingdom | Christianity & the Homosexual Reconciled" is a great entry level read for someone who is trying to imagine the concept of being a gay Christian. Personal stories are powerful tools to help us connect with empathic ears and hearts that may be wondering or in the process of shifting. The treatment of the verses used to condemn gay, lesbian, bisexual and transgender people are investigated in a manner easy for people to understand. There are more scholarly texts available to look at the verses more closely, but not everyone wants to sit and study for hours.
If you want a good, quick overview while reading the personal story of one gay Christian man coming to his own acceptance in God and with his faith, you will enjoy this fast read. The final chapters include practical steps to healing and how to then move forward as a useful servant in God's Rainbow Kingdom.
______________________________________________________
"Holy Terror |Lies the Christian Right Tell Us to Deny Gay Equality" by Mel White (2006) full review as  POST HERE.  HIGHLY RECOMMENDED
______________________________________________________
"Homosexianity:  Letting Truth Win The Devastating War Between Scripture, Faith & Sexual Orientation" by Pastor Romell Weekly (2009).  One of the clearest, most easily understood reads on the subject of Homosexuality and the Bible written by a dear friend of mine, Pastor Romell Weekly.  Romell was a married man, pastoring a church in St. Louis, MO when he decided it was finally time to research the Word of God in depth to see for himself what God says about the subject.  How does sexual orientation and gender identity fit into Christian theology and culture? Are people born gay? Are members of the GLBT community outside of God's grace? Does God bless same-sex unions? If you are struggling to reconcile your faith and sexual orientation or gender identity, or are a family member, friend, co-worker, neighbor, or spiritual leader of members of the GLBT community, know that God has provided the answers that you need. From Genesis to Revelation, Pastor R. D. Weekly uncovers the biblical witness. This riveting exposition will bring peace to your soul, and equip you to effectively minister to members of the GLBT community from a spirit of love and truth.
____________________________________________________________________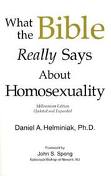 "What the Bible Really Says About Homosexuality" By Daniel Helminiak (1994).  Helminiak, a Roman Catholic priest, has done careful reading in current biblical scholarship about homosexuality. While cautioning against viewing biblical teaching as "the last word on sexual ethics," he stresses the need for accurate understanding of what the biblical "facts" are and concludes that "the Bible supplies no real basis for the condemnation of homosexuality." Highly recommended as a good solid book for study of this subject.
_________________________________________________________________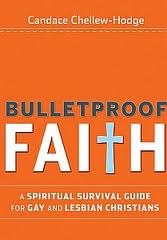 "Bulletproof Faith: A Spiritual Survival Guide for Gay and Lesbian Christians" by Candace Chellew-Hodge (2008).  The book  helps readers reclaim the spiritual self .  This book is not an argument against Christian conservative viewpoints, but instead a guide to being Christian and gay. It focuses on how to strengthen your inner life and self-esteem as one who is loved by God regardless of what others have to say on the subject.
___________________________________________________________________________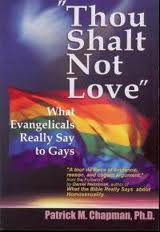 "Thou Shalt Not Love" by Dr. Patrick Chapman Provides a thorough and scholarly rebuttal to arguments Evangelicals use against homosexuals and same-sex marriage. Highlights the arguments and misleading information used by the Religious Right. Includes the latest science on what causes homosexuality and if it can be changed, and cultural evidence of same-sex marriage and families around the world. Also puts an anthropological twist on what the Bible says about homosexuality. Overall, one of the best books on the current debate over homosexuality and same-sex marriage. Very timely given the marriage amendments and debates. A definite read for both gays (and their families) and Christians, and certainly gay Christians.
____________________________________________________________________________
"A Life of Unlearning" by Anthony Venn-Brown Completely engrossing autobiography.  This is an extremely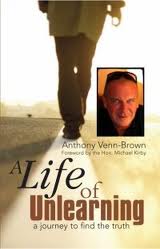 moving account of an ex-minister's journey to find his total purpose in life during the midst of a high profile ministry and at the expense of losing everything he had. But arising from the ashes of despair, he awakens to a new self-discovery of who he really is and has a new sense of self worth and importance. Anthony  speaks from the heart of his painful journey of battling and coming to terms with his same-sex orientation while becoming one of Australia's leading pastor/evangelists within the Assemblies of God. His journey is identified by many who have been isolated/rejected by the conservative mainstream church because they were gay. Anthony is also a very dear friend to me personally.
_____________________________________________________________________________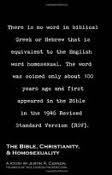 "The Bible, Christianity & Homosexuality" by Justin Cannon The Bible, Christianity and Homosexuality provides a crisp, concise overview of a subject which continues to stir controversy in the modern church. Short, easy read. Cannon writes from the position of a Christian who also happens to be gay and reconciles his gay identity with his orthodox Christian beliefs.  This interesting booklet goes to the heart of the matter by explaining the words which are so frequently mistranslated in modern Bibles.
_____________________________________________________________________________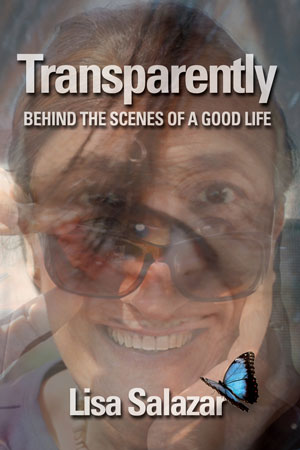 Transparently: Behind the Scenes of a Good Life by Lisa Salazar is a compelling and intimate narrative of a person bearing her soul to a close friend. At times, the story is painful, but one has to expect that transitioning from one gender to another has got to be one of the  most traumatic solutions to a personal and private problem.
She asserts that transitioning is not what she wanted to do, for she was fully aware of the implications and consequences this would have on the most important people in her life, her wife of thirty five years and their three adult sons. One gets the sense she had lived her adult life putting everyone else ahead of her needs, that is, until she reached a breaking point. Yet, despite having been diagnosed with gender dysphoria, a recognized medical condition, she first had to reconcile her faith with the choices the doctors presented her. That this process took almost another ten years demonstrates the seriousness of her convictions, as well as her love for her family and that she agonized over her decisions.
However, there is a dignity in what she does reveal and one is left with the hope that with time, life will get better. I especially recommend this book to any person with a strong faith who is struggling to understand transgender issues for themselves, a friend, or a loved one.
Review #2: It is sometime quite unfortunate that the letters G, L, B and T are mashed together. G, L and B are variations on sexual orientation and T is associated with gender identity. Many people are unclear on this differentiation. People often think they are creating safe spaces for transgender people just because they are affirming to gay people. Not so. To make a church a place of safety and to understand the most marginalized group in our society, one much understand what it is to be transgender. What to DO?? Most of use do not know any T people.
Lisa's book will start the reader on the road that understanding. Her writing style is emotionally packed when necessary and detailed when needed. You will be swept into empathy without realizing it because the story is so moving and Lisa does a great job sharing her pains and difficulties and struggles to become one in brain and body.
I recommend this book very often and actually just did even a few minutes ago to a pastor in TX. He thought he was doing quite well in his affirmation of the G, L and B's and imagined the T's would also just flock in. He is still operating under a strong set of stereotypes using words like "behavior" and "sin". When a person seeks to understand what gender dysphoria is, they will never again such dismissive words when speaking of our lovely T friends.
Lisa's book is SO EXCELLENT in offering understanding. I am honored to actually KNOW Lisa as a friend. Her humility, strong faith in God and humanity in her real life, off the pages of a book shine through in authenticity in her writing.
READ the book. Seek understanding and gain compassion in coming alongside our T brothers and sisters in Christ.
"Transparently" is a WONDERFUL place to begin this journey.
______________________________________________________________________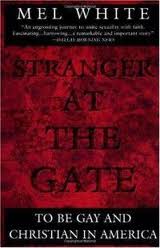 "Stranger at the Gate" by Mel White An excellent read. Once I started it, I became so involved in the story , I could not stop reading.  This book made it very easy to put myself in Mel'ssituation and try to understand being a gay Christian and a gay person.  Stranger at the Gate is an excellent read for those who are gay, and have a Christian upbringing. The first person narrative about how a gay man comes out of the closet, and how he reconciles the homophobic stance of the conservative, fundamentalist Christian church is eye-opening. Mel's struggle will have a familiar ring to the many many gay men and women, who have have to deal with homosexuality and a Christian church that tells then that homosexuality is a sin. Mel uses personal realizations, as well as scholarly data to refute the current stance of the religious right. Many of the struggles that Mel went though, are the some one that countless gay men and women have gone thorough, are going through, and will go though. Many people can identify with Mel, and may even come to their own conclusion at the end of the book as Mel does.
______________________________________________________________________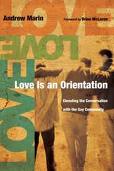 "Love is an Orientation" by Andrew Marin This book is an "acceptable" read for most Christians because it will not challenge any Scriptural beliefs on the verses attributed to the discussion of Homosexuality and Christianity.  Andrew recounts the story from being fairly homo-stressed to accepting when several of his college friends came out to him. The approach of the book is simple: be kind.  It should present to any reader that is not fully affirming a way to begin to treat their glbt neighbor and stranger with more Jesus-like attitudes. It will also encourage gay people that the church is looking at this issue and we are starting to listen to the damage done.
________________________________________________________________
"Fall to Grace" by Jay Baker A challenge to those who think loving like Jesus has rules and containment attached.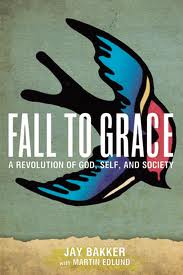 Not so. I know Jay personally and consider him to be one of the most grace filled humans I know. As I have told him: "You are grace wrapped in flesh."  Jay recounts some of his path that took him from being  treated well for whose son he is and then rejection by a church that wanted the Jim Bakker mess to just go away. Jay got all of his dear Mom's heart of compassion and spends it on others recklessly.  I read it in one sitting, could not put it down. Jay knows  the cost of following Jesus and he has thrown himself in with the outcasts.  Great read, simple language and fabulous man.
________________________________________________________________________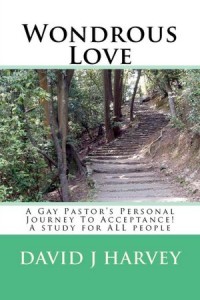 Reading "Wondrous Love" By David J Harvey is like sitting across the table from a very excited and passionate friend wanting to share so much with you. David's writing resembles his speaking voice–excited to share bits of wonderful news and thrilled to help people understand.
David discusses the Bible and the reconciliation of homosexuality against the backdrop of his own life. He grew up in very rural Montana, quite a tough place to come to realize that one might be gay. He was shunned by family, even his own mother prayed that her son, a music minister, pastor and founder of a congregation in California, would someday be with her in heaven. So burdened by that level of rejection for others in their families, David is transparent in recounting the journey he needed to travel to come to full affirmation of who he is in God's eyes. Many will recognize their own circumstances in David's stories and words. For those especially over fifty, you may see yourselves in many of David's feelings and trials.
The "clobber verses" are covered in David's genial style and he will even make you smile many times with the manner in which he writes/speaks. He tackles controversial topics such as the possibility of several "homosexual Bible characters". I am not in agreement with these suppositions and it could turn some readers off to "hearing" the whole. Don't let this dissuade you; it is always interesting to read other points of view, especially those so enthusiastically presented.
David has a chapter called "What About the One Person Act?" dealing with masturbation. He writes about it well and many will find grace rather than condemnation.
You should approach this book as a friendly conversation with a friend who wants to assure you that God did indeed create His gay and lesbian children with great care. He will make you smile. As with the goal of any good pastor, you will feel cared for and encouraged.
_____________________________________________________________________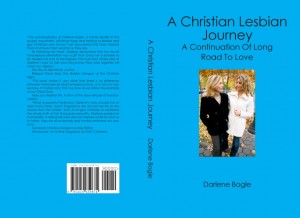 "A Christian Lesbian Journey" by Darlene Bogle Darlene had been Directing an exodus referral ministry for 10 years when she met and fell in love with Des. This story shares her exit from Exodus and how she came to embrace and understand God's unconditional love and acceptance of all LGBT people. The twelve years of their commitment is ended only with Des's death from breast cancer. Des's last request was that Darlene start speaking out for the gay community and telling the stories of God's love for people with no voice.  This is the first of several books where God has opened the door to speak that truth!
_______________________________________________________________________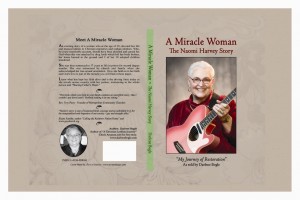 "A Miracle Woman | The Naomi Harvey Story" by Naomi Harvey as told to Darlene Bogle
Revised and updated in 2011. This is the story of Naomi Harvey. Nothing could deter her from following her Lord, or proclaaiming his unconditional love for all.