Frequently, LGBT Christians and/or their families desperately seek ways to understand sexual orientation and/or gender identity that may appear to be in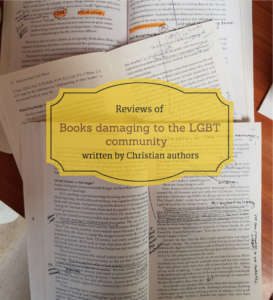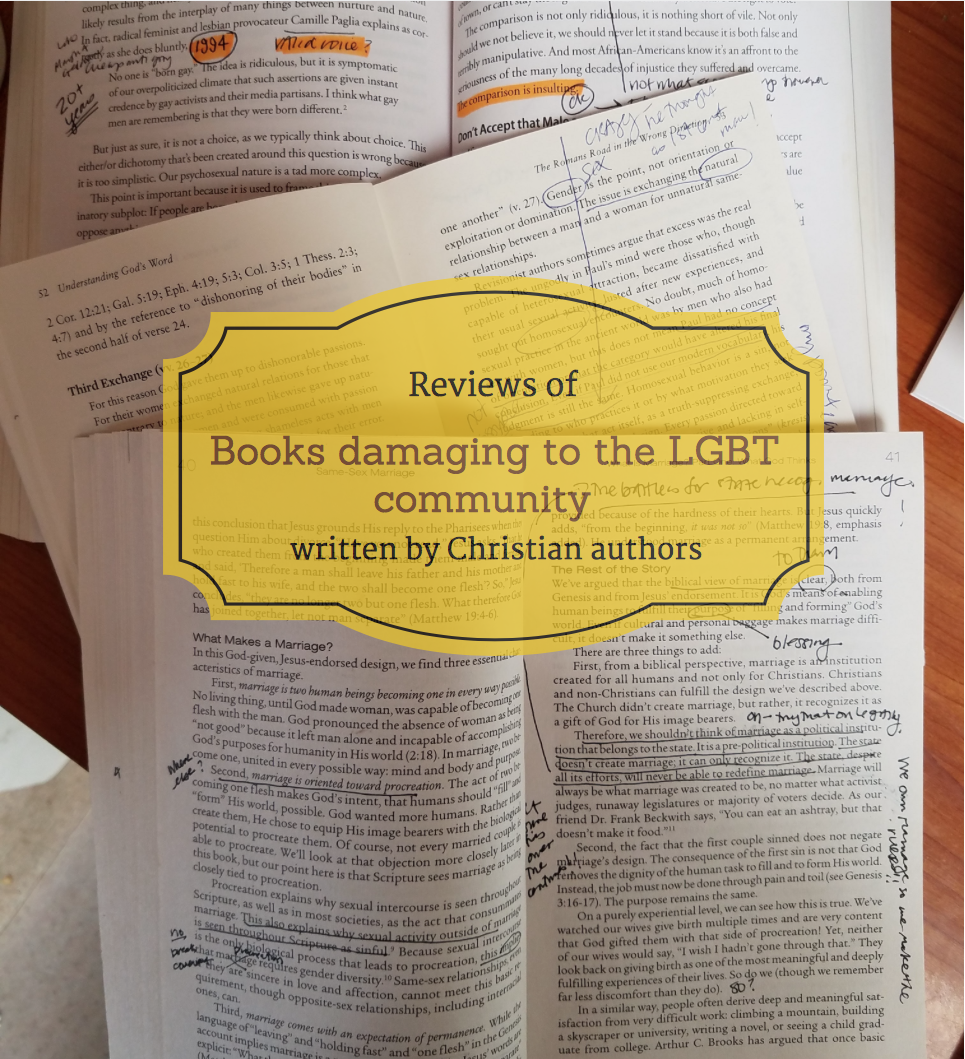 conflict with their faith. You may be one of those people.
Perhaps you've been sent a book by a well-meaning family member, or seen or heard a speaker that seems to have the answers you are looking for. Well, I've read many of such books so that you may not need to read or buy them. Typically, my reviews are long and detailed. I challenge and evaluate the contents on any or several levels which apply to the book: historical, social, medical, psychological, political, and biblical.
In researching for my own book, Walking the Bridgeless Canyon, I read and watched hundreds of book, papers, articles and documentaries. It's allowed me to be able to evaluate other books. Also, since 2001, I've been been heavily engaged in the LGBT community in friendships, attending inclusive churches, and conferences.
Part of my Christian activism includes reviewing books that are damaging to the LGBT community. As non-inclusive books are published, or come to my attention, I add reviews to this list, which for the most part, are hosted on Amazon as well.
If there is a book you would like me to consider reviewing, please send a note to Kathy@canyonwalkerconnections.com
**********
What Does the Bible Teach about Homosexuality? by Owen Strachan and Gavin Peacock
In the second book of the series, "What Does the Bible Teaches About Homosexuality?" (Christian Focus, 2020, UK) the authors resolutely assert:
"Homosexuality is sinful. This is true at every level: homosexual identity, homosexual thinking, homosexual desires, homosexual actions. There is no part of homosexuality that the Bible sanctifies and calls holy. There is no part of homosexuality that we can distinguish as good. There is no part of homosexuality that a Christian can embrace."
They label homosexuality a "preference" (a dismissive and willfully ignorant term implying one's sexual orientation is a choice), a "substitute sexuality," a "pagan sexuality" of a new order which has "dynamited the design of God." Homosexuality is "the sin most representative of the radical nature of our fall," "the clearest expression of the depth of our perversity," "opposite sex lust," "a clear picture of self love," a neo-paganism and anti-order structure in which "there is no biblical God; no divine design; no male or female; no script for sexuality, no God-designed family with a father, mother, and children; no need to protect and care for children at all; no Savior, Lord, or theistic end to the cosmos, and no judge of evil." To be LGBTQ is to "reject God's good plan for personal holiness." Read that paragraph again and let it sink in. This is what Strachan and Peacock believe about LGBTQ people, even those who identify as Christian.
For this review, I'm just going to touch on the key elements of the framework upon which the authors construct their convictions: biblical inerrancy, homosexuality as a moral issue rather than as an orientation within the science of human sexuality, complementarity, and biblical anthropology. (Continued on Amazon, continued on this site.)
**********
What Does the Bible Teach About Lust? by Owen Strachan and Gavin Peacock
The basis of the book is that all people have a natural tendency towards sexual desire, but the only appropriate place to express that desire is within the confines of man-woman marriage. "Sexual desire directed at one's spouse is not shameful." (p. 38) Sexual desire outside those confines is lust. By extension, any sexual desire expressed in a same-sex relationship will always be lust and is sin.
Even within the boundaries of church and religious history, this is not true. Taking 21st-century conservative views of Christian marriage and imposing them on church history is revisionist.
Try to look for some verses where Paul says that it is good to feel sexual desire within marriage. Passion was mostly mildly tolerable. To say that the medieval church was obsessed with sex would be an understatement. They established an elaborate code of regulations. Sex was to be avoided and only engaged in for the strict purpose of procreation. It's not so much that the sex act itself was depraved, the problem was enjoying it. Pious Catholic men wore a heavy nightshirt called a chemise cagoule with a slit in the front so that during sex, only his penis would touch and penetrate the woman. Even nakedness in marriage was restricted. The Catholic Church still teaches that it is a grave sin to separate sexuality from procreation because procreation is the most essential purpose of marriage. In the 8th century, an elaborate system of rules and penalties related to sexual conduct was constructed. The number of days each year that a married couple could engage in sexual intercourse was limited. No sex on Sundays, Wednesdays, and Fridays, or forty days before Easter or Christmas, during a time of penance, or three days before attending a communion service. No sex from the time of conception until forty days after the birth of the child. Sex was to be avoided, well, like the plague. (Continued on Amazon, continued on this site.)
**********
What Does the Bible Teach About Transgenderism? by Owen Strachan and Gavin Peacock
Without exception, all the conservative Christian authors I've read and reviewed in this category ignore what is known in the science of human sexuality about transgender issues. Consistent with the pack, Strachan and Peacock "go to the Word of God, the one source on planet earth that offers us timeless truth. Strangely, Christians sometimes focus a great deal on what psychologists and doctors say about gender dysphoria and related issues." (p. 29) Strangely?
We pick and choose the sciences we like. We like advancements in medical science because they serve us, yet some, including these authors, resist, or more accurately, completely ignore the science of human sexuality and its advancement. Sexual orientation and gender identity are categories within medical disciplines, not moral or ethical disciplines.
In the third book of the series, "What Does the Bible Teaches About Transgenderism?" (Christian Focus, 2020, UK) the authors assert their "little book" is "about truth even as it is a book about love." As I read this book, I tried to imagine the reception it might find within the progressive Christian community, in particular, what my transgender Christian friends might think about the contents. (Continued on Amazon, continued on this site.)
**********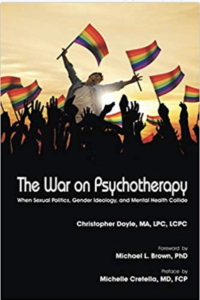 Christopher Doyle's book "The War on Psychotherapy: When Sexual Politics, Gender Identity, and Mental Health Collide" (Institute for Healthy Families, 2019) is the author's reaction and response to the past forty-five years of increasing awareness of homosexuality and the desire of the LGBTQ to gain equal status and civil rights denied them.
Some overall comments first. Doyle's experts are not respected outside the conservative Christian community. For example, do not confuse the American College of Pediatricians for the American Academy of Pediatrics. The former has a membership of under 500 people and a yearly budget under $90K. Doyle's footnotes and resources cite discredited voices (Dr. Paul McHugh, LifeSite News). While on the topic of footnotes—whoever suggested that Doyle use the Roman numeral system from i to cclxx, steered him wrong. I've read hundreds of books in the past three years, along with the footnotes and never see this format. Overuse of the exclamation point is another clear indicator that the book is both poorly written and edited.
Now, back to the contents. The book starts with an imagined conversation between a "politically correct" psychotherapist cleverly named "Dr. P.C.," the receptionist, and a new client, a person who is apparently a Christian "struggling" with sexual orientation. It reminded me of the oddly scripted conversations that are offered as models between atheists and evangelizing Christians. I showed it to a psychotherapist friend for his input. "Conversation would never look like this" was his response.
As I read the book, I continually made note of problems with the text in the margins. Doyle's account of how the American Psychological Association came to depathologize homosexuality as a mental illness used just a smidgen enough truth sprinkled in amongst the conservative myth-ladened account that is would appear as plausible to the uneducated. But his account is so strongly bent toward his "homosexuality as a mental illness" ideology that his account is incorrect. I wrote about it in my book and on my blog, both searchable. If you are interested, the truth is findable.
The bottom line on the topic. No, as in absolutely NO research was done to classify homosexuality as a mental illness. When gay people showed up at the meetings to fight for their input, Doyle labels them as violent. They were people who were being talked about, not with. It was about education and equal treatment. I think any of us would behave this way if people kept lying about us. [CONTINUED ON AMAZON HERE] [CONTINUED ON THIS SITE HERE]
*********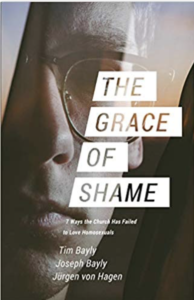 Tim Bayly authored "The Grace of Shame" (Warhorn Media, 2017). To understand Bayly's writing and worldview, it may be useful to know some of his background. 
Bayly was ordained in the John Knox Presbytery (the Iowa, Minnesota, Wisconsin portion) of the Presbyterian Church USA (PCUSA). In 1991 he transferred his ordination to the Presbyterian Church in America (PCA), the largest Reformed denomination in the US, which split from the PCUSA in 1973. In 2010, he moved his credentials to Clearnote Fellowship, a denomination he created from three churches: his own, Clearnote Church in Bloomington, IN, and two other churches. One church is pastored by his son, Joseph, who co-authored this book, and the other was planted by the son.

As of February 2019, Tim Bayly's church changed its name from Clearnote Church to Trinity Reformed Church, also renaming and restructuring the Fellowship into its own denomination and presbytery, the Evangel Presbytery. Clearnote created a Pastors' College in 2005, which is now also part of Evangel. 
Part of the Evangel Presbytery confessions includes belief in the Creation Order: Adam first, followed by the God-ordained subjugation of Eve. Adherence to Creation Order strongly influences Bayly's views on the roles of men and women, and what he considers to be masculine and feminine. By extension, this also impacts his views on those who identify as LGBTQ. (Continued HERE on this blog.)
**********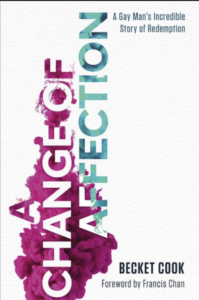 A Change of Affection—A Gay Man's Incredible Story of Redemptionby Becket Cook (Nelson Books, 2019)
If you search my Amazon profile, you will see that I read and review books — almost four dozen books, now — in the Christian non-LGBTQ affirming niche. They all share a few similar core messages: homosexuality is sexual brokenness. We cannot find the reason for it, but it likely, at its point of origin, resultant from The Fall in Genesis where all evil entered the world. The Bible is clear on God's stance on marriage and homosexuality. Marriage is only between a man and a woman. Homosexuality is the result of anything from demonic oppression to open rebellion against God, to childhood sexual abuse, or unbalanced parenting, or just human brokenness. Whatever the cause, it is both morally and spiritually inferior to heterosexuality.
Generally, these non-affirming authors believe, because God can do anything, he can fully change one's homosexual orientation to one that is heterosexual ("God created the universe; he can heal sexual brokenness in an instant. But sometimes he allows various struggles to persist, because we are being sanctified." (p. 125)) Others believe those who are gay can find sexual satisfaction and high levels of relational and even sexual intimacy in heterosexual marriage, while still others acknowledge, people are indeed LGBTQ and need to lead a life of sacrifice and permanent celibacy. 
Author Becket Cook begins "A Change of Affection" with his personal story. Beyond that, the book falls neatly into the oft-repeated pattern described above. [Continued HERE on this site and on Amazon]
**********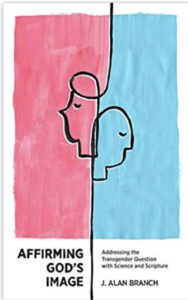 Affirming God's Image: Addressing the Transgender Question with Science and Scripture by J. Alan Branch  (Lexham Press, June 2019) written by J. Alan Branch (professor of Christian ethics at Midwestern Baptist Theological Seminary in Kansas City, MO, Southern Baptist, and staff member of the SBC's Ethics and Religious Liberties Council), is the sixth such book I have read in the past six years which fall in the Christian genre of anti-transgender books.
Before fully reviewing this latest addition, I would like to make a blanket plea to conservative Christian authors who constantly feel compelled to add to the category of anti-LGBTQ books—please, for the sake of the message of the Bible and adherence to the example of Jesus, get into relationship with those who you are creating theology about. When one develops their theology about any group of people in a vacuum and does not allow their beliefs to be intersected and disrupted by those we are evaluating, condemning, or judging, we will most assuredly lack compassion in our formed theology. Theology that does not consider the intersection of the Scriptures and humanity will end up being bad theology that favors our unchallenged views.
[Continued HERE on this site and HERE on Amazon]
**********
Holy Sexuality and the Gospel: Sex, Desire, and Relationships Shaped by God's Grand Story by Christopher Yuan (Multnomah Press, 2018)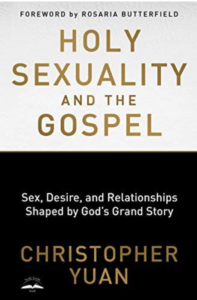 I understand why Yuan's work is popular. First, he's a nice guy (yes, we've met), and is a great speaker with a compelling story, the kind that Christians love to hear—the classic bad boy, really bad boy, to preacher story. It's also titillates us and makes us feel good listening to theology that agrees with what we've been told about the dark and evil located outside of us, in the stuff we would never do.
FULL REVIEW ON AMAZON http://bit.ly/YuanHolySexuality

Because it is likely that the majority of potential readers of "Holy Sexuality" will be pastors, youth leaders, families, and friends of LGBTQ people (both Christian and not), it is for you that I wrote this review. I believe my input about the book's reliability is valuable and well-grounded. I'm a straight evangelical Christian, mother of two adult straight children, faithful follower of Jesus, active in my evangelical church, author of a book on the history of the cultural and religious discrimination of the the LGBTQ community, and speaker on the topic. (continued here on my blog)_
*********
Twenty-nine year old David Bennett, an Australian living in the UK, has just released his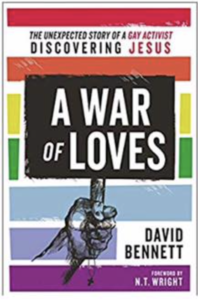 first book, "A War of Loves" (Zondervan, 2018). Bennett self-identifies as a gay celibate Christian.
Bennett states, "Identifying with others in the LGBTQI world can open up doors to engage people who need to hear about Christ." (p. 215) So, in some conservative environments, for Bennett to own his identity as gay, is a bold move.
Bennett wrote the book "to share how God's love has impacted my life. Rather than attempt to answer every question about homosexuality, I hope to provide in this book's page a clear picture of how I was reconciled to God. The gay and Christian communities are often seen as polar opposites: one a progressive, inclusive community, the other a community of oppressive, archaic laws. Having stood on both sides, I know the reality is far more complex." (p. 17)
Commendably, Bennett adds, "I remember those who have deeply struggled or even committed suicide because they felt unable to reconcile their faith and sexuality. I stand too with my same-sex attracted or gay Christian brothers and sisters who are living faithfully before Christ." (p. 19) Sadly, many in the Christian community refuse to see the link between theology and destructionion the LGBTQ community, nor will they attest to the presence of committed LGBTQ Christians who are living faithfully before God. (continued on my blog)
**********
Gay Girl Good God by Jackie Hill Perry (B&H Publishing Group, 2018)

I've read dozens of books in the same genre of Christian titles of which "Gay Girl Good God" by Jackie Hill Perry is the latest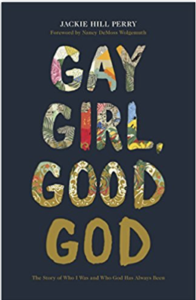 entry. Perry's first book is a memoir of her life thus far from "gay girl once" to "what God's goodness will do to a soul once grace gets to it." (p. 1)
Memoirs are challenging to review because we each have a story uniquely our own. Still I am reviewing this book because what I most care about is how stories like Perry's are used.
Though it may not be the intention of the author to tell LGBTQ people that they too can be "once" gay and go on to marry heterosexually, this will become the message as the book is "gifted" to, or  read by LGBTQ Christians. And, the book will be idolized by many parents with gay children as a solution for their own children if they would just try harder, or submit more fully to God.

You can search my profile on Amazon and see that I have reviewed dozens of this sort of book over the years. Many memoir-style once-I-was-gay books have indeed become sacred weapons in the hands of straight Christians, parents, pastors, and leaders. (Continued here)
**********
When Harry Became Sally—Responding to the Transgender Moment by Ryan T. Anderson (Encounter Books, 2018)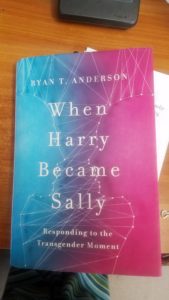 Ryan T. Anderson, research fellow at The Heritage Foundation, when asked why he was working on "When Harry Became Sally—Responding to the Transgender Moment," wrote "The simple answer is that I couldn't shake from my mind the stories of people who had de-transitioned. They are heartbreaking. Those most vulnerable to the transgender moment need a book like this, and I had the resources to research and write it." (p. 205)
Having read and reviewed two other books by Anderson, I question his stated altruistic concern for "detransitioners" as the motive for his latest book. After all, as confirmed by the people whose stories he used, Anderson did not attempt personal contact with four of the six people he used as examples in Chapter Three: Detransitioners Tell Their Stories.
Anderson likely did speak directly to Walt Heyer, the perienniel poster boy for conservative segments of the policy and religious arenas. I have read and reviewed a book by Heyer elsewhere on Amazon. By his own admission, he suffered schizophrenia.
Anderson wholly neglects to engage the stories of the majority of transgender people who have happily and successfully transitioned. Unlike Anderson, I know hundreds of transgender people, some quite personally. My experience, relationships, and knowledge are completely contrary to Anderson's suggestion that people are better served by not transitioning. I know people who would have died or led lives of utter depression and isolation without the opportunity to live authentic to who God created them to be. I know parents who have seen their children transform from near-crisis and suicide to flourishing.
**********
enGendered—God's Gift of Gender Differences in Relationship by Sam A. Andreades—A Book Review (Weaver Books, 2015)
The information and ideas presented in "enGendered" by Sam A.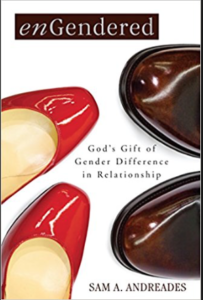 Andreades are based upon the author's view of gender differences as he interprets them from the Bible.  Collectively, Andreades calls his beliefs "theology of gender." He hopes readers will gain wisdom about gender and gender roles that God has set forth and commands for His creation. (p. 11)

Though Andreades focuses primarily on the relationships between men and women ("intergendered" relationships— male/female), he does extrapolate those beliefs to "monogendered" relationships (same-sex relationships).

Andreades' employs a rather unique usage of the terms "intergendered" and "monogendered." Not only does he misuse the word "transgender" as "transgendered," he also bastardizes the usage of mono— and intergender, which are more commonly used to mean having one gender identity, and, the latter, having an identity that steps beyond the gender binaries. Actually, I have never before seen these words used the way Andreades uses them. Misuse of terms is a strong indicator that the author is not well-versed in the area of human sexuality and gender identity. That is an initial red flag about the book content.
**********
"Same-Sex Attraction and the Church—The Surprising Plausibility of the Celibate Life" (2015 IVP Books) by Ed Shaw is an honest account of a gay man's struggle with his sexual orientation.
[FULL review also on Amazon.]


Shaw, a pastor in England, avoids the term "sexual orientation" and instead uses nuanced language like "same-sex attraction." The difference between the two terms is subtle and may seem inconsequential, but it is not. "Sexual orientation" indicates a natural state of  romantic, emotional and sexual attraction. Even Shaw admits, and rightly so, that no one, including him, knows the cause of homosexuality: "As a theory on the origins of homosexuality, being born gay works for me better than any other on the market today." (p 51)
Strangely, even if the cause of human sexuality variation were found to be genetic, Shaw  still believes, "A genetic basis for homosexuality would not make it right." (p 54) That seems rather odd. How can this be so?
Conveniently for biblical literalists, imperfections, problems, and traits that are unexplainable or undesirable are frequently labelled as having been introduced into God's perfect creation "after the fall." Shaw, a literalist, believing the Bible to be "inerrant and authoritative" (p 23) falls in line with this thinking.

Though some people may have indeed been born gay with a "sinful genetic inheritance" (p 54), homosexuality is a moral failing that needs to be dealt with like other "after the fall" sin issues. In seeing non-heterosexual orientations as a moral or sin issue, Shaw breaks with every professional medical health care and psychological organization which views homosexuality as a natural expression of human sexuality and writes, "potentially being born 'gay' (as it is crudely put) does not necessarily make it right for me to embrace a gay identity and lifestyle. (p 57)
**********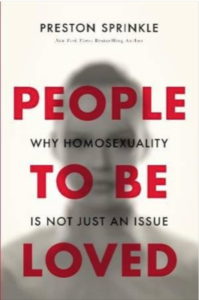 When I began "People to be Loved—Why Homosexuality is Not Just an Issue" by Preston Sprinkle (Zondervan, 2015), I was tentatively encouraged by the author's gracious tone and seeming willingness to break away from the evangelical party line on exclusionary practices on LGBTQ people.
After all, Sprinkle includes hopeful declarations throughout the book: "We are going to do our best to lay aside our assumptions and genuinely seek to know what the Bible, not our traditions, says about homosexuality." (p. 10) "As Bible-believing Christians, we have a responsibility to accurately interpret, believe, and respond to God's Word. I only hope and pray that I have done that in this chapter and I genuinely invite feedback and critique if I have not done so." (p. 101)
And, "This book represents part of my journey in thinking through homosexuality, it's not the end of my journey. " (p. 177)
To those who are not fully immersed in the conversation about faith at the intersection of sexual orientation and gender identity, Sprinkle does seem balanced and courteous. I do appreciate that he is not as acerbic in tone as some other authors whose books I've read and reviewed, but still, this book is not as generous as I had hoped.
**********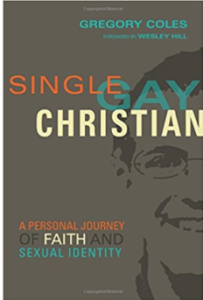 Gregory Coles, author of Single Gay Christian—A Personal Journey of Faith and Sexual Identity by Gregory Coles (IVP Books 2017), seems to be a likeable and "delightful" young man. I've watched several videos and read his very short book (117 pages) which tells of his journey from the beginning of his understanding about his sexual orientation to his decision to lead a celibate gay Christian life.
Coles is a good storyteller with a winsome personality and an easy writing style.
While honoring Coles' story as his truth and the reality of where he currently is, I also am aware of hundreds of similar stories told by young gay Christians from conservative faith environments much like Coles'. These LGBTQ Christians have likewise struggled to find authenticity in their sexuality and have made life choices unlike Coles'.
[Full Review on Amazon]
**********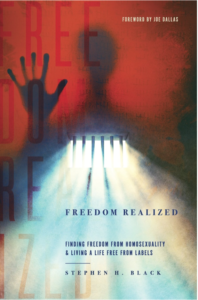 Stephen H. Black wrote "Freedom Realized: Finding Freedom from Homosexuality & Living a Life Free From Labels" (Redemption Press, 2017) to offer "clear evidence for the truth of the gospel of Jesus Christ and the transformation that is available for broken lives in this day of "hip-hop" gospel relativism." Black asks "is freedom from homosexuality truly possible?" and promises his book will give "proof and hope."
Does he succeed in this mission?
Black begins his book with details about the demise of Exodus International (1976 – 2013), an umbrella organization of several hundred reparative therapy ministries, each promising varying degrees of "healing" from homosexuality. The promises of member ministries to clients ranged from a complete change to heterosexuality to lessened same-sex attractions.
**********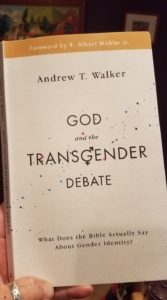 "God and the Transgender Debate–What Does the Bible Actually Say About Gender Identity?" authored by Andrew T. Walker, Director of Policy Studies with the Ethics and Religious Liberties Commission (ERLC) of the Southern Baptist Convention (SBC), has been positioned as a book that will help readers "learn more, (and) love better" (p 16) as he takes "a careful look at what the Bible really says about gender identity." (p15)
Settle in for one of my epic reviews. I will be challenging the author's premises and conclusions in three sections.
Walker begins his book, "At its heart, this debate isn't about a debate. It's about people; precious people made in the image of God who are hurting." (p 14)
In light of the "transgender revolution" that is "flipping over the table of centuries-old norms," (p15) Walker wrote the book for busy people "who want to consider whatthe Bible says about transgenderism." (p 16) (Continued on Amazon)
**********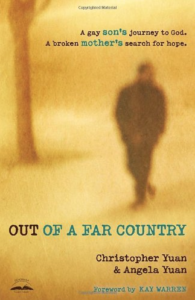 Out of a Far Country by Christopher Yuan and Angela Yuan At the urging of many Asian Pacific Islander (API) LGBTQ (lesbian, gay, bisexual, transgender, queer) Christian friends, I've read and reviewed Christopher Yuan and Angela Yuan's jointly authored book "Out of a Far Country" (WaterBrook Books, 2011). Specifically, within the API queer community, this book has become somewhat of a go-to resource that family members and pastoral staff give or suggest hoping that the recipient LGBTQ reader will follow in the footsteps of Christopher Yuan and surrender their lives and sexuality to God.
The book is subtitled "A gay son's journey to God. A broken mother's search for hope." Though there is minimal recognition of poor parenting by mother, Angela when she asks her son, "How could I have been a better mother?" (p 158), the focus of the book falls squarely on the reckless behaviors of son, Christopher.
Continued on Amazon
************
"TranZformed: Finding Peace with Your God-Given Gender" (2017), produced by David Kyle Foster (founder and director of Mastering Life Ministries and the producer of "Pure Passion" TV, and member of the advisory board for the Restored Hope Network (RHN)) is the story of "15 former transgenders (who) join experts (to) bear witness to what Jesus Christ can do for those who struggle with gender dysphoria."
[I purchased this item directly from the seller]
Of note, I had a heck of a time getting a hold of this video. Over a ten week period, my payment was rejected and order was thrice unfilled. Three follow-up emails went unanswered. Finally, a friend ordered it, got it within four days and mailed it to me. Now, having viewed the film, I understand why Foster might be reticent to have me watch and review his movie.
Several years ago, I attended the inaugural RHN Conference. At the time, Foster was an RHN board member. Following the event, I wrote a four-part less-than-flattering commentary about the organization. Since then, I have reviewed books suggested by RHN and have found all of them consistently filled with inaccurate stereotypes, single stories, the voice of "experts" who are not experts, partial truths, and unrestrained lies. Unsurprisingly, "TranZformed" holds to the same pattern of content. [Continued on Amazon]
**********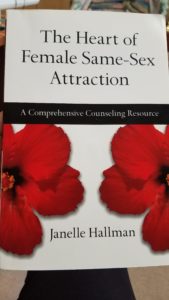 I decided to read Janelle Hallman's book The Heart of Female Same-Sex Attraction — A Comprehensive Counseling Resource (InterVarsity, 2008) because it was cited several times in the Restored Hope Network (RHN).
For those unfamiliar with RHN, the organization formed in 2012 in the wake of the collapse of Exodus International. With transparency and late-to-the-game integrity, Exodus leadership affirmed they had not been successful in seeing sexual orientation change in "99.9%" of the people who had participated in programs, in any of their several hundred associated ministry organizations. Still, RHN, in the failed spirit of Exodus continues to "serve(ing) those who desire to overcome sinful relational and sexual issues in their lives and those impacted by such behavior, particularly homosexuality."
Recently, RHN produced a position paper using, in part, work and words from Hallman. So, I read the book.
It is no surprise that Hallman views homosexualiy, or specifically within the scope of  The Heart of Female Same-Sex Attraction, as a distortion from the normal healthy spectrum of human sexuality. Rather, it is something that needs to be fixed in order that one might become sexually and spiritually whole.
Hallman is not a casual player on the edges of therapy for lesbians. She has been a conference speaker at National Association for Research and Therapy of Homosexuality (NARTH). NARTH is well known for its support of pseudoscientific practices related to reparative therapy which is increasingly outlawed in many states. Continued on Amazon
**********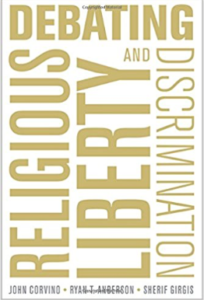 [NOTE: This book is not damaging, it is however a point and counter point on the debate on religious liberty and discrimination. One author, Anderson, is anti-gay inclusion and equal rights as enjoyed by heterosexuals in society and in the church.]
"Debating Religious Liberty and Discrimination" (2107) uses a point-counterpoint approach between John Corvino, Professor and Philosopher Chair at Wayne State University and the team of Ryan T. Anderson, Research Fellow at Heritage Foundation and Sherif Girgis, Ph.D. philosophy candidate at Princeton.
Both sides state they share a "distaste for the typical 'with us of against us' polarization that plagues most public debate today." Simplified, Corvino explores if religious liberty is becoming religious privilege favoring certain kinds of religions (typically conservative Christians) over other kinds of religion, and even secular beliefs that may be just as strongly rooted and motivated as religious beliefs.
As the counterpoint, Anderson and Girgis argue that those who advocate for progressive inclusion of protections and rights demand consent, seek to stifle dissent, and want to deny legal protections for those who do not agree with the equal moral status of LGBT people. Continued here on Amazon.
**********
In "Speaking of Homosexuality – Discussing the Issues with Kindness & Clarity"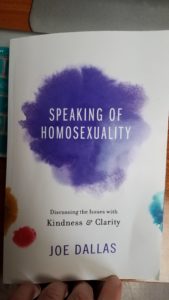 (Baker Books, 2016), author Joe Dallas presents the Traditional and Revisionist (his usage of terminology) perspectives and a look at "the pros and cons in the gay debate" with suggested responses.
Dallas defines the Traditional view as seeing that "homosexual acts, like numerous other sexual behaviors, fall short of God's intention and are therefore sins" and "it (homosexuality) is an unnatural condition God never intended, but which exists as one of the many manifestations of fallen human nature." As to the Revisionist view, he writes, it "advocates revising our view of Scripture or of morality in general to condone homosexuality." (p 17)
Dallas wrote the book "to help the reader better understand arguments in favor of homosexuality, and to equip (the reader) to meet those arguments with responses that are accurate, biblical, and compassionate." (p 17) In the latter section of the book, Dallas presents his interpretations of the verses most typically used to condemn homosexuality. Scripture is key to the discussion, he writes, because "we're commissioned to learn the truth, live that truth, and express that truth and the Heart (God's) it reflects, to whoever will hear." (p 25) Full review on Amazon
**********
"When Homosexuality Hits Home –What to do When a Loved One Says, 'I'm Gay'"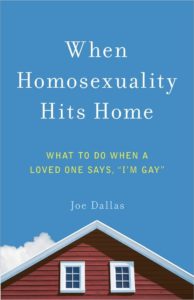 by Joe Dallas (Harvest House Publishers, 2015) is an expanded edition of the initial 2004 book.
In the book, Dallas gives advice on how parents with gay children, the spouse with a gay partner, or other family members are to respond in "grace and truth (with) the enormous challenge to be honest and loving" (p 17) when "This person I love is a homosexual." (p 19)
Dallas is a visible speaker and contributor on the topic of "human sexuality from a biblical perspective." By his own admission, he says: "(I) never considered myself to be completely homosexual." (p 8) He grew up in Southern California, and by 8th grade was having sex with boys and girls and using drugs. By the age of 15 in 1971, he was also having sex with adult men. (Source: online interviews with JD) Full review on Amazon
****************
The Secret Thoughts of an Unlikely Convert : An English Professor's Journey into Christian Faith by Rosario Butterfield
Over the past several years, "The Secret Thoughts of an Unlikely Convert" (Crown & Covenant, 2104) by Rosaria C. Butterfield has been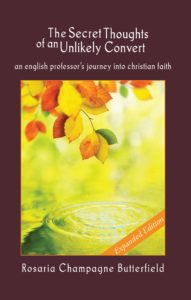 positioned by evangelicals and religious conservative as one of the go-to books for conversion from homosexuality to heterosexuality.
Among conservative Christians, Secret Thoughts is most frequently positioned as a book of sexual identity and the conversion story of an academic radical feminist lesbian to a conservative straight pastor's wife. Butterfield writes: "My story is not representative or diagnostic. If people are using my testimony in this way, they should stop (and I will tell them that, if you need me to.)" (p 171)
Yet, ironically, this book is used in precisely this manner. It has been suggested and given to countless Christian lesbian friends with the hope of encouraging them to stop being lesbians through a similar conversion experience.
I find the popularity and use of this book to be quite confusing. Even Butterfield writes about those who might read her book: "I figured that about twenty people in my small, unknown denomination would purchase it, in the same way the people might buy a church cookbook." (p 176) I agree. (Continued HERE on Amazon)
**********
You Don't Have to Be Gay (Pacific Publishing House, 1987) by Jeff Konrad
I read this book because a mother with a gay son told me she recently read the book and found value in it. She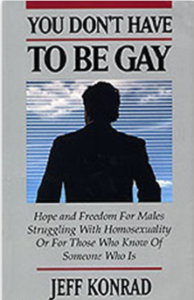 challenged me to read it as an authoritative personal account of a former gay man.
So, I read it.
Oh my goodness! How could a book written in 1987 (a full thirty years ago) be valued as an accurate depiction of a current experience of gay people, in particular those who identify or are seeking to have a spiritual walk? An incredible amount of information about human sexuality has been discovered over the past thirty years. It had only been fifteen years at the writing of this book that the designation of mental illness had been lifted off homosexuality.
The reparative therapy industry had just recently cropped up within the Christian church starting in the late 1970s with Exodus International. The conservative church had somewhat ignored homosexuality until Anita Bryant came on the scene in 1978. Several conservative groups, primarily based within the televangelist community, saw monetary value in pointing to the threat of "moral decay" caused by others combined with the Christian imperative to rescuing America from other peoples' sin and stave off the imminent return of Christ. [CONTINUED HERE ON AMAZON]
**********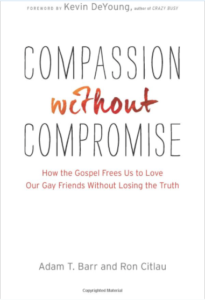 Compassion without Compromise (Bethany House, 2014) by Adam Barr and Ron Citlau — A Book Review
"Compassion without Compromise" (Bethany House, 2014) co-authored by Reformed Church in America (RCA) pastors, Adam Barr and Ron Citlau, is subtitled "How the Gospel Frees Us to Love Our Gay Friends Without Losing the Truth."

I read books written from this point of view regularly. As is with other authors in the same genre, the authors of this book assume the foundational basis on which they've constructed the whole of their guidance and beliefs to be correct, biblical truths. The aim of the book is to be a "compassionate, uncompromising witness in a culture that celebrates what the Bible censors."

Throughout the book, the authors attempt to present objections to their "biblical truth," or traditional view by contrasting it with a point of view called "revisionist." To them, I would be considered one such revisionist. Contrary to the view that "many revisionist interpreters have a personal stake in this issue," I am straight, a mother of two adult heterosexual children, and have been an evangelical Christian for thirty-five years. Continued HERE.

**********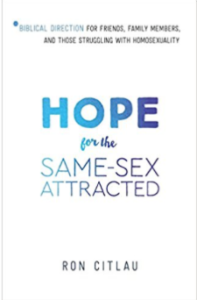 Hope for the Same-Sex Attracted by Ron Citlau — A Book Review
"Hope for the Same-Sex Attracted" (Bethany House, 2017) by Ron Citlau is subtitled "Biblical direction for friends, family members and those struggling with homosexuality" with the intended market of "pastors, church leaders, parents of a  same-sex struggler, and Christians who want to work very hard to make their church a place where same-sex strugglers can flourish." (p 16)
Before reading and reviewing this book, I completed "Compassion without Compromise," a book co-authored by Citlau and suggested by him as "a more in-depth discussion on what the Scriptures say about homosexuality and biblical ethics." Once familiar with Citlau's theology, I was better equipped to read and review this book. [I posted a review of that book as well.]
Citlau's says there are three obstacles that stand in the way of God giving His gifts to "same-sex strugglers" (a term that Citlau uses to gross excess. The term often appears over six times on a single page.) The author lists the three obstacles: identifying as a gay Christian, gay marriage, and the spiritual friendship movement. Continued HERE on Amazon. 
**********
God & Sexuality by Janet Boynes — A Book Review
Settle in, this will be one of my epic reviews.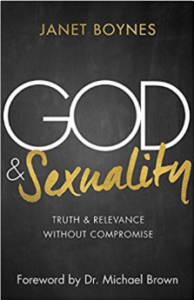 I am concerned about the content, the message, and the impact of Janet Boynes' latest book "God & Sexuality." I will go section by section in my evaluation of content.
The foreword endorsement to the book is written by Dr. Michael L. Brown. Without further comment to Brown's work here, several book reviews of his works written by me are linked under my Amazon commenter account.
In the Preface, Boynes tells her readers that she is in a season of ministry to "hundreds of people who have struggled or are struggling with homosexuality and want to leave the lifestyle once and for all." She also writes that she "lived the lifestyle for 14 years" and has been "called out of a homosexual lifestyle." In the two opening paragraphs, Boynes uses the word "lifestyle" four times.
Boynes never defines what she means by "lifestyle." (continued here)
**********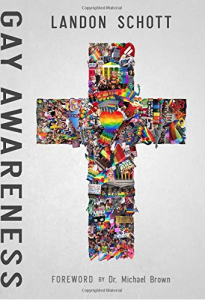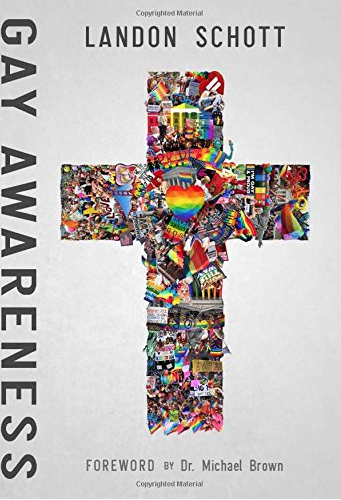 Gay Awareness by Landon Schott — A Book Review
Texas-based, traveling evangelist Landon Schott is certainly not unique in his strongly anti-gay theological and ideological beliefs. His lack of academic integrity and immature reasoning skills alone should render him inconsequential in the conversation about faith as it intersects sexual orientation. Yet, he can't be dismissed because his target market is teens and young adults, in particular, the most vulnerable of them, gay youth.
Schott's new book Gay Awareness: Discovering the Heart of God and the Mind of Christ on Sexuality " . . . is primarily for the individual who struggles with same sex attraction, but truly loves God with all his or her heart. . . . This book is for the Christ-follower who desire to know what the Bible truly says about homosexuality." (p. 17) Schott adds, "I want you (the reader) to feel respected and safe." (p. 18) While I do trust Schott believes his motives will match outcome, tragically, he seems appallingly unaware of the consequences of his message. CONTINUED HERE
**********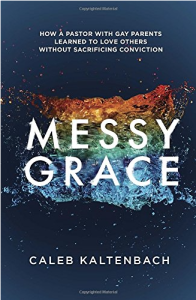 Messy Grace by Caleb Kaltenbach — A Book Review
Caleb Kaltenbach's Messy Grace: How a Pastor with Gay Parents Learned to Love without Sacrificing Conviction(2015, WaterBrook Press) had been recommended to me as a compassion treatment of the intersection of faith and sexual orientation.
Kaltenbach's book is one of the recent book offerings in latest genre of Christian authors extending what they perceive as a more merciful perspective on the lesbian, gay, bisexual and transgender (LGBT) community. (continued HERE)
**********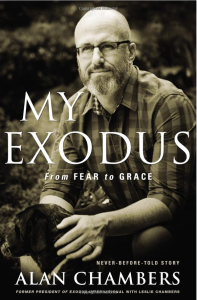 Alan Chambers' My Exodus — A Book Review–Alan Chambers' newly released book—My Exodus: From Fear to Grace—written with his wife, Leslie, is self described as " . . . simply our story. It's a story about our parents, our childhood, our coming of age, our marriage, and our journey out of a system of beliefs driven by fear and rules," (p. 15).
Chambers has played a significant role in the faith and sexual orientation landscape. From 2001 until 2013, he was the president of Exodus International, a Christian umbrella ministry overseeing religious-based gay conversion to heterosexuality. Exodus' primary target groups were: Christians who identified as lesbian or gay, their families, and paraministries or churches with outreach programs to gay people and their families — all who were seeking a way "out of homosexuality" towards heterosexuality, or as a compromise, celibacy. Beginning in the early 1980s, Exodus member ministries adhered to an ideology which combined long discarded psychological theories about reparative therapy with a spiritual component. CONTINUED HERE
**********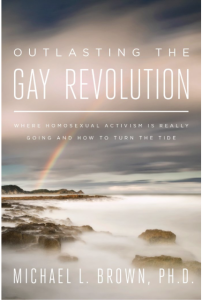 Michael Brown's "Outlasting the Gay Revolution" Continues His Non-Academic Anti-Gay Rantings
Michael Brown called the last public review I posted on one of his books Brown a "revision" not a review. I expect this book review will receive a similar response.
I'm taking the time to post what I realize is a lengthy review: to be a strong counterbalance to Brown's ideology, to alert those who may be tempted to give this book to LGBT persons as a "loving" action, and to expose Brown's poor academic research.
Before addressing Michael Brown's "Outlasting the Gay Revolution," I need to lay some groundwork as to how I approach all books I would term as Christian and anti-gay and anti-trans. CONTINUED HERE
**********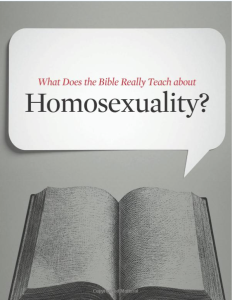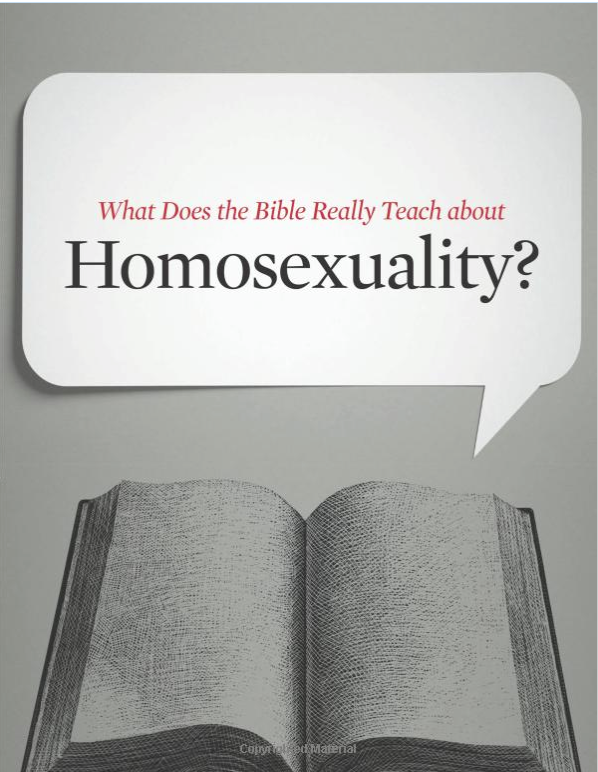 Kevin DeYoung's Book — Another Author Lacking Academic Integrity But Telling Us What God "Really Says" Anyway––Kevin DeYoung's What Does the Bible Really Teach About Homosexuality? offers yet another utterly maddening viewpoint of "God's truth" about gay people.
I've read the bulk of such books written over the past few decades, beginning with the first "gays are out to destroy America" book written for the evangelical community by Tim LaHaye in 1978: "The Unhappy Gays."
Once the new genre started, it triggered an onslaught. Next came the religious-political booksThe Unhappy Gays by Tim Lahaye from authors like Falwell and Dannemeyer in the 80s. In the 90s, came a deluge of we-are-no-longer-gay books by Chambers, Dallas, Jernigan, et al. I have slogged through most of them, including the "truths" built upon assumptions tome by the contemptuous anti-gay theologian Gagnon. I've endured the lunacy of Lively and even tried to find a pastoral heart in Hubbard and McDowell's writings. To my great disappointment, they too failed. I've stomached Brown's fringe venom poorly cloaked as compassion, and been left nonplussed by the shallow philosophical-political arguments of Anderson and Satinover. CONTINUED HERE
**********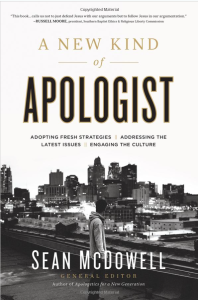 A New Kind of Apologist by Sean McDowell — A Book Review  
I wanted to be encouraged by the chapters on gay and transgender issues in Sean McDowell's A New Kind of Apologist (Harvest House, 2016) in which McDowell acted in the role as editor over 27 authors with "a new approach to apologetics." (Apologetics is reasoned arguments used to establish and defend the Christian faith.)
I have personally met and spoken with McDowell and two of the contributors to his book whose chapters I will be discussing here: Alan Shlemon, author of the "Transgender: Truth and Compassion" chapter, and Glenn Stanton, author of the "Being Authentically Christian on the LGBT Issue" chapter.
I had hoped each of these three men would indeed reject the myth-filled rhetoric on LGBT issues inside the evangelical bubble and instead address their respective topics well, as McDowell tells the readers the "new apologist" must. Along with being humble, relational, and living out their advice to readers, McDowell informs us, the new apologist must also be "studious."
[ORIGINAL POSTED ON AMAZON]
**********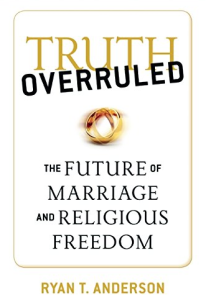 Truth Overruled : The Future of Marriage and Religious Freedom by Ryan T. Anderson — A Book Review uses only arguments "based in philosophy, jurisprudence, political science and social science" to investigate "what marriage is, why marriage matters for public policy, and what the consequences are of redefining marriage."
Attempting to keep the debate on marriage equality going with social and religious conservatives, Anderson highlights "truths" he imagines SCOTUS trampled in extending marriage equality to roughly 10 million American.
Anderson, in constructing these "truths," ignores the social history of marriage, elevates procreative complementarity as a condition of marriage, and discounts all major professional medical and psychological associations' statements on the natural variations of sexual orientation and gender identity.
And on Amazon.
**********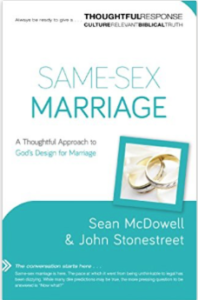 Same-Sex Marriage: A Thoughtful Approach to God's Design for Marriage (A Thoughtful Response Series) by  Sean McDowell
This is the latest entry in the "we love the gay people but don't think they are deserving of civil rights and this is how we express our love" category. Here is what I understand the basic premise to be — God invented marriage, so Christians own it and no one has the right to redefine it. WHOA! It might behoove the authors to read a good historical account of marriage such as the one by Stephanie Coontz, "Marriage, a History: How Love Conquered Marriage."
Before I write this summary, for the record. I AM an evangelical Christian, straight, 2 adult kids (26 and 28) and neither gay. No gay family members. I was in the isolation of the evangelical world until I met a hiking buddy on a trail in 2001. I know both sides of this issue WELL.
INTRO — comment of the unparalleled speed at which this issue has hit — well, the gays only came out of closet of shame imposed on them cultural and by the medical community in 1973 and the first request for marriage was in 1970. Rev. Troy Perry of MCC started petitioning RIGHT AWAY. I think 45 years of trying to get a civil right is quite a long struggle. (Continue HERE)
**********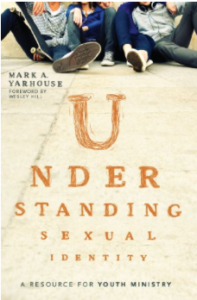 Understanding Sexual Identity: A Resource for Youth Ministry by Mark YarhouseAn ineffective theory about gay people, wrapped in kinder packaging, and carefully tied a prettier bow of pseudo-compassion is still an ineffective theory.
Understanding Sexual Identity: A Resource for Youth Ministry (October, 2013, Zondervan) by Mark Yarhouse, Professor of Psychology at Regent University (Founded by Fundamentalist Pat Robertson as Christian Network Broadcast University in 1978), was written as a guide to help Christian pastors and leaders counsel gay youth.
Yarhouse suggests that youth leaders, when ministering to "sexual minorities" use a three-tiered approach in conversation. He has created distinctions between the three stages of sexual identity:
* Same-sex attraction — a descriptive way in which people can discuss their experience. The youth may say, "I am attracted to X person."
* Sexual orientation — a persistent sexual attraction or orientation towards the opposite sex, same sex, or both. The youth may say, "I am only attracted to the opposite sex."
* Gay identity — a "sociocultural" identity that people use to communicate their sexual attractions. The youth may say, "I am gay."
Leaders are encouraged to slow the conversation down with a youth who wants to talk about this issue. A compassionate exchange is strongly encouraged. Extra points for this one, but if Mom and Dad are not getting the same message out in Big People Church, subtract points. (Continued HERE.)
**********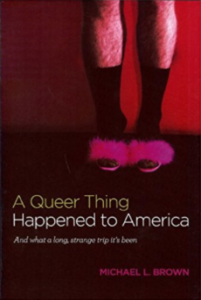 A Queer Thing Happened to America by Michael Brown
The book has fifteen chapters. I have written comments on about one third of the pages in my book. Addressing all of my concerns and insights are not practical in a blog post. The approach I will take it to state, as best I can, the point of each chapter followed by my opinion of that section.
THE STEALTH AGENDA
Thirty pages of documentation of the various sources of the "gay agenda". Mr. Brown builds his case for the development and existence of the "gay agenda". The Stonewall Riots in 1969 was the beginning of the Gay Liberation Movement. I agree. This was followed by the publishing of "Refugees from Amerika: Gay Manifesto" by Carl Whitman which Mr. Whitman says "never became dogma" and no one I know has ever read it.
Next, there is the 1972 Gay Rights Platform presented by 200 GLBT attendees to the Democratic National Convention. I love the internet; you can Google anything. In all the searches on this 1972 event, the overwhelming majority of references to it were by conservative group telling the tale over and over as if it were the seed of some major power ploy. One account even said there were 200 organizations represented. In 1972? Wow. Actually, the truth is five delegates presented their wish list at midnight and virtually no one was there to hear them and there were 200 GLBT people at the convention, not organizations as several of the references stated.
"After the Ball: How America Will Conquer its Fears and Hatred of Gays in the 1990's" is referred to dozens of times in AQTHTA. It has a six-fold plan for the "gay revolution". Sounds terrifying. Again, a Google search has all the conservatives referring to the plan and not one GLBT organization. If it is part of the "gay agenda", shouldn't some gay group be using it or alluding to it?
The statement by Dr. Brown that stunned me was : "Ironically, when it comes to denying the existence of a gay agenda, there is immense unity in the gay community. Why? It is because the denial of that agenda is part of the agenda (although for some, it might be a sincere, heartfelt denial." (pg 43) What? (Continued HERE.)
**********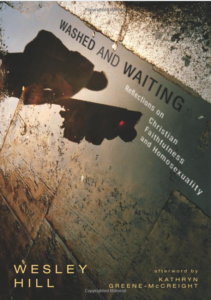 Washed and Waiting by Wesley Hill
I think the market for this book will be parents/friends/pastors of GLBT Christians wanting them to change and seeing this book as a hopeful incentive. Hate is too strong a word, but "really disliked' would be accurate. People who are GLBT are not "broken" and that world is repeated over and over.
I find this a sad, depressing book and not one I would ever recommend. Of course Zondervan would publish this book; it complies with the Evangelical church lines. I have worked for over five years with the GLBT community, especially the Christian part of it.
The study work on the translations if shabby and there is too much emphasis on literature and books for examples. Go talk to real people. Mr. Hill may be comfortable with this life choice, but the underlying "I am broken" message will take it's toll. (Continue HERE.)
**********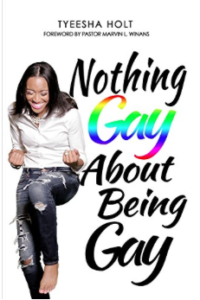 Nothing Gay About Being Gay by Tyeesha Holt
I am an avid reader, and it is without doubt that this was the worst book I have read in at least a decade, perhaps more.
Holt came into my view when a friend in the SF Bay Area disappointedly told me that Acts Full Gospel Church, Oakland was bringing her in to speak. I decided to read her book.
Overall, this a a story of a bad family life, bad decision and more bad decisions. Holt tell readers from the onset "The devil through the erosion of the traditional family has a plan to deceive and destroy a generation. This is the ultimate goal of the homosexual agenda." What does that even mean? Does it mean that gay people in cahoots with the devil are out to destroy people? Who wrote this agenda and WHERE on earth is this written down?
I am a straight evangelical Christian with two adult straight children. Not only does Holt's life NOT mirror the lives of thousands of LGBT people and couples I know, I have never heard one person say they are intent on destroying traditional families and people — they simple want to coexist with equal dignity in society and in the church. Continues HERE
**********
Gender, Lies and Suicide by Walt Heyer
The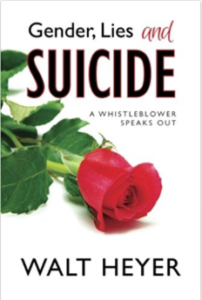 re is not doubt that author Walt Heyer is angry and dissatisfied with his choice to undergo sex reassignment surgery 30 years ago. He feels he was not properly counseled and was actually suffering childhood trauma that altered his view of his gender, and then subsequent adulthood depression. Do I think this is possible? Yes. I do think a person can be damaged from childhood trauma and have a skewed view of gender
.
It is estimated that there are between 32K and 40K male-to-female transwomen in the US currently. Heyer presents his story as a warning and somewhat typical. When I read his book, I immediately likened it to a person who has had a traumatic childhood, entered a life of abuses, and twisted his narrative of abuse, and often destructive behavior with sexual orientation "blaming" a homosexual orientation with childhood dysfunction. In fact, Heyer does PRECISELY that several times in the book:
"There is no proof that trangenders are born.How a child acts out their gender roles will vary depending on the parent or parents, siblings and anyone else who has an active role spending time with the child from a very young age."  (Continued HERE.)
**********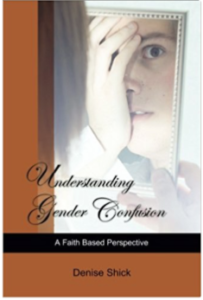 When I read information about sexual orientation and gender identity issues, the context of time is an ESSENTIAL piece of the communication. This element is sadly left out of Shick's writing. I had to do the math — she is about 46. When she was 9, her father tranistioned. That would have been around 1977. This IS a key piece of information conveniently omitted.
VERY LITTLE was know about gender identity at that time. Doctors were still regularly snipping and cutting intersex babies in attempts to make the body match the gender. Shockingly, that practice would go fairly unregulated without best practices standards until 2005.
The culture in which Shick's father came out was extremely naive by our standards. Cross-dressers and transgender people were regularly mistaken in common language. There would have been very little, if any, readily available resources for him to try to understand what was going on. Hey, maybe he was a cross-dresser and NOT transgender?
And on Amazon.
**********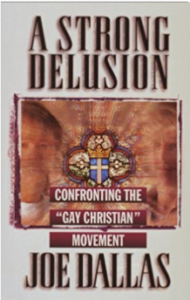 A Strong Delusion by Joe Dallas  Dallas may have been able to charm and deceive people (including himself) with this tripe in 1996, but now — with the testimony of gay Christians (without the air quotes), their visibility and the excellent refutation of his arrogant statements — this delusion that he and others built is, THANK GOD, crumbling around him. Exodus closed only to be replaced by Restored Hope, a retread of the same old, same old.
Each chapter has a series of proposed questions that a gay person or supporter might ask, followed by his oh-so-wise answers. He presents those on the other side of his dogma as uneducated and not as holy as he is. The arrogance repulsed me. There are PLENTY of people who can sit on a stage with him and deconstruct his myths and distortions. I would GLADLY do it at a mutual agreement.
I then went to video to watch his live presentations. Even then, he appears to speak down to others. If you are gay and Christian or love someone who is, I would suggest you start with "Torn" by Justin Lee for lighter reading or " Bible, Gender, Sexuality" by James Brownson for a more scholarly work.  Skip Dallas ALL TOGETHER. (Continue HERE.)
***********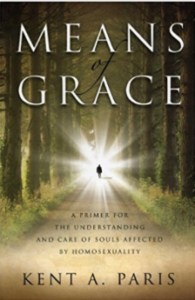 Means Of Grace by Kent Paris
I read most of Paris's book in the lobby over two sessions while he was reading his presentation to a group in a sanctuary. I had heard him read the same presentation four times at that point. In his Q & A time, he used a group of numbers referenced at the back of this book. WHen I saw the numbers, I was shocked that anyone would EVER present them as "science" or an authentic view of "homosexual activities". He presents them as directly from "gay publications themselves".
THIS it the real story. The real story is often less fantastic than the imagined one. The number used in the "Homosexual Behaviors" are derived from a 1977 survey published in "Blueboy" and sent out to the subscription list. 500,000 were sent out, 5,400 were returned.
There is a phenomenon called "participation bias" which means people who have something unusual to share -do. Those who choose NOT to share tend to be more middle of the road. With a 1% return rate of subscribers to a magazine which is the equivalent of Playboy or Penthouse, to a survey where there is a participation bias and TAKEN OVER THIRTY FIVE YEARS ago just as gays and lesbians were coming out of the recesses of society —-THIS is to be the picture of how gay men participate in sex NOW??? (Continued HERE.)
*************************************
Additional minor fiction and other anti-gay books: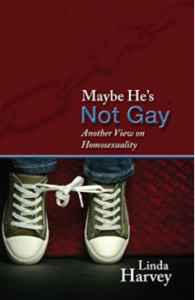 Maybe He's Not Gay by Linda Harvey
First– the book format itself:
The cover — no gay boy would be caught dead in those sneakers, but a few lesbians might like them — know your target audience
The typesetting made each chapter an eye test, the sections spacings would be unacceptable in a high school homework assignment
Poorly written and constructed — lots of "oh, i'll tell you that later"s
Could have been reduced to about a dozen pages
Next — Ms. Harvey would require only one 101 level class in human sexuality to undermine her entire premise for the book. It has all been said before about her book, her logic, her obsession. When one bases an entire work on a lie, you cannot expect very much. Homosexuality is a normal variation of human sexuality. This has been settled for over 40 years. (Continue HERE.)
**********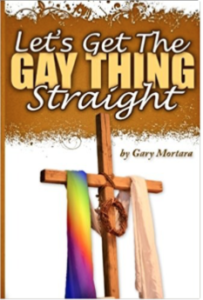 Let's Get the Gay Thing Straight by Gary Mortara
This may be one of the worst (right down there in the gutter with Linda Harvey's book) on LGBT issues.
I am glad I did not pay for it — a friend sent it to me.
There are just too many problems with this book. First, the editing is atrocious. Hillary and Eda should be ashamed of their work. Grammar, punctuation and a GLUT of !!!!!!!!!, and more !!!!!. (Continued HERE)
**********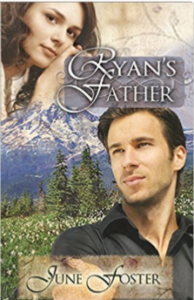 Ryan's Father by June Foster
Ms. Foster, your book is fantasy — this is NOT the story of LGBT Christians. This is the story you want for them. From the witness I have seen in the lives of thousands over the past 14 years, the story God has for them is more honest and filled with fruit and life.
On P.29, you wrote, "The Word made i clear that God considered the behavior indecent and perverse." There are many Christians with an increasing number, me included, who do not see the Bible as clear on this issue at all. In fact, we understand the Scriptures to mean the excesses of lust leading to forbidden same-sex behavior in ancient cultures.
The main character, Ryan hopes and prays for "the desires" for a woman will come. The author leads us to believe that Ryan is "damaged" in his sexual desires as as result of not having a father (his birth is the result of a one-night stand his drunken mother had with an unknown man). (Continued HERE)
**********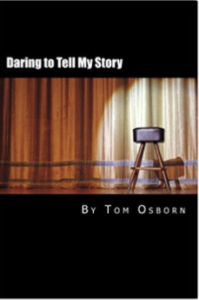 Daring to Tell My Story — My Journey to Sanity and Safety in Jesus by Tom Osborne
This is the story of a person overcoming a severely addictive personality. By his own admission on page 109, author Tom Osborne admits this of himself. The story could have been written by a heterosexual or homosexual person; in this case, the object of attraction is the same sex.
A timeline associated with the many stages of trying to deal with the addiction may have been helpful. Christian counselors in the 1970s to mid 1990s would have approached the issue far differently than today. We know a great deal more about the issue now.
Osborne's family life certainly seems to have lead to his addictive personality. Though he never mentions the term, overly enmeshed mothers who lack sexual connection with their husbands, predictably sexualize their sons. Good counseling early on may have save Osborne from poor choices. (Continued HERE.)
**********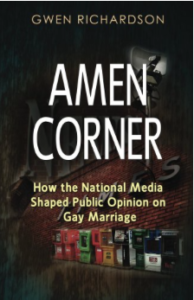 Amen Corner by Gwen Richardson
All the tired myths are repeated in this book.
If you listen to or read conservative onlines, you have heard all of this.
This is so much to say about this book . The author may be competing with Michael Brown in who can better misrepresent a population. Brown wins on page count, Richardson wins on conciseness of drivel. (Continued HERE)
**********