Next week, Pope Francis arrives in Washington, DC to begin a six-day visit to the United States scheduled to coincide with the World Meeting of Families (WMF) in Philadelphia. Conceived in 1992 by Pope John Paul II, the gathering takes place every three years. This is the first time WMF has convened in the U.S.
With discussion about LGBT issues more commonplace in the American Catholic community, advocates for LGBT Catholics hoped for a presence within the gathering's workshops or exhibit areas. Such applications for participation were denied.
Ron Belgau, 40, a self-identified gay man committed to lifelong celibacy, will be the lone public voice representing the gay Catholic community. Belgau will lead a session and hour-long panel discussion entitled "Always a Person: Homosexuality in the Family."
Belgau is an administrator and writer for "Spiritual Friendship," a blog site targeting gay Christians who share the desire to live celibate lives and focus on spiritual growth through strong friendships.
I met Belgau for the first time eight years ago when we both attended The Gay Christian Network Conference (GCN) in Seattle in 2007. Belgau has been involved in GCN and has enjoyed a close friendship with founder Justin Lee. They have appeared together for public dialogue throughout the years on the stages of many colleges, universities, and churches.
Within the LGBT Christian community, beliefs about the appropriateness and biblical guidelines of sexual ethics for gay Christians are divided into camps: Side A which holds that gay Christians may be involved in committed, monogamous sexual relationships, and Side B which believes, as Belgau does, though gay, they must commit to celibacy.
Within GCN itself, there is space for civil and respectful theological differences about sexual ethics. Belgau has long been a public face of the Side B approach while remaining gracious and considerate of those who do not feel called to celibacy.
Liberal Catholics are uncomfortable with Belgau's stance on celibacy for gay Christians (Side B) and conservative Catholics are disappointed with Belgau's acceptance of his orientation as part of his identity. The more conservative of the latter group would call for reparative therapy treatment, which Belgau has called "appalling."
Belgau indeed may be the right person with the right balance for the audience at WMF. He is measured, intelligent, well educated, and is quite aware of the stories of LGBT Christians who both agree and disagree with his personal viewpoints. He is certainly not combative, nor unsympathetic toward Side A Christians.
Belgau's presence is a small but significant step for open discussion of gay issues within the Catholic Church. Though underrepresented at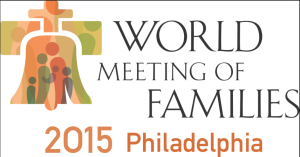 WMF itself, LGBT Catholics will be holding workshops and an exhibition at a nearby Methodist church.
Pope Francis will not be attending the meetings of WMF although he is going to Philadelphia for the Festival of Families associated with the congress, and to say mass while in the city.
The Pope will however be attending a White House reception hosted by President Obama in his honor on September 23rd. Also present at that event will be several gay and transgender Catholics and other activists from the LGBT Christian community including: Nicole Santamaria, the secretary of Asociacion Colectivo Alejandro, Marcia Garber, member of Dignity Boston, Mateo Williamson, co-chair of Transgender Caucus for Dignity USA, Rev. Stephanie Spellers, Episcopal theologian, Episcopal Bishop Gene Robinson, Rev. Cameron Partridge, transgender preacher and other LGBT leaders.
Comments
comments