I have attended the Gay Christian Network (GCN) Conference for the past eight years. In 2007, the conference met in Seattle. There were under 200 attendees, and perhaps only two or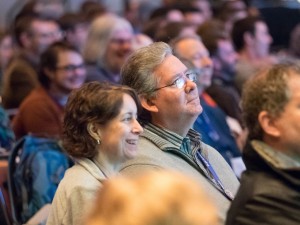 three straight people in attendance. None were parents of gay children.
In 2009, hoping to encourage more parents to attend, I was asked to lead a Friends and Family workshop. Besides me, there were seven other people in the room for the meeting including one set of still-stunned parents from the Midwest and the fully affirming mother of a GCN Board member. Along with one other mother who did not attend the workshop, there were just four parents at the 2009 conference.
In recent years, the Gay Christian Network has made it part of the mission to reach out to support parents and make a place for families at the annual conference. In fact, the head of the GCN Board is Dr. Susan Shopland, a psychologist, and Christian mother of an adult gay son, Ben.
The outreach efforts have been effective. I've watched the number of parents increase at each conference. Last year, at the 2014 conference, evangelical Christian parents Linda and Rob Robertson joined the keynote speakers' line-up. They speak publically about the ways in which they might have better supported their gay son, Ryan, when he came out to them. Their family story ended in tragedy. Over 75 parents, many who follow them in online networks, joined us in Chicago. They formed a full 10% of the conference participants.
This year I expected those numbers to increase, but was not prepared for the emotional impact of seeing them gathered in support of their children.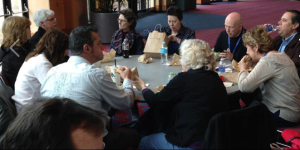 On Saturday afternoon, Dr. Shopland organized an informal lunchtime for parents in a hall of the Oregon Conference Center. Tables were arranged at the base of the escalator

and parents were invited to meet and talk with other parents over a meal. I was a late arrival; I was busy in the exhibit hall selling my newly published book. I rushed to the meeting area partway through their gathering. As I descending the escalator, I was overcome by the scene — over a hundred parents noisily chatting away.
It astounded me.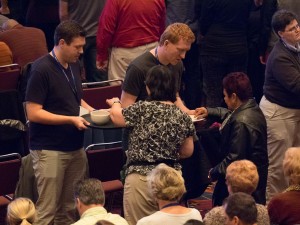 I've known for years that they would show up. I have been waiting for this group of passionate Christians who have decided to love their children beyond theology wrapped in ideology. Most of them are from conservative churches where they have been indoctrinated with a twisted view of six passages dealing with same-sex behavior in the Bible.
Most of them had no reason to question what they have been told, until their own child came out as gay or transgender.
These parents form what I think of as a "secret weapon" that the conservative church did not plan on. They are challenging the distorted views of gay and transgender people often bolstered and taught within conservative faith communities. They look at their children and do not see "abominations" and "broken" people, they see the child they have known and loved.
Pastors and church leaders may be tempted to discount this passionate brigade, dismissing them for having "an agenda." Wonderfully, there is no better Christian "agenda"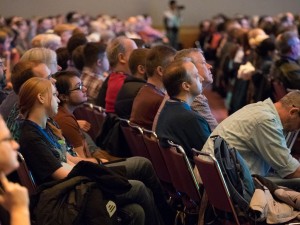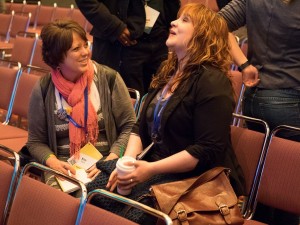 than to love, and these parents have signed on. Rapidly, more parents are joining them.
Some of those parents are pastors. One pastor/father in attendance told me it was "the most Christian conference" he had ever attended.
On the opening night, when GCN Executive Director Justin Lee asked the parents present to stand, oh my, was that a beautiful sight! Fourteen hundred participants applauded and hooted.
Parents were offered a conference workshop tract designed for their encouragement and education. Over a hundred of them gathered again on Saturday night for dinner.
Parents of LGBT children are now regularly part of every major LGBT Christian conference. These "secret weapons" are in every denomination, and in every state. They are likely in every church, yet many of them are silent, isolated in thinking they are the "only ones." They may be anxious about losing reputation in their church or afraid of witnessing their child drift away from congregations unwelcoming to them.
Once they find connection and education, together they form an unstoppable force of grace, love, and determination. These parents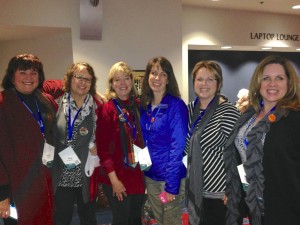 will push their pastors and congregations for real solutions that work for Christian families with LGBT children. They will question sloppy theology that has been built upon cultural discrimination rather than upon the Word of God.
I have waited for years for this group to be ignited. They are here. They are growing. They are making a difference.
If you are the Christian parent of an LGBT child, there is a connection point for you*. You are not alone.
Next year, the GCN conference is in Houston. I hope to see hundreds of you there. Come, overwhelm me again with your clear loving passion for God and your children.
_________________________________________
* email: robertson.family@frontier.com and you will be linked to a "secret" Facebook group for mothers, or email: robertcottrell@aol.com for fathers of LGBT children (any age).
_________________________________________
Beginning in mid-February, I will be hosting an online webinar series over a six week period based on the five sections of Walking the Bridgeless Canyon. This is an educational series specifically intended to educate parents. If you would like to be notified, email Kathy@canyonwalkerconnections.com
History and Culture
Religion and Politics
Science
The Bible
LGBT Christians and Their Allies
Engaging in Discussion with Religious Leaders and Family  
Comments
comments