Canyonwalker Connections | Kathy and Yvette are available to speak, lead or facilitate conversations for your leadership, or even preach at your church.
Canyonwalker Connections has offered help and facilitated with: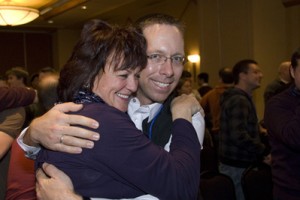 Non-LGBT people/groups and LGBT people/groups
Congregations needing help in becoming more open and welcoming to LGBT members
Pastors and LGBT congregants
Pastors and LGBT people who seek inclusion in a non-affirming faith community
Families and LGBT family members
PFLAGS
Academic institutions to speak about history, culture and the intersection with faith.
Gay Straight Alliances in High Schools and Colleges (GSAs)
Youth groups which include or need sensitivity towards LGBT youth
Speaking/Seminars within these environments:
Affirming congregations, conferences and seminars
In congregations where pastors need assistance with the congregation to "shift", educate or inform the congregants on issues of: sexual orientation/gender identity as related to the Bible.
Lobbying, political action or interest groups so that they understand the glbt demographic, the issues and needs.
PFLAG or other groups that would like help navigating the sexual orientation and faith issue.
Congregations and groups needing understanding of transgender issues and needs.
If you are a Pastor or Church Leader and would like to have private conversations to ask all those questions about sexual orientation/gender identity that you are not comfortable asking publicly, let me help you.
This is best done via Skype. This is a difficult issue for pastors to investigate in confidence. I will keep your confidence, hearing your concerns and answering your questions as best I can.
If you have a heart/spirit that knows something is amiss in the traditional view of homosexuality in the Church, I may be able to help you understand better or gain clarity. My Skype is:  kathybaldock1
Compensation: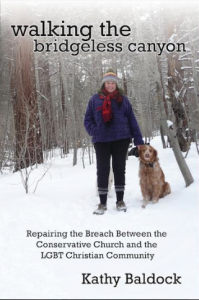 Very flexible. I want to offer my book Walking the Bridgeless Canyon for sale at speaking and teaching engagements.
If you want/need me — send me a note.
kathy at canyonwalkerconnections dot com
I have a team of advisers and helpers throughout the country and work in several organizations on Boards and Advisory Boards.
E mail me at:  kathy at canyonwalkerconnections dot com