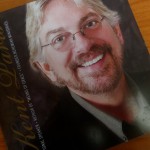 Ex-gay speaker, Kent Paris spoke at Summit Christian Church in Sparks, Nevada this week over six sessions.  I attended four of those sessions: one for 12 to 18 year olds and parents, two weekend services and one Q&A session this afternoon.
Other than fifteen one-on-one minutes with Paris asking clarifying questions following the youth program, I have sat silently, taking notes and  listening. That exchange is recounted here.
My insights on Paris and his teachings were outlined and published early Sunday morning in ""Ex-gay" Kent Paris at Summit Christian Church, Nevada, (updated after Q & A)  just before I left for Summit Church. Friends were going to hold a banner declaring "Welcoming God's Gay and Transgender Children into the Church" with my website at the exit driveway after the Q&A. I was ready to hand out business cards if anyone asked.
We were told on Wednesday that Mr. Paris would entertain questions during the last session on Sunday. I prepared a  1: 30 minute statement and question about the effects of rejection on the mental and physical health of gay youth. I even posted that statement on my blog.
Nothing incendiary. It was a message for parents with gay youth.
Do you know the consequences of rejecting your gay youth as opposed to accepting them?
If parents with gay children were to follow the teachings and therapeutic tools offered by Kent Paris, your gay youth are EIGHT times more apt to attempt suicide than those gay youth who are accepted.
They may suffer depression SIX times more often than those who are accepted.
They are THREE times more likely to get involved in drug and alcohol abuse than those gay youth that are accepted.
They are THREE times more likely to contract HIV and/or STDs than accepted gay youth
This is research; this is scientific, peer reviewed research.
If you are the parent of a gay youth, when you leave here, stop on the way home and buy a package of razors, a bottle of whiskey, a hypodermic needle and a lifetime supply of antibiotics because that is the life you will more often impose on your gay child through your rejection and shaming.
This is what you will be doing to the child you have been charged to raise in the way they should go.
Do not try to force your child to be something they are not, something to your liking. You will not only be responsible for the effects on their mental and physical health, you will also, in all likelihood, push them from God.
On reflection, a few things were odd. As the session began, Pastor Bond asked everyone be seated and then said "Okay, now you can escort the speaker in." I heard that and thought, "Escort, that is odd." In he walked with a man in front of him and one behind him. I now know that they were plainclothes policemen.
It gets weirder.
Paris began his presentation with a reference to his unpopularity with people along with his hesitancy to do interviews and talk shows. "People take soundbites and twist your words." Well, yeah sometimes, but most times they just quote you. That is what people do with the words of experts, they quote them.
The next cautionary given was for us to not believe what we read on the internet. And then he spoke about a lawsuit  from the '80's, one in which he had stated several times that he was "hounded by gay rights advocates from San Franciso". I had addressed the details behind that lawsuit in my blog that morning.
I had traced (with some help from Swansie Leigh) the 12 page legal document online. The facts of the case are not flattering of Paris; he broke patient-doctor confidentiality which resulted in a gay student being dismissed in his last semester of a five year program. Each time he had spoken about that incident, it was couched as "persecution" by gay activists without the details of the story.
Okay, got it. He has read my blog and is telling everyone not to believe what you read, or rather what I wrote. And not to believe the quotes from my personal conversation with him.
It was becoming a challenge to sit through the reading of the mythical gay agenda accounts, reading about the pressure by activists to stop calling homosexuality a mental illness, and the obligatory sex talk of fisting, rimming and golden showers. Paris reads a lot in his public presentations.
Several people affirming to LGBT issues were nearby: Emily, Cheri, Mark, Ian and Josh. As the answers became more offensive, the rustling got noticeable. Interspersed in the "amens" were, "oh come on", "that's enough" and loud sighs of frustration.
We had been encouraged to submit questions by email or text. Clearly they were avoiding floor questions, and me. At ten minutes to the scheduled end, I was looking for a possible opening to make a statement and ask my question. I asked Cheri, a friend in front of me for help. Knowing I would be avoided, Cheri raised her hand and asked if they were going to take questions directly from the audience.
Pastor Bond hesitated, looked at the next question on the screen and looked back at Cheri starting to say, "Maybe . . ." I saw this as my only opportunity to speak and stood up, moved out into the aisle and said:
"I have a two minute statement and I would appreciate if I could say it. My name is Kathy Baldock and I am the Executive Director of an organization called Canyon. . .", and that was it.
Several men, wires in ears, came towards me.
"You were all ready to take me out of here, you see this, because I have an opposing view. "
Two men, one on either side of me  told me it was time for me to leave. They grabbed my arms. One was behind me, doing the same.
I pulled away and said, "You see. Don't touch me. Do not touch me. I would suggest you go to Canyonwalker Connections. Do not touch me. Do not touch me. Do not touch me. Do not touch me."  And of course they did and they were. I slowed them down, told them I would leave and wanted to get my belongings.
But, as I gathered my book, bag and coat, I kept talking.
"You parents with gay youth, if you follow the teachings of Ken Paris, you might as well stop on the way home and get them a bottle of whiskey and a hypodermic needle because that is what you are doing to them with your rejection. Visit Canyonwalker Connections. See what I wrote about Paris. Visit CanyonwalkerConnections.com"
At the same time, one man stepped between me and Mark Worsnop who was filming with his phone. Someone, it may have been the same man who blocked the filming, came behind Mark and put his knees into the back of Mark's knees to collapse him over the chair. He too was escorted out. When you hear: "It's called assault," it is Mark speaking. He then told the guy, "Don't do that again; I have fake knees."
He too was dragged into the lobby.
I was told to leave immediately, but stopped at the "Welcome Desk", (now how funny is that?) to place my things in my bag and put my coat on. I was told to never come back or I would be arrested for trespassing. I just kept talking to the evictors.
"I would like you to ask your pastor how he feels about bringing in a speaker like Paris when his own child is gay? How is it that he reconciles these teachings?" I also told him I intended to ensure that my post on Paris would get around online and that I would do what I could to stop his destructive message. They were non plussed.
I walked out, followed by three gentlemen instructing me to get in my car and leave the property or they would arrest me.
"Well, sorry, I can't do that. I came with other people and they are still inside. If that is okay with you, I will just go over by the car and wait. I am not going back in."
A young lesbian I had met on Wednesday ran between me and the men. She turned to them, "Would you please just back off so I can get some privacy here?"
She was furious, fighting back tears and she spoke to me. We had talked a bit on Wednesday. He father works at Summit.
Then Mark was escorted outside the building. The gents asked, "How do you know a woman like that? You should not be hanging around people like that. If you do not take her off the property right now, we will take her off the property."
They told Mark they could do it and would do it because they were plain clothes policemen.
We left.
And inside they prayed for me to see God's truth and to be convicted of my deception.
And the poor persecuted "truth teller", Kent Paris, now has another story of being hounded by "gay activists"; he seems to collects these stories.
My first piece of mail when I got home was from a young lesbian, not the one that walked out of the church to talk to me.
It read:
Hi Kathy ,
I attended the service at summit christian church this morning . I am a XXXX year old Lesbian my name is XXXXX . All I want is acceptance from my family but they all turn to the bible and say being gay is a "sin"… Do you think you could help me?
Of course, honey.
You and the other LGBT kids at Summit Christian Church that will find this online.  Your church home, sadly, is not a sanctuary for you.
To the Member Summit Christian Church who have written to me saying "it wasn't that bad" or a variation of that:  
If you went to  a Saturday night or Sunday service, Mr. Paris was only able to read his testimony and spend a few more minutes on I Corinthians along with a few other items depicting the LGBT community as menacing. 
If you had gone to the Youth Night or the Q & A, you would have heard the information to which this post is a reaction. Please DO read that information here. If you are still comfortable after reading it all, then we are at wildly opposite ends of the spectrum of what should be spoken from pulpits, what "truth" is and  how to treat others. 
A difference in theology is understandable; intentionally demonizing a group, misrepresenting historical events and misleading listeners about issues of integrity should not be sourced in a pulpit.
Then, I would point you to a story I wrote about Matthew Vines and a video  he did, available on Youtube. The conversation of sexual orientation and faith is a serious one and requires productive conversation, not one that is so horribly slanted to target and misrepresent gay people.
I do not think the leadership of your church adequately researched Paris or understood the organization, Restored Hope Network, to which he belongs. I have spent approximately 25 hours listening to Paris' audio, watching video, reading interviews, investigating a court case, attending four sessions of his at Summit and writing the report. I also attended a two day conference for Restored Hope Network   in September 2012 and spent almost forty hours researching and writing a four part series about the network to which Paris belongs. My words are not frivolous and baseless. 
My heart was BREAKING  for gay youth subjected to Paris's damaging untruths. My statement was for them and their protection.  And several of your children, young adults and families that have left Summit over this issue, have contacted me. You may not see it, but the damage to precious people by flawed teaching is endemic. 
I hope these post stand as a resource to Pastors who are considering inviting Paris to their churches in hopes that he can help them navigate this difficult issue.
PLEASE invest ten minutes in the post that looks at the claims made by Kent Paris
Personal note to Mr. Paris: 
I am not a gay activist "out to get you and persecute you." If there is any opposition to your message, you label it "persecution" fueling your message of fear.  Maybe you are doing harm and people are reacting, just maybe?
I am a heterosexual, born again, Spirit-filled, Jesus-following Christian woman called to serve God and His people by repairing the chasm in the church that you and others have created. With twisted psychology and the mishandling of the Holy Word of God, you have driven away LGBT people who desire a relationship with God.
Next year, the Gay Christian Network Conference is in your neighborhood in early January.  It is the number one source to which I send young gay Christians. Being in community there SAVES LIVES and leads people to wholeness again.  And you mock them. 
Saul, come see those you are persecuting. Come meet your fellow brothers and sisters in Christ.
Comments
comments