Canyonwalker Connections and str8apology will be handing out "swag" at Gay Pride Events (Bozeman, San Francisco, Colorado Springs, San Jose, Pride Charlotte and others)  this summer. The pins will have a QR code on the back directing recipients to this website with the resources most requested:
Where can I find a church that will welcome me?
Can you help me reconcile my sexual orientation and faith?
Is there any help in finding support in my spiritual growth with people online that are also gay/trans and Christian?
Perhaps as a church, ministry or individual you would consider sponsoring some of those give-aways to help people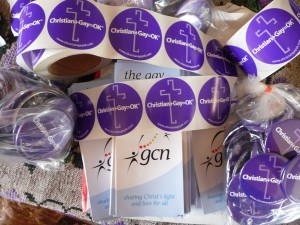 both boldly declare their position in Jesus Christ and help direct people to answers and help? For Pride Charlotte, I need 2K buttons and 2K stickers.
Sponsor "Christian+Gay=OK"® stickers (500/1000)
(The ordering deadline for buttons has now passed for Pride Charlotte. You can sponsor stickers though!!! Deadline is August 20th.)

Sponsor "Christian+Gay=OK"® buttons (500/1000)
And, for my gay, lesbian, bisexual or transgender Christian friends, consider joining str8apology at Pride Charlotte to help declare the love of Jesus and apologize for the harm caused by  the misuse of the Christian faith.
(All tee shirts will be brought along to the event. I cannot ensure delivery on time, so I will carry them to Charlotte.)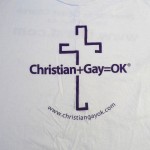 Order your "Christian+Gay=OK"® shirts here. (M-XL $12 inc. Postage & $14 inc. postage 2XL and 3XL)
Add'l Postage to Canada/Australia:
Would you stand at your local gay pride event with a str8apology.
(MEDIUM temporarily SOLD OUT until next spring.)
Consider contributing to the work of Canyonwalker Connections. Donation button below and on the sidebar. THANK YOU. Every donation will receive 4 buttons, and stickers as a thank you, along with one of my sweet thank you notes!
If you would like to get pins and stickers for use in your ministry work, you may contact Freedom in Christ Evangelical Church(FIC) in San Francisco directly. "Christian+Gay=OK" ® is their design and registered trademark. Canyonwalker Connections has a special arrangement with Pastor Maria Caruana for using this trademark. FIC has been like a second church home to Kathy. From the very onset of my understanding of the gay Christians issues, it was this body of believers that mentored Kathy and invited her to many events so that she would learn about the gay Christian community in personal relationships. I LOVE these people!