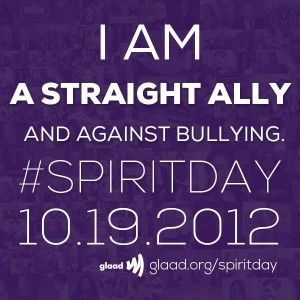 Canyonwalker Connections is joining with GLAAD in support of Spirit Day on October 19th.  To symbolize solidarity with LGBT youth in a plea to raise awareness of the bullying that goes on in the lives of LGBT youth, people are asked to wear purple.
Anti-bullying measures begins in our own heads, hearts, mouths and typing hands. The moment I cease to see the value and image of God in another, what I perceive as the right way to be, to live, to act, to worship become the scale by which I evaluate them.  It is in living my life in a manner that seeks to know and understand the other, that I can see the beauty in others rather than the threat to me.
I am a mother of two heterosexual children. As they were growing up, I talked with them constantly about good character traits.  I can still remember vividly shopping in Target when they were toddlers, maybe 3 and 4. I talked to them at young ages about considering others rather than judging them. That week I had been trying to impress upon them that other people have their own stories as to who they are or how they appear.
Andrew had commented earlier in the week about "how fat" someone was. I incorporated that dismissive comment into some reading and teaching at home the next day.
We were at the check out stand at Target and the woman ringing us up was quite obese. Andrew, understanding at some level what I was saying, asked her "Did someone hurt you? Are you hurting? Is that why you are fat?" I could have crawled under the shopping cart. But, what I was seeing was my little son processing out loud (unfortunately) what I had taught him. People have stories that make them different and we need to honor those stories.
My children are adults now, Samantha is 25 and Andrew is 26. They are respectful adults; they understand diversity; they comprehend differences. It began with modeling that to them at home.
As parents, we have the ability to teach our children well or badly. What comes out of their mouth towards others probably found root in our homes. The best way to teach our children not to bully other children is to be role models of kindness ourselves. And, that takes work. It is easy for each of us to mistreat or undervalue those that we do not understand.
I am a Christian advocate for the gay, lesbian, bisexual and transgender community. Many of those in my tribe of straight Evangelical Christians do not have close relationships with LGBT people and the stereotypes they believe about them are inaccurate. Those beliefs will unconsciously be shared across dining room tables, while watching TV or out at events.
When you mock; your children hear. They will model the good and bad that you do. And, you may be saying all that negative language in front on your own child who may well come out as gay one  day.
Police your own tongues and actions. The end of bullying really does begin with you.
This the the video I made LAST year for Spirit Day with Sami, who is now in Albany, NY getting her Master Degree to work professionally in some area of equality. Go Sam, create change!
Comments
comments