This week the Supreme Court of the United States will hear arguments in two important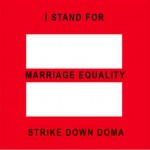 cases concerning Marriage Equality for gay, lesbian, bisexual and transgender Americans — Prop 8 and DOMA.

It's been interesting  watching my Facebook walls turn to red with support for marriage equality. Hundreds of friends, acquaintances and supporters have changed their profile pictures and covers to red signifying support. They uphold the civil right of marriage for gay, lesbian, bisexual and transgender Americans. Incredibly, there are conservative family groups marching on D.C. right now to "protect" marriage. Good and kind people have been told lies about LGBT people and they are marching to "protect" their families and marriage from other Americans who want to share in the same rights and protections that they already enjoy.
One document from Family Research Council (FRC) is the standard toxin served to "marriage protectors"; it is entitled "The Top Ten Harms of Same Sex Marriage". Here are a few of the listed "harms":
Fewer people will marry.  My Facebook page is bleeding red yet FRC says there will be fewer marriages? Okay, here is their "logic".  They compare the percentage of same-sex couples in California that sought licenses in the five months that marriage was legal in 2008 to the percentage of heterosexual couples in California living together that are married. It is reported that in the five months of licensing 18,000 couples were married, or 20% of the same-sex couples who were living together. FRC then compared that number to the opposite sex couples who were living together and married. They say 91% of all heterosexual couples living together were married as compared to only 20% of same-sex couple who got licenses in the five months.
So, FRC informs us that while only 9% of heterosexual couples "reject" marriage, a whooping 80% of same-sex couples "reject" it. (Because they did not get married in the five months.)
Thus creating this "great concern" for fewer marriages overall from the "poor example" set by gays:

Couples who could marry, but choose instead to co- habit without the benefit of marriage, harm the institution of marriage by setting an example for other couples, making non-marital cohabitation seem more acceptable as well. If same-sex "marriage" were legalized, the evidence suggests that the percentage of homosexual couples who would choose cohabitation over "marriage" would be much larger than the current percentage of heterosexual couples who choose cohabitation over marriage. It is likely that the poor example set by homosexual couples would, over time, lead to lower marriage rates among heterosexuals as well.

Fewer people would remain monogamous and sexually faithful.  FRC uses the "results" dubbed "The Dutch Marriage Study" to tell us how horribly unfaithful gay people are. The study they use was actually an AIDS transmission research project intended to trace how the virus was transmitted. All of the participants had to be: under 30, not in a monogamous relationship, in Amsterdam, and already participating in high risk sexual behavior. One part of the title is accurate however; it did take place in the Netherlands, but the research was complete five years before same-sex marriage was legal in that country.
FRC then warns us all: "Rather than marriage changing the behavior of homosexuals to match the relative fidelity of heterosexuals, it seems likely that the opposite would occur. . . the value of sexual fidelity as an expected behavior for married people will further erode — even among heterosexuals."
Fewer people would remain married for a lifetime.  FRC "brilliantly" uses the "Dutch Marriage Study" and compares the longevity of same-sex relationship without the benefits and protections of marriage to heterosexual couple in and protected by marriage. And how then will the gays undermine the fidelity of all couples? FRC says:

How would this affect heterosexual couples? If the unstable nature of homosexual partnerships becomes part of the ideal of marriage that is being held up to society, it will inevitably affect the future behavior of everyone in society—heterosexuals included. Therefore, we can predict the following:

If homosexual "marriage" is legalized, the percent- age of homosexual couples that remain together for a lifetime will always be lower than the percentage of heterosexual couples that do so; but the percentage of heterosexual couples demonstrating lifelong com- mitment will also decline, to the harm of society as a whole.

This nonsense was compiled and written by Peter Sprigg, the Senior Fellow for Policy Studies at FRC. Pastor, MDiv., cum laude graduate of a seminary, twelve years at his job of Policy Studies and this is what he asserts as truth.

My Facebook and Twitter accounts are lighting up red with the excitement and hope of Marriage Equality and the Family Research Council et al are pushing the group-think that: married same-sex couples will cause fewer people to marry, make those couples that do marry less faithful and end their marriages sooner.

Today, Tuesday, March 26th there will be a March for Marriage in Washington, D.C. to "protect" marriage from gay, lesbian and transgender people. (Sponsors listed below.) Men are asked to wear blue, women should wear red and children will dress in white — because, as we all know,  discrimination and injustice are patriotic. It has reached the point of absurdity to rally mass groups and spend millions to oppress other citizens. Marriage is not only a civil right (Loving v. Virginia and Zablocki v. Redhail), but "reasoning" like the above is listed as the "threat".

Of course, people are responsible for their own choices and decisions, but look at the trash they are being fed! And so, they march to "protect" what they will not lose. Their only "loss" will be the "right" to discriminate.

The time has come for truth to be presented in the Supreme Court. The opponents of marriage equality will need to bring civil, social and medical witness proving that extending the civil right of marriage will bring damage to the whole. Evidence, research and constitutional law will dictate the outcome. Enough of  the silly statements like the above from FRC.

FRC and their ilk fear fewer marriages and lifetime commitments, and less fidelity when all American adults can marry the one they love?  Madness. A child can see through these arguments. Just say it Peter Sprigg — "I do not like gay, lesbian, bisexual and transgender Americans and do not think they deserve equal right and protection for themselves or their families." I wonder  if he were honest and these family groups (see below) all stopped deceiving and filling the heads of good and kind people with lies — would there even be a March for Marriage today? Forgive them LORD, they know not what they do.

Justice will prevail. So, please, send me your wedding invitations; I will be reveling with you!

NOTE: These groups are actively discriminating against the civil rights of LGBT Americans. The sponsors of the Marriage March on March 26th are: Focus on the Family, Citizen Link, National Organization for Marriage, Concerned Women for America, Delaware Family Council, Coalition of African -American Pastors, Christian Union, Catholics Called to Witness,  C-Fam, Archdiocese of Philadelphia, Citizens for Community Values, Family Policy Institute, Indiana Family Institute, Institute on Religion and Democracy, Manhattan Declaration, Latino Partnership for Conservative Principles, Maryland Marriage Alliance,  Marriage Unique for a Reason, Massachusetts Family Institute, Mauck & Baker, LLC, Missouri Family Policy Council, North Carolina Family Policy Council, Pennsylvania Catholic Conference, Pennsylvania Family Council, RedState, The Ruth Institute, Thomas More Society, Wisconsin Family Action, World Congress of Families, Tradition Family Property, The Family Leader, New York  Hispanic Clergy Organization,American Principles Project, NC Values Coalition, Family Institute of Connecticut, Catholic Vote and ACT RIGHT.
Comments
comments