I am disappointed. I thought World Vision was going to break loose from the pack and lead other para-church organizations in doing the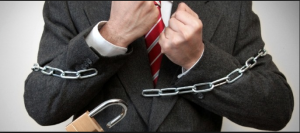 right thing by honoring the legal marriages of their same sex employees. I knew it would be a tough slog to free themselves from modern traditional biases created over the last 60 years. Conservative religion has embraced an anti-gay ideology that has poisoned theology, and destroyed lives and families. I was so encouraged when World Vision's Richard Stearns and the Board voted overwhelmingly to do the right thing.
Then, Tradition roared. "Give us back our right to discriminate!"
There is nothing written in the Bible dealing with exclusively same-sex attracted Christians. Absolutely nothing.
When two people of the same sex enter into a covenantal relationship, or a legal marriage, it it completely equal to a heterosexual couple in status, responsibility and obligations before God. Two people of the same sex mostly certainly can reflect selfless, unconditional love to one another that is the earthly reflection of Christ's love for His church.
We are mired in theological, ugly, self-righteous messes on the issue.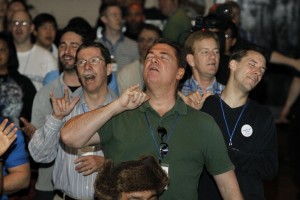 I suggest we get back to some basics, and do what Christians do so well — potlucks and Bible studies. Let us join together in the heritage of the faith and gather for meals with those we may not agree with — to talk. You bring the string bean casserole (belch!); I'll bring a salad. We can talk about families and hobbies. We can sit with our Bibles and electronic concordances. Together, we'll look up words and discuss what they may or may not have meant 2000 years ago and 3400 years ago.
I'll bring along some gay and trans* Christian friends and we can talk, and find commonality. Please stop saying gay and trans* Christians do not exist. That train left the station. There is a beautiful rising witness of Jesus Christ from them. You just have not met them, yet.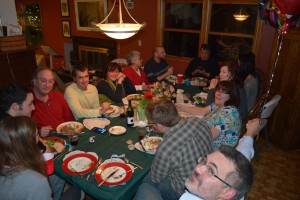 My friend Mark is excellent at hospitality. He is a gay man in a mixed orientation marriage. When he came out (and remained with his wife), he was thrown out of one church, and rejected by two others. He and his wife have hosted bimonthly gatherings where diverse people come together to share lives, laughs, stories, doubts, differences and dinner. We are a group of gay, trans*, straight, gay pastor, pastor from a non-affirming church, single, same-sex married, traditionally married, kids, no kids, from 20 years old to 60. Every one of us has grown in love, respect and understanding.
This is the model. Humility, hospitality and a search for truth.
Together, we might discover that translating words from:
an ancient language
into modern concepts
and attempting to adapt cultural prohibitions and the core message of those passages
into a today's diverse culture
using modern words
never imagined by the humans that wrote what they heard God say
has for too long marginalized a segment of our community.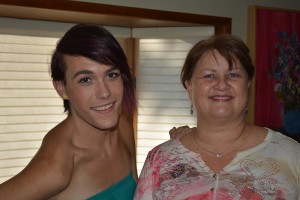 Did you know that the word "homosexual" was first placed in Bibles as recently as 1958? Have you ever questioned that? The shift began in the late 1940s when society, government and science were hard on a track filled with paranoia and misinformation about homosexual people. The society ghettoized an entire segment of itself. We talked about them, not with them. We made them hide. We feared them.
People who have translated Bibles lived in that society. They brought fear and lack of information to their work in Bible translations.
malakoi — "boy prostitute" became "the corrupt" became "sex pervert" became "homosexual. Probably the best best meaning is: those with loose morals.
arsenokoitai — "those who abuse themselves with men" became "those given to unnatural vices" became "the pervert" became "homosexuals." – Probably the best best meaning is: men who have lustful or exploitive sex with other males.
Both words are used in condition of sexual excess/lust — not committed, loving relationships.
This is the kind of thing we can investigate as we sit together, doing relationship.

Fighting the issue out on Facebook walls and boycotts is bringing disgrace to the beautiful name of Jesus and the sacredness of the Word.  World Vision reversed their stance of honoring employee's same-sex legal marriage so that they could "be consistent with" their "traditional understanding of Biblical marriage."
The time is overdue to step away from ideology and return to theology. Ideology caused World Vision to reverse its decision. Ideology and pressure from people and groups that likewise have created a flawed theology inconsistent with the core values of the Gospel. If  your theology is destructive and damaging, it is not the Gospel. It is then time to separate ideology from theology.
I am wearing out from battles involving chicken sandwiches, ducky camo and hungry children.
Let us join together to find the truth that best reflects the love of God.
"See to it that no one takes you captive by philosophy and empty deceit, according to human tradition, according to elemental spirits of the world, and not according to Christ." Col. 2:8

**************************************

I invite you to listen to this inspiring message. Humility, relationship and hospitality led to a better understanding of the lavish love of God in the PCUSA. Rev. Scott Anderson was the first gay minister ordained in the PCUSA. The "how" of  the journey is a model for congregations struggling to honor Christ, the Bible and fellow Christians. This message was given the opening night of The Reformation Project Conference. I am honored to serve on the board of this organization with Matthew Vines.
Other resources for considerate dialogue: my book, "Walking the Bridgeless Canyon – Repairing the Breach between the Conservative Church and the LGBT Christian Community" will be out in May. Matthew Vines' book "God and the Gay Christian" releases on April 22nd. There are people and tools ready to engage in thoughtful, respectful and productive conversations about sexual orientation, gender identity and faith. Justin Lee's "Torn" is another excellent resources.
Comments
comments