I am often asked for resources and information about sexual orientation and gender identity as they intersect with faith. Please check on my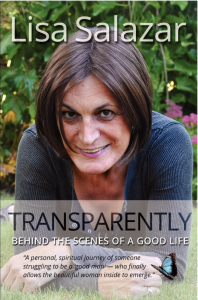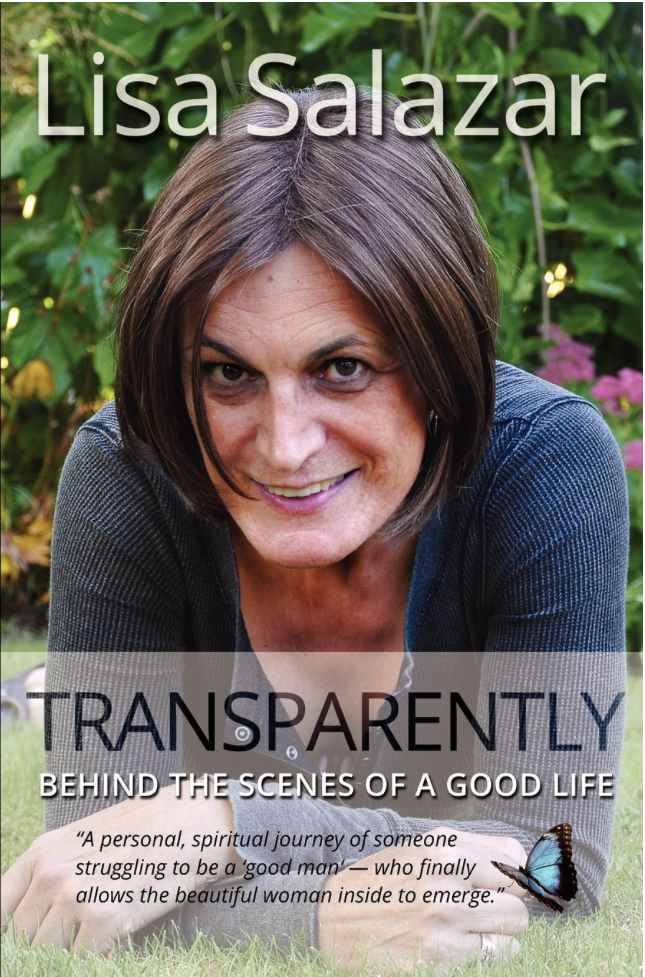 blog link for a full list of  book resources and video resources. The book I most recommend most often for transgender Christians, or those who want to learn more about this subject is Lisa Salazar's Transparency.
When I set up the Board for my 501c3, I intentionally asked a transwoman, Lisa Salazar to join me. Lisa was born as Santiago (Jim) in Colombia, grew up in California and now lives in Vancouver, British Columbia. Ever since Lisa could remember, there was a disconnect with her body, she recalls:
"From my earliest memory, I felt something was amiss. I did not like to see my private parts and avoided looking down when I was naked. I distinctly remember sitting in the bathtub in three inches of water and carefully laying a washcloth over my genitals to hide them from my eyes as I played with my bath toys. I surmise I could not have been more than three years old at the time."
"This feeling that something was not right was not based on me having seen a girl's body and deciding I had extra parts. I was probably ten years old before I ever saw an image in a textbook of what a girl's body looked like. By the time I understood what some of the anatomical differences were, I was already estranged from my body. So where did this disconnection come from and what did it mean?"
"The few times I tried getting answers, I failed at asking the questions. I didn't have the language for it. These unutterable and therefore unanswered questions piled up inside and my conclusion and resulting tactic was to keep my mouth shut."
"Sex education in high school provided new information, but by then I was already resigned to the fact I was different somehow. My childhood prayers to wake up as a girl had been abandoned by then, and new fears began to take root. I feared most of all that someone might find out how messed up I felt inside. I was careful not to say anything or ask any questions that could betray my secret struggle. I even worried when I had sleepovers with friends that I might talk in my sleep and say something explosive and my life would be over."
"Adding to the confusion, I was not attracted to boys. Logic said that if I was a girl, I should be attracted to boys. So if I was not attracted to boys, then I must not be a girl, and if I was not a girl and I didn't feel like a boy, then what was I?"
When Jim was a junior at San Jose State, he became a Christian. He shared a house with other young men, and one was a bone-fide "Bible thumper." Jim wanted to experience the inner peace his housemate talked about. He experienced a rebirth, believing his internal struggle of feeling like a woman would finally come to an end. Despite the best efforts, those feelings never went away; instead he spiritualized the gender struggle thinking it was an attack from satan, and used the "thorn in the flesh" to constantly draw closer to God.
When Jim fell in love with a young woman he met at a Bible study and she with him, this seemed like his prayers to be made normal were being answered. To further commit to the process of change, Jim married her and devoted himself to her. Five years into the marriage, and now as a father of two, Jim concluded his burden had not gone away because he did not share the secret with his wife; so he did. For the next eight years, they together committed themselves to raising their sons while seeking God in earnest for healing.
At the age of 40, Jim had his first appointment with a psychiatrist; it was the early 1990s and transgender was a word coming into more common usage and understanding. The doctor recommended to Jim that he go to the newly opened Gender Clinic at Vancouver General Hospital. But as a Christian, he had come to believe that God only created male and female. He chose to carry the burden for nine more years, constantly thinking about death to end the internal pain. Thinking maybe nine additional years of gender research had led to a cure, Jim decided to return to the Gender Clinic. Following a six-month evaluation, it was recommended that Jim undergo a regimen of hormones, genital reassignment surgery and live as a woman. Afraid of the cost and what it might do to his family, Jim again walked away.
Eight more years passed, the internal pain was intense. Jim was faced with a decision: transition or suicide. The psychiatrist at the clinic is credited with keeping Jim sober of mind. Jim thought it would be easier to die than to transition. The psychiatrist assured Jim given the choice, people would rather him alive as a woman than dead as a man. Again, Jim took time to reconcile his faith within the process of transition.
In 2007, Jim began to disclose to family and friends about the changes to come, not knowing when he would begin to live full time as Lisa. By March 2010, Lisa had completed her surgical transition. His wife waited one more year before asking for a divorce. For her, the marriage was over; she wanted a husband. Had they stayed together, the thought that people would see them as a lesbian couple was also a deal-breaker. Lisa, who identifies as a lesbian, would have preferred to stay married.
Lisa Salazar is one of my dearest friends. She lives her life in Christian integrity. She is currently in a chaplaincy program in Vancouver, BC. Tranparently is Lisa's story.
Gift the gift of education to yourself. Most of you know little if anything about the transgender population.  Far fewer will have heard the story from a Christian perspective. Mark you calendar. SUNDAY, MARCH 30th. 
***************************
Below are excellent resources to further your education about transgender people:
TKPR is committed to the premise that Gender Identity Disorder is something a child can't control and it is society that needs to change, not them. Families need to support their children and be encouraged to allow them to grow-up free of gender roles.
The Trans Youth Equality Foundation provides education, advocacy and support for transgender and 
gender non-conforming children and youth and their families.
From the National Gay Lesbian Task Force — a new transgender education resource for churches from the Institute for Welcoming Resources.
The Safe Zone Project Our goal is simple: we want to make your Safe Zone workshops (and all your LGBTQ educational opportunities) more effective, more fun, more dynamic, and more impactful than ever before. We're here to take a little off your plate by providing you with a curriculum, a suite of educational activities to pick and choose from, and tips to help you and your team become all-stars.Safe Zone Workshops are unique educational opportunities, and we are all about making the most of those opportunities. Sometimes you only get one chance. Let us help you raise the bar.
Gender Spectrum — Frequently Asked Questions (a resource for parents)
Raising children who don't fit neatly into male or female boxes brings a wealth of questions and uncertainties.  Here you will find information and support to assist you in your search for answers.
The National Center for Transgender Equality is a U.S. social justice organization devoted to ending discrimination and violence against transgender people through education and advocacy on national issues of importance to transgender people. By empowering transgender people and our allies to educate and influence policymakers and others, NCTE facilitates a strong and clear voice for transgender equality in our nation's capital and around the country.
TransFamily Of Cleveland was formed by Karen and Bob Gross as a result of their efforts to find a support system to help them deal with their own child's transition.
Comments
comments