Yes, it was quite a day for me.
I donned my turnout coat, pants, boots, helmet, hood, self-contained breathing apparatus (SCBA), gloves and goggles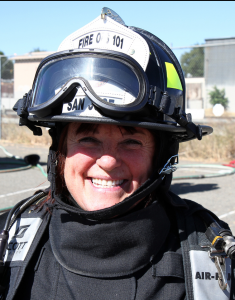 and went to work putting out two fires, rescuing a person with an obstructed airway, another person from a wrecked car and then ended the day by rescuing a victim from a smoke-filled basement.
Impressed?
For me it was all staged, safe and guided. But, this is the work that real firefighters are faced with daily.
Last week, I participated in San Jose Fire Fighters Local 230 Fire Ops 101. The one-day fire fighting and rescue operation was scheduled for local government officials, media personnel and bloggers. I learned about the offer through Netroots Nation, a conference for activists and bloggers held this year in San Jose.
I can't resist interesting experiences and signed up for the unique opportunity. The hands-on event was staged to give participants insight into what professional fire fighters and paramedics do every day and what resources are necessary to protect lives, property and themselves in difficult situations.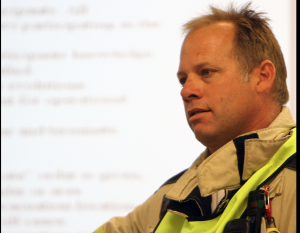 About two dozen of us posers arrived at the San Jose Fire Department training facility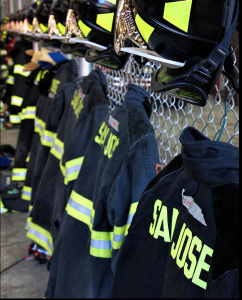 on Montgomery Street before 8:00 am. After a health check of our blood pressure, we dressed in the protective clothing that had been set out for each of us. Velcro, snaps, hooks and latches ensured our bodies were covered and protected. Next came hoods, helmets, gloves, goggles, breathing mask, and boots.
Remember when your Mom bundled you from the cold as a kid and covered you with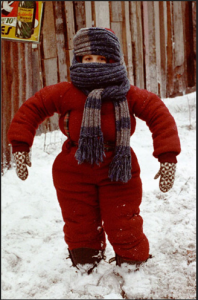 multiple layers, scarves, a hat and gloves until you could not move efficiently? That is what all that gear felt like to this novice. I thought, if I kneel down, I am not coming back up and I did not even have an air tank on my back yet.
What had I gotten myself into?
I think I was the oldest woman by a mere 30 years. Even though I hike daily and I am strong, I knew this day would challenge me.
Following a briefing of the safety rules and the days' events, my group, Engine No.1, was led to the waiting fire truck by our "Wrangler" Capt. Steve Biakanja. A 30-year veteran fire fighter, Steve guided our group of five through the five exercises or evolutions as they are called.
Engine No.1 company headed out to the fire truck. Steve barely got the words "Who wants to ride in the front seat?" out of his mouth and I was on my way in the door to the front seat.
If I was going to do this day, I was going to get all of the experience that I could!
The scenarios were as authentic as possible with a dispatcher calling us out to a "house fire." During the instruction phase of how we would tackle this evolution as a company, my foot found the siren and alarm pedals. Oops! That was my last turn in the front seat.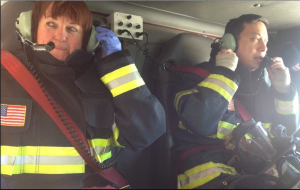 When it was my turn in the fire trailer, I went through with a fire fighter as my hose handler and back up; I was on the nozzle. A fire trailer specifically designed to simulate fire, heat and smoke was set up to trigger three fires: a couch, a stove and a ceiling. I had to drag the water-filled hose in the "house", identify the fire, kneel on the hose with one knee about two feet back from the nozzle and pull back the nozzle lever to kill the fire with water.
Okay, I got the "ceiling" fire out and had to drag that heavy hose in the heat, dark and smoke to the next room to put out the fire on the "couch". The anxiety was exhausting. I repeated the drill and I got down on one knee again and let the nozzle open. Then the "stove" caught fire.
My fire escort, oh my goodness do I now wish I knew this saint's name, was pointing to the fire on the stove after I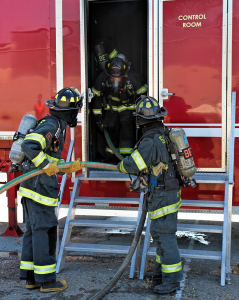 doused the couch fire. With the combination of my own pants filled with sweat from the heat, stuck inside the prison of protective gear couple combined with anxiety and a heavy hose, I could not get off my one knee. From a kneeling position (not where I should have been), I just turned the hose onto the "stove" fire above me.
In doing so, I shot the full force of the hose across my fire saint's legs and crotch and was terribly aghast at my error. Now, I definitely could not get up! Through my SCBA, in the smoke and heat, with the fire shooting up from the "stove" I just kept saying "I am soooo sorry".
I grabbed at this dear man's arm to help me up and while still apologizing, put the fire out.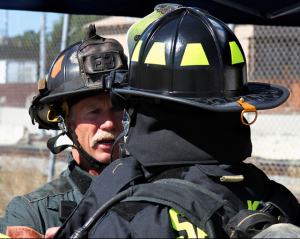 Once outside, the fire saint was so gracious. I was ready to get the helmet, hood and tank off and he was probably ready to cry in a corner.
The next evolution was a paramedics drill. The Engine No. 1 group loaded into a paramedic truck and waiting for the dispatcher's call. Off we rushed to the site of a "fallen man" with no heart beat. As a team of four, we hooked him up to a shock machine and monitors, did CPR and trached his airway. Once stabilized, we piled into an ambulance with the "victim" on a gurney and continued all the tasks we had each been assigned.
We saved him. Whew.
One house fire doused. One fire saint pummeled with a water cannon and one man's life saved.
It was still not time for one of those famous fire house meals.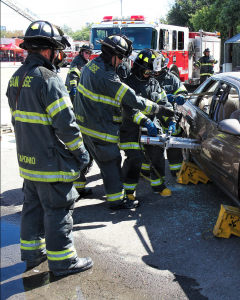 Next call from the dispatcher was a car crash with a victim to rescue. Back to the firetruck we went and got our masks and tanks ready for the next evolution. By then, that SCBA was getting heavy to lift off the ground, lug around and put on.
Once on, you can't just stand still with a SCBA on your back. You need to move it at least every 30 seconds or an alarm goes off. If a fire fighter goes down in an emergency, the beeping leads to the the location of that fire fighter.
We were off again to an area of the training facility with cars that had been in simulated crashes. Lights and siren going (that I did not trigger). The crash "victim" was trapped inside a car.
This exercise interested me quite a bit.
In college, I was cut out of a car surrounded by fallen power lines  by a rescue team using the "jaws of life". I do not recall much of the episode. My dog was in the car with me, he saw another dog on the road and jumped across my vision and lap. I lost control of the car and drove directly onto a construction site. I took down a power line. A metal stake from the site went through the engine block stopping just short of my chest.
The next chain of events was told to me by a nurse who saw the whole thing happen. She rescued my dog, kept him for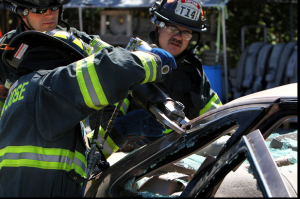 the night and came to visit me in the hospital.
When the car crashed, I saw the power lines, popped up, locked the doors  and started banging my head on the steering wheel (what?!). The fire fighters and construction workers were cautious about the power lines and had to cut me out of the car.
I don't remember any of that. And I never saw the car. My boyfriend at the time did. He went to get my belongings out of the car and cried when he saw how badly the car was mangled. I became a walking miracle.
So, as we did the jaws of life and spreader rescue "evolution", I paid close attention. I got to break a window with the tap of a small pencil-like tool and it shattered. I used the heavy equipment to get access to the "victim". Our team eventually cut the doors open and peeled the top off the car.
Victim #2 saved.
The final evolution was the one that really challenged me. We had to go in a dark, smokey basement, the layout of which we did not know, and find a fallen victim. Again, who ever that fire fighter was that led me — thank you.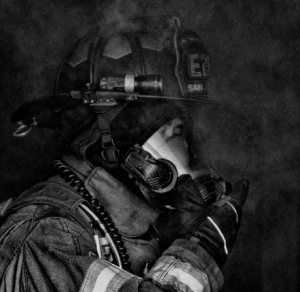 Once through the basement door, I could not see anything. I grabbed fire saint #2 and told him "This one frightens me; don't lose me." He looked at me and said, "I have you. You're mine. Let's go." And he walked backwards through the whole exercise so that I could see a dim green beam on his helmet in the smoky darkness.
We had to navigate down unknown steps, along walls, bypassing furniture while trying to feel for a fallen victim. The level of anxiety I experienced was exhausting. When we found the "victim", I was too tired to help carry him out safely. I wanted to drag the fallen "person" by the legs. Not exactly life-giving.
Fire saint  #2 took the bulk of the weight of the man and rescued him. I dragged the leg out. He once again led me out walking backwards so that I could see his dim light. He had to "save" both me and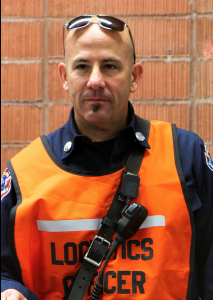 Mr. Unconscious.
The final challenge and opportunity of Fire Ops 101 was offered to us as an extra. We could climb an aerial ladder to the roof of a three story building.
I thought, "no problem"– if I were in my hiking boots and street clothes, but of course, that was not the option offered. Full gear: protective clothing, helmet, goggles and gloves.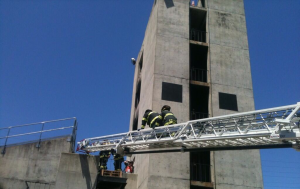 We each had to have a fire fighter behind us going up the ladder. Mine cautioned me "Do not look down, just look at the ladder, not the ground." Once I got to the top, I was guided to stepping on and then over the roof. Three people protected me from losing footing and touching down on the ground. Even that was intimidating and I had three helpers.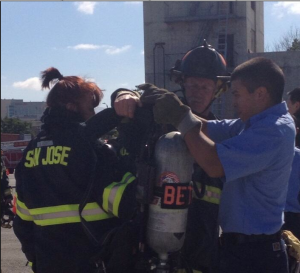 Throughout the day, as people helped me with my hood, my jacket buckles, and my SCBA, I mused to Wrangler Steve that each fire fighter should have a valet. But, I guess funding does not allow that.
Done.
Two fires extinguished, three victims saved and a roof top ascended. It was time for lunch and a aerial rescue demonstration by the Urban Area Search & Rescue (UASR) team. If you get stuck hanging off a building, USAR has that covered.
I was thrilled to get rid of the SCBA off my back along with the bulky clothing. The Fire Ops participants were all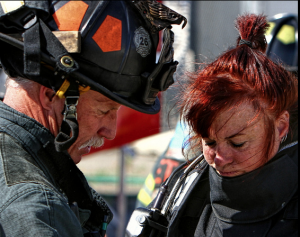 seated at tables as the support staff of the day was introduced and thanked.
This event was so well executed. There must have been two support staff for each participant. The expert trainers for each evolution had guided us through their specialty with excellent instruction and explanation.
Here are some of my more technical take-aways from the day.
There are four fire fighters on each truck. One stays outside the fire and directs, one is in charge of the hose and water and two go inside. One operates the nozzle and the other guides the hose. That is a lot of pressure placed on four people.
House fires are not what they were 30 years ago. Old-school fires (wood, cellulose, cotton, silk and wool) are referred to as "legacy fires". At that time, the top factors that caused death in structure fires were: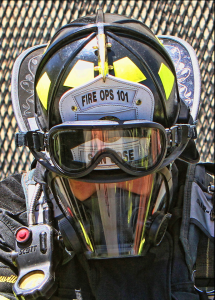 direct flame contact
high temperatures
oxygen deficiency
other toxic gases
smoke
secondary trauma, fractures and falls
Those fires burned at about 500 degrees and the flashover point, when the whole room went up in flames, was at about 30 minutes. Fire fighters had time to get to the scene before the place exploded in flames.
Modern fires do not burn the same way.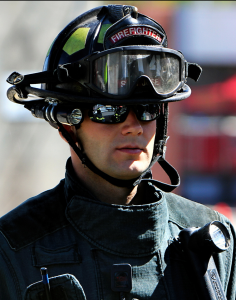 The products in houses and buildings, along with the structures themselves are chemically-ladened. The fumes are called the "breath from hell".
Compounds like these are in the toxic fumes:
acetyls from aerosol cans
acrylics from glues, food packages and skylights
nylons
polyesters
polypropylene in bottles, diapers and furniture
PVC in carpet, clothes
along with carbon monoxide, nitrogen dioxide and chemicals used in the manufacture of computer screens and devices.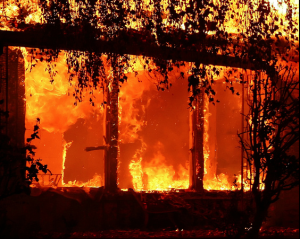 While legacy fires took almost 30 minutes to reach a flashover point of complete destruction, fires today hit that point in about 1/10 the time, at three times the heat and with far more toxic fumes and smoke.
So, when fire fighters arrive at the 3+ minute mark, they are entering a toxin filled fireball that has already reached flashover.
It takes proper staffing to man a fire truck, an engine or a paramedics truck.
To protect lives and property, it takes people with excellent equipment and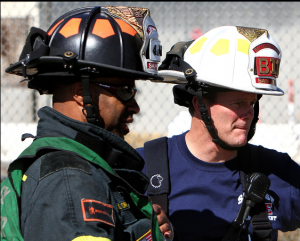 training. With flashovers happening  ten times sooner than 30 years ago, the distance from fire house to fire site must be minimized, and that translates to more fire stations.
The equipment is heavy. The job is tough.
Every fire fighter I encountered at Fire Ops was kind, helpful, safety minded and, okay — unbelievably attractive.  (My gratuitous fire fighter stereotyping, but oh-so-true statement.) It was a great learning event that I am so grateful to have participated in.
Over lunch, I remarked to Wrangler Steve how amazed I was at the details they had covered in ensuring that the day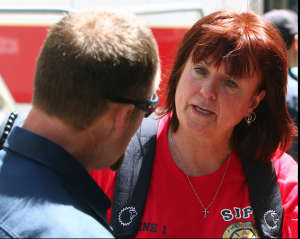 was excellent, educational and safe.  I said to Steve pointing at my helmet, "I mean, look at this. Even the leather fire helmet shield is printed with 'San Jose Fire Ops 101'; that is detail." He said, "Then just wait, we have a gift for you at the end."
As each Engine company got up to be introduced and to pose for pictures with our Wranglers, we were presented with our helmets as a gift. This stunned me. What an amazing memento of the day!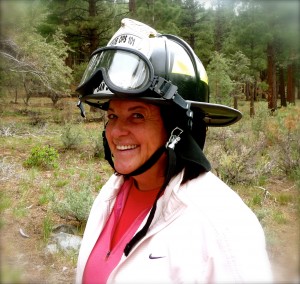 I went to the hosted party that evening in downtown San Jose for the team that put on the event to thank them once again for a fabulous experience.
The tasks I performed at Fire Ops were done in a controlled, protected environments, but I got a feel for the intensity of the job.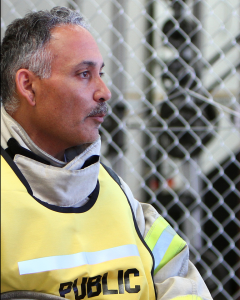 Thank you to Fire Chief William McDonald and to the entire staff of San Jose Fire Ops 101.
When your communities face budget cuts, please think deeply about your first responders. Keeping them appropriately funded ensures your safety, protection of your property and their safety.
It is a freaking hard job. I know. I was fire fighter for a day.
Some photos by IAAF photogs and Craig Allyn Rose Photography. (craigallynrose@gmail.com)
Comments
comments