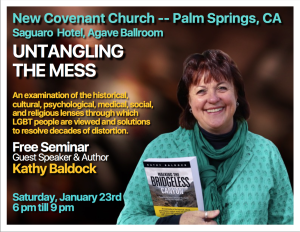 Untangling the Mess: Separating the Truth and Mistruths about What it Means to Be LGBT and Christian is being presented on Saturday, January 23rd by Kathy Baldock at the Saguaro Hotel Ballroom in Desert Springs, CA from 6 pm till 9 pm.
The presentation is an ideal opportunity to understand the intersection of faith and sexual orientation and gender identity. Whether you are in the fully affirming camp, still investigating and seeking to understand the issue, or even one who holds a traditional view of homosexuality and the Bible, you are welcome to attend.
Here is the Facebook event page for RSVP.
Kathy is the author of "Walking the Bridgeless Canyon"(2014), a well-researched and highly accessible history of the cultural and religious discrimination in America. She is the Executive Director of Canyonwalker Connections and serves on the Advisory Board of The Gay Christian Network and the Board of The Reformation Project.
Here's the general outline for the free session:
 1st Hour: Same-sex behavior and homosexuality in  history and in the culture
Early understanding of same-sex behavior
The "discovery" of heterosexuality and homosexuality
How did heterosexuality become the "good" sex?
Historical terms about same-sex attracted people and the link to views on women
How did homosexuality come to be understood as a mental illness?
The beginnings of reparative, or change therapy
Gays in the American culture from the 1940s to the 1960s
2nd Hour:  Religion and Politics
The roots of Fundamentalism
The need to galvanize unregistered blocs of Fundamentalists in the mid-1970s
Conservative voters and gay activists rise in response to actions by Anita Bryant
The AIDS crisis in the 1980s and the response of the American public and Christian church
      Science (briefly)
What is sex?
What is intersex?
Understanding gender
Understanding transgender
The science of sexual orientation
3rd Hour: Same-sex behavior in the Bible
Leviticus 18 and 20
Romans 1
1 Corinthians and 1 Timothy
Deuteronomy 22:5
Civil marriage and biblical marriage
       LGBT Christians and their allies (briefly)
Trying to "fix" gay Christians and the rise of the Exodus-type ministries
Mixed orientation marriage where one spouse is straight and one is gay
The beginnings of the gay Christian movement
QUESTIONS are welcome in each segment and at the end of the presentation.
************************
"Kathy Baldock has achieved something remarkable. By tying together such disparate threads as historical understandings of sexuality, scientific discovery, 20th century political movements, and scriptural translation, she's created a timeline we can look to to better understand where we have come from and where we are now.
At a time of passionate discord over the efficacy of gay relationships and the mainstreaming of marginalized LGBT people both within the church and society, Baldock offers a necessary tonic to our understandings. Regardless of anyone's position on these matters, there is something new to be heard here.
Baldock herself is eloquent, charming and often quite funny. She seems to take herself seriously only in her passion for God, for truth, and setting people free – people who have been held captive for far too long by fear, by misunderstanding, and by just plain bad practice of the Gospel of Jesus Christ." Shane, Sacramento, CA
"Kathy's seminar has changed my whole understanding of the history of the American Church, American politics, and the LGBT community.  Her precise way of cutting through the lies, mistruths, and ignorance of the general population regarding this information is transformative.  I walked away with a better understanding of what society has said about LGBT persons versus what God has said about LGBT persons.  This understanding gave me freedom of faith, an acceptance of my own sexuality, and cultivated healing and wholeness in my life."  – Alisa, San Francisco
"Your seminar was the first time in my life (45 years) that I saw the true interpretation of the historical timeline and the Bible side by side. I realized that I was not an abomination to God as my mother states. Thank you for enlightening my path as I walk with God in my new understanding of His Word." Brian, Sacramento
"Thank you so much for your mission of educating what the Bible truly says about homosexuality and putting it into a historical context. It's hard to come away from your seminar NOT feeling outrage and crying out for justice. What your seminar has taught me was to challenge the long-standing beliefs of the Church (as well as psychology and the common "norms" of society). It has given me more insight and material into potential discussions about homosexuality and the Bible. I have gained tremendously for my journey of reconciling faith and sexuality. And I'm as sure as hell gonna make sure my orange juice can't coming from Florida!" Peter, East Bay CA
"When I first heard you speak at a local conference last year I was touched by the passion and drive that the Lord had put on your heart for this topic. You are filling a hole in the story that has not been told and I'm excited to see where it leads. Thank You for standing up when called." Clifton, KC, MO
Comments
comments