Richard Stearns, President of World Vision, Inc., with a mission of "Building a better world for children," announced today that the organization is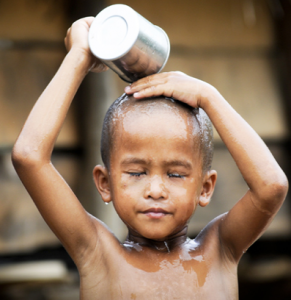 recognizing and extending benefits to legally married gay Christian couples employed in their American branch.
World Vision is a parachurch organization headquartered in Tacoma, Washington.  Upon employment, staff members agree to: a statement of faith, the Apostles' Creed and a trinitarian point of view. Employees represent 50 denominations, some of which sanction same-sex marriages or unions (the United Church of Christ, The Episcopal Church, the Evangelical Lutheran Church in America, and the Presbyterian Church (USA)). Seventeen states now allow legal same-sex marriage, and federal judges have struck down bans in five other states.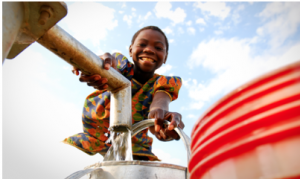 The Board of World Vision has increasingly been faced with the question of what to do about gay Christian employees in legal marriages. Employment policy holds for fidelity inside marriage and abstinence outside marriage. A shift in policy to accommodate married gay employees has been under consideration for several years.
Denominational disunity exists on several issues. Denominations are not in agreement on: divorce, remarriage, women in leadership, baptism and same-sex marriage. World Vision has decided to honor the legal marriages of it's employees rather than focus on an issue that is increasingly divisive in the church. For the sake of unity, they have chosen to defer theological issues to churches and denominations, and focus on their ministry work — uniting Christians to serve the poor and those in need worldwide.
World Vision receives part of its operating budget through federal grants. Of its overall $982 million budget, almost 30%, or $179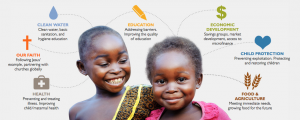 million is derived from grants; $599 million comes through private donors. World Vision operates in over 100 countries serving over 100 million people.
World Vision has not endorsed same-sex marriage; they are honoring the legal marriages of their employees. They are not redefining marriage; they are honoring the legal marriages of their employees. They are not rejecting traditional marriage; they are honoring the legal marriages of their employees. The organization is not lax about its religious tenets; World Vision has gone to federal courts to protect their practice of hiring Christians, and won.
World Vision has as excellent record of keeping contributors in contact with sponsored children. Should people not in agreement with the new employment policy end those relationships and support? Many contributors have had years-long relationships with sponsored children.
Backlash to the decision today started immediately upon the announcement. Michael Brown, Line of Fire,  was the first to respond. He suggested his listeners "prayerfully" consider not sending money to World Vision but rather support other organizations, such as Franklin Graham's Samaritans Purse. This is not an acceptable solution for many Christians. Franklin Graham has become increasingly political over the past 4 years causing many Christians to become distrustful of his ministry work.
Franklin Graham weighed in as well, "I was shocked today to hear of World Vision's decision to hire employees in same-sex marriages. The Bible is clear that marriage is between a man and a woman. My dear friend, Bob Pierce, the founder of World Vision and Samaritan's Purse, would be heartbroken. He was an evangelist who believed in the inspired Word of God. World Vision maintains that their decision is based on unifying the church – which I find offensive – as if supporting sin and sinful behavior can unite the church."
John Piper, calling same-sex marriage "homosexual intercourse," said, "This is a tragic development for the cause of Christ, because it trivializes perdition — and therefore, the cross — and because it sets a trajectory for the demise of true compassion for the poor. This means that, without repentance and change, World Vision will go the way of worldliness and weakness. A great superstructure will remain for a season, but the Christian soul will disappear. And who will suffer most? The poor."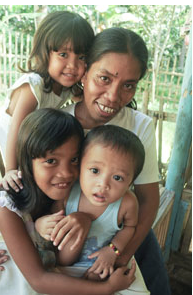 Should World Vision take the "Hobby Lobby tact?" Hobby Lobby's fight for non-compliance with the Affordable Health Care Act is in the Supreme Court right now. Hobby Lobby's net worth is estimated at $5 billion, and is a privately held corporation. Non-compliance could cost them $1.3 million per day, or $26 million to pull employee health insurance all together. The owners of Hobby Lobby can makes those choices. A non-profit with income of $982 million such as World Vision and an operating budget of $971 million cannot, or should not, spend its money in that manner.
I applaud World Vision for honoring the legal marriages of its UCC, Presbyterian USA, ELCA and Episcopal employees married in: California, Massachusetts, Iowa, New Jersey, New Mexico, Connecticut, Delaware, Hawaii, Illinois, Minnesota, New Hampshire, New York, Rhode Island, Vermont, Maine, Maryland, Washington ( the headquarters of World Vision), and DC.  Five other states, Utah, Texas, Oklahoma, Virginia and Michigan, have struck down same-sex marriage bans. As Stearns said, he was not lobbied or pressured by gay employees; the Board of World Vision decided to do what was right for its married employees.
We need to engage the conversation about same-sex marriage in productive and respectful ways in the churches. Pulling support from parachurch organizations, such as World Vision who have chosen to honor the legal marriages of their employees, is detrimental to the mission of serving 100 million people worldwide. The Gospel is undeniably clear about the treatment of the poor, need, and hungry. It is far less clear about sexual orientation and faith issues.
May the people of God focus on and continue to do the what is right by doing the work of the Gospel in "spending yourselves in behalf of the hungry and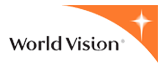 satisfy the needs of the oppressed." Isaiah 58:10.
***********
Thank Richard Stearns :  @richstearns  @WorldVision   Info@worldvision.org    https://www.facebook.com/worldvision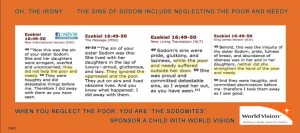 Comments
comments