Picture the scene, Jesus Christ, aka "Faithful and True" , standing in His white robe, upon His head are many crowns and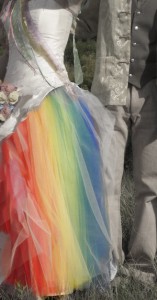 behind Him is a white horse. The stuff of fairy tales and romance stories.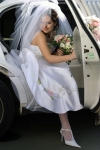 Every bride wants to be swept off her feet by this King.  And so, the betrothal hopefuls enter the competition not knowing that He actually wants them all. And, He wants them to act as one. All 247 * candidates individually arrive  in  limos in the circular, golden driveway.  Music queues, this is: "The Bachelor: Heaven Awaits, Series 777".
One by one, each steps out onto the pavement, blushing in awe at this magnificent King. He greets them.  Miss Catholic arrives in  her uniform holding  a note from the Pope as her reference. Miss Pentecostal has her hair all piled high, ringlets framing her lovely face. Her musical talents are outstanding. Miss Evangelical steps out of the limo with a list of Bible studies  she has attended and Greek words she knows while rocking out to a Hillsong tune  on her iPod.  Miss Methodist is surely a wonderful cook from her long history of feeding the poor.  Miss Greek Orthodox has some striking gold iconic jewelry and exhibits lovely conservative traditions. And on the parade goes, for days and days.  Each one pitching her assets to the King, telling Him why she is surely the right one for Him.
Knowing the selection is not complete, the Kings asks the bevy, "There is one missing.  I distinctly remember telling you all to bring Me one from every tribe, nation, language and people group.  Surely you've all read Matthew 28:19 and Revelation 5:9.  I do mean from ALL people.  Where are my gay, lesbian, bisexual, transgender, intersexed children?  I create and love them too." He looks down the long driveway for the missing limo.  "Where is she hiding?"
The

pandemonium breaks out.  "We told her not to get in the limo, she was not welcome at this party."  "Jesus, do You know that she loves women and sometimes men and that she has even changed her gender?"  " Some of  the things she does were  on those list You wrote in the Bible. You know Jesus, the "they shall not inherit the Kingdom of Heaven" list?  The objections continue while Jesus listens and finally raises His hand to quiet them.
"Did I ever speak harshly about these children? I know what you think I said.  I was talking about idolatry and sexual abuse, not the love between two people you don't approve of.  I said so much
about love; I talked about it all the time. You really should have listened more and talked less. I told you I make people, all people. They carry an image of Me in them.  What did it concern you that I made some with variations that you do not understand?  You assume you know the requirements of getting to this party.  If I do the inviting, not one of you gets to do the uninviting.  The requirements of being my bride are: love Me above all others, be willing to take My name, be willing to live with Me, show the fruits of the union with Me and accept My invitation. There are almost 6,500 commands that are written in My Book and not one of you has kept them all. And, I never asked you to.  I only asked that you love Me first and love each other second. Now, where is Miss GLBT?  I am not going to start the Lamb's Supper until she gets here to enjoy and celebrate it with Me, with us."
Who could object?  They were all prostrate in their lovely gowns on the streets filled with awe of His mercy, His justice, His grace.  Knowing  that they too wanted to be treated this way.
At last the limo pulls up.  It was by far the most creatively decorated limo with beautiful music bursting forth, nice beat.  Out steps Miss GLBT sobbing and grateful that Her King had finally publicly called for her. She had shown her fruits, but people had refused to look at them. She had been increasing in number, quickly coming into maturity in gifts and talents, transforming  and healing lives and she, indeed did include people from  tribe , tongue and nation.  She was faithful, gracious, hope filled, creative and diverse. The journey had been painful and still, the other candidates said she did not belong at this party.  They had told her repeatedly and had even blocked her coming to this event. But now, the King was personally calling for her.  The party would not start without her. Jesus was here to make one bride out of these many.  A complete bride, not "Bridezilla" or "Big Love", one bride for "The Bachelor: The Heaven Awaits, Series 777".  (Fade to the longest commercial break known  .  .  .)
The gay, lesbian, bisexual, transgender, intersexed church has arrived.  Troy Perry was Spirit-lead in 1968 when he formed the first Metropolitan Community Churches , the only place where non-heterosexual people  felt safe and welcome in worship in the 60's, 70 and 80's. The first few years may have been about gay Christians and the behavior within some of the groups was not  stellar. Consider though, if you tell people they are hell-bound and worthless, they will probably act that way.  It would and did take time for GLBT people to find a place in God of welcome, worth and worship.  For the past twenty years, congregations and pockets of GLBT Christians are finding a solid place in Jesus.  They are forming their own congregations based on Him.  The resistance from the church at large is mighty, but their desire to seek God is mightier.  The Holy Spirit is drawing His "other" children and this is one that will not be thwarted by traditional churches that do not understand or preach against inclusion. They, after all, do not  control the invitation list.
Come to the Annual Gay Christian Network Conference in Denver in January and meet and participate with a cross-section of His GLBT children and their allies.  Come if you are straight and know there is something askew in the treatment of GLBT Christians. Come if you are like I was and wonder, "Can you really be gay and a devout Christian?" Come if you have a GLBT child, friend or are in a mixed orientation marriage and are straight and need to understand.
If you are GLBT, come if you are closeted. You have no idea of the joy you will feel to freely be who you were created to be amongst 400 other affirming Christians. If you are isolated, come and feel the connection of family from every region, every denomination, every degree of orientation.  Come if you are not sure about  your sexual orientation. Be there if you want excellent resources, teaching and workshops on topics including dating, prayer, relationship, Bible study,  ex-gay recovery and a dozen of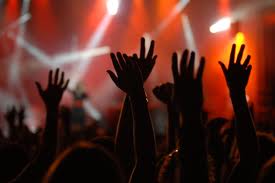 others.  Come if you have never experienced the exhilaration of being in a church worship service of hundreds of people who completely affirm who you are in all your authenticity.  Just come.
This is a gathering of dozens of denominations joining together for four days to  celebrate what they have in common, Jesus.  They unite to honor Him and love one another.  The keynote speaker on Friday morning is Phillip Yancy, yes, that Phillip Yancy.  And no, he is not gay, and neither am I. Last year, the speaker was Tony Campolo.  The meal breaks are long and you can meet new people and reconnect with old friends. I have made hundreds of friends from across the US and worldwide from attending the GCN Conference. This will be my fifth year.
Jesus is coming back for His bride and the GLBT Christian church has a rightful place within that body.  She is dressed and ready for the party; come meet her, come join her, come encourage her.  To the rest of the Christian church, we need her. The Church is incomplete with out her.
I hope to see you at the Gay Christian Network Conference in Denver in January.  The hotel space is selling out and many of us are at overflow hotels within blocks.  I say spread the joy around the area!  Register by December 20th if possible and get ready for the most wonderful, creative, fun, joyous engagement party you have ever been to!  If you can't go, make sure you register the Gay Christian Network, an online community of over 15,000 GLBT believers and their supporters worldwide.  The King is wild about His GLBT children too. Even if the other betrothed don't get it yet, He thinks they are gorgeous!
UPDATED January 2011:  The 2012 Annual Gay Christian Conference will be in Orlando , January 5-8th, 2012.
*The most reliable number of denominations that I found was 247.  The number itself is not of import, what is however, is the vast number and difference we have in the Body of Christ to have divided over issues.  One day, we will all be one.
Comments
comments